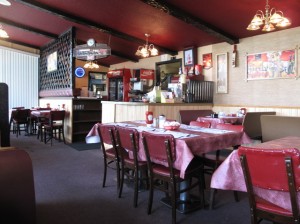 Whenever I asked a local where to get the best taste of  the St. John Valley (or St. Jean, if you're French)—that strip of Acadian culture separated from New Brunswick, Canada, by the St. John River—the answer was always a variation of: "You must go to Dolly's for the best ployes, creton, and chicken stew."
And so I went.
Twice.
Backstory: I've been cruising through Downeast Maine and Aroostook County for the past week researching the new edition of Moon Maine (spring 2011), and I'm finally home and in one place long enough (and with reliable Internet access) to start dishing on my finds and giving you updates on what's happening in these rural Maine gems.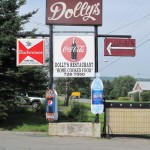 When first told  that Dolly's was a must, we headed right there. Unfortunately, it was a Tuesday, when it's closed. Now frankly, Dolly's, on Route 1 in Frenchville, isn't much to look at from the outside, and we hadn't planned to return, but as we continued down the road and kept asking, the answer remained Dolly's. So we made a 70-mile detour to return for breakfast on Wednesday, and oh! my! yes!
Now we couldn't order that famous chicken stew at breakfast, but we did have Dolly's homemade ployes (rhymes with toys) and homemade creton (cray-tahn).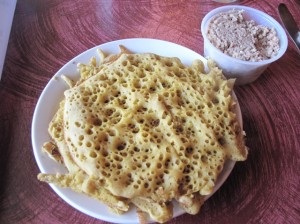 Say what? you ask. Ployes—French-Acadian buckwheat pancakes cooked only on one side—are traditionally served like bread with every meal.  And creton is a French-Canadian meat spread. Put the two together, and perhaps add a bit  (or more) real maple syrup, and the result is heaven. I like to think the health benefits of the ployes cancel out the artery-busting creton.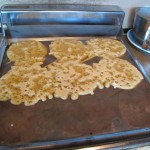 "Dolly's has been here forever," our waitress said, as I watched her pour the batter onto the griddle and cook the ployes. The reason Dolly's ployes are so good is that they're made from scratch. "It's an old recipe, and they're homemade," she said. "I make ployes at home, and it took me a long time to get the recipe and the cooking right." The biggest problem is getting the griddle temperature right. "They're so easy to burn," she said. The creton, too, is a secret recipe.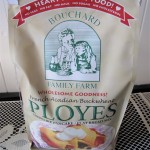 Earlier in the week, I'd purchased  copy of Michael Corbin's Cafe de la Place cookbook (Unfortunately, his downtown Madawaska restaurant is no more). It has a recipe for ployes that I plan to make, but I also purchased a bag of Bouchard Family Farms ployes mix, too. The farm, in Fort Kent, has long been producing this easy-to-make mix, which you can usually find in specialty and natural foods stores.
The Acadians, by the way, are descendants of the original French settlers in Grand Pre, Nova Scotia, who were driven out by the English. Some returned to France, others escaped to New Orleans (where they're known as Cajuns), and others escaped and scattered throughout Maritime Canada. Twelve families eventually settled in the St. John Valley, where their heritage still flavors the region. More on this in future posts.
And next time I'm up in the crown of Maine, I'll time my visit to Dolly's to have some of that famous chicken stew.
Note: Check out my review with recipes of the Bouchard Family Farms French-Acadian Cookbook: Keeping the Tradition Alive.