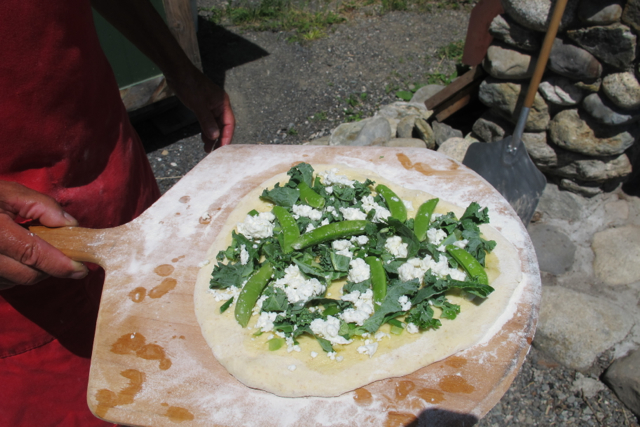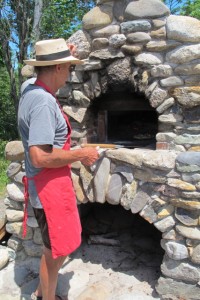 Every now and then I stumble into a Eureka! find, and Seal Cove Farm's pizza  is one.
This summer, Seal Cove—best known for its handcrafted, artisan cheeses, especially goat—debuted its new, outdoor, wood-burning pizza oven. Finding it requires noodling the backroads of Lamoine, the rural peninsula-tipping town framed by the Mount Desert Narrows, the Skillings River, and the western shores of Frenchman Bay. It's worth it.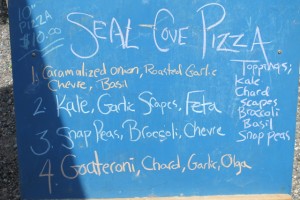 We arrived to find the new stone oven and seasonal kitchen building next to the small farm store. Graham, the pizza maker, was offering samples under a tent, and Lynn was running the store. While we were there Barbara, the farmer, stopped by, too.
Although the menu listed just four pizzas, the possibilities were limited only by the farm-fresh ingredients, produce/cheeses/and goateroni available and one's imagination. A 10-inch pizza is $10.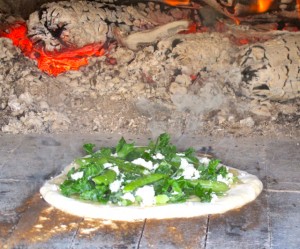 We tasted two: the caramelized onion, roasted garlic, fresh chevre, and basil, followed by the kale, garlic scapes, and fresh feta. The two other options that day were snap peas, broccoli, and chevre and goateroni (goat pepperoni), chard, garlic and Olga (a mixed raw cow and goat milk cheese). We ordered the two we tasted, each opting to add snap peas to it.
Pizzas are made and baked individually as they need to be tended frequently while baking, but the whole process doesn't take more than 10-15 minutes, if that, as long as there isn't a line.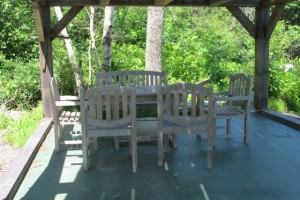 We took our pizzas to a small shelter with a picnic table. From here, while happily savoring every bite, we watched goats leaping in the fields. Afterward, we visited the farm store for maple goat gelato (heaven!) and to purchase cheeses.
Be sure to check the website for current hours before making a special trip.