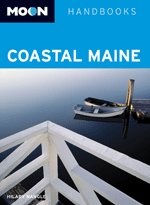 I'm yours. Or rather, my book is.
Need a last-minute (or future) present?
Want a few books for clients or to place in guest rooms?
Want to surprise a friend planning a trip to Maine or a loved one pining to return?
I have a limited quantity of Moon Coastal Maine in my hot little hands, and I'd much rather have them warming someone else's hands, where they can do some good. I'll even through in one email consultation. Retail book price is $19.95. My price–signed, sealed in gift wrap if desired, and delivered via U.S. postal service regular mail within the continental U.S: $20. Contact me through the Email Hilary link on my website.