If I had been asked to advise President Obama and family on what to do while on Mount Desert Island, I'd have given them this Top 10+ list of things to do when visiting Acadia National Park on Mount Desert Island:
• Loop-ti-doo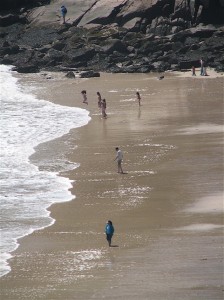 Drive or pedaling Acadia National Park's Park Loop Road is a must, but do so either before 10 a.m. or after 3 p.m. to avoid the crowds and to catch the best light for photos. Don't skip any of the big-ticket sights along the route: Sieur de Monts Springs, home to the Wild Gardens of Acadia, Sweet Waters of Acadia spring, Nature Center, and the original Abbe Museum (but don't miss this museum's main site in Bar Harbor for the best intro to Maine's Native American heritage and culture); Sand Beach (go ahead, brave dipping your toes in the water, brrrrr); Thunder Hole (for the biggest ka-boom, time your visit with an incoming tide); and Cadillac Mountain (everyone raves about sunrise, but sunset is pretty spectacular, too).
• Road-eo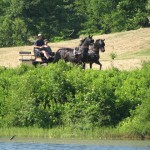 Thank you John D. Rockefeller Jr. for the 57 miles (44 open to bicycles) of meandering crushed-stone Carriage Roads crossing 17 unique stone bridges. Bike 'em, hike 'em, ride 'em, but don't miss 'em. And afterward…
• I scream, you scream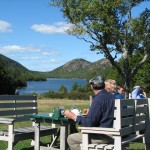 Tea and popovers with jam and ice cream is an island tradition at the park's Jordan Pond House, where as long as they sit on the lawn, even Beau is welcome (That was then, this is now: I prefer tea and popovers at the Asticou Inn, overlooking Northeast Harbor and within steps of the Eliot Mountain Trail connecting two of the island's gorgeous gardens, Thuya and Asticou). While that's a must-do experience, the island's best cream in outrageously creative flavors comes from Mount Desert Island Ice Cream (I'm salivating just thinking about their salt caramel, mmmmm).
• I can see clearly now…
You're going to need to work off that ice cream, perhaps with a hike? Among my favorites are Great Head, Gorham Mountain, and Flying Mountain, all moderate with big views from the summits.
• Slimy sea critters! YES!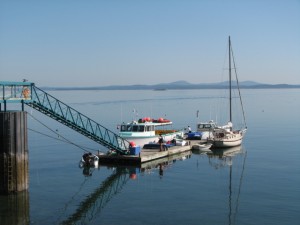 Diver Ed's Dive-in Theater Boat Cruise is a way-cool, must-do for anyone with kids who want to see and touch slimy sea critters, view them in their natural habitat, and have a great time while learning about nature.
• Lobstah!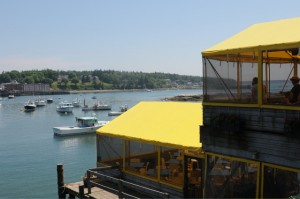 The Oceanarium is a low-tech, high-interest, kid-friendly site that encompasses a lobster hatchery, museum, salt-marsh walk, and more. (It doesn't appear as much from the road, but trust me on this one). Afterwards, lobster at Thurston's, overlooking idyllic Bass Harbor.
• A whale of a good time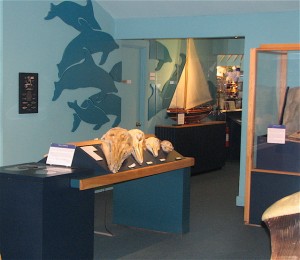 Pair a visit to the Dorr Museum  of Natural History at College of the Atlantic, where you can view whale-related exhibits (the college is affiliate with Allied Whale), with a Whale-watching tour. Be sure to bring heavy-weight clothing; I've gone out on days when it's been near 90 in Bar Harbor, yet I was glad for my wool sweater, hat, and mittens at sea. Note: photo depicts the Bar Harbor Whale Museum which is seeking a new home.
• Birds and bees
Learn about Acadia's birds and other wildlife on a private tour with biologist and Registered Maine Guide Michael Good of Downeast Nature Tours. Honest: I didn't get birding's appeal until I accompanied him one morning. It's a gentle introduction to what might become a life-long hobby, and if you're already an avid birder, he'll help you add a few to your life list. While we're on the subject of birds, another don't miss is the Wendell Gilley Museum, housing more than 200 of the local carver's astonishingly realistic bird carvings.
• Island hopping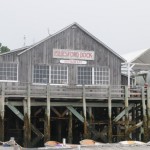 Bring a bike aboard the passengers ferries servicing the Cranberry Islands, then get off first at Great Cranberry for a quick pedal and look-see, stopping at the 
Cranberry House
to see the museum, followed by Little Cranberry (a.k.a. Islesford) for a tour of the museum followed by lobster at the
Islesford Dock
. Better yet, time the meal to coincide with sunset for delicious views. OR board Capt. Kim Strauss's Island Cruises'
Lunch Cruise to Frenchboro
aboard the
R. L. Gott
, which he built. Strauss has been navigating these waters for more than 55 years. His narration is lively, he points out sights and wildlife, he'll haul a few traps, and  you get to visit Frenchboro, an authentic lobstering community, where you can tour the local museum and have lobster at
Lunt's Dockside Deli
.
• Schoodic sampler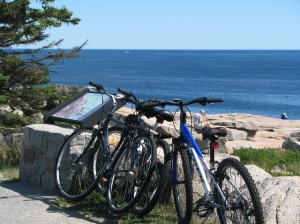 Board the
passenger ferry to Winter Harbor
, then after weaving through islands and around lobster boats hauling traps,  either pedal or ride the Island Explorer bus through the Schoodic section of Acadia National Park. Don't forget a picnic lunch (perhaps from Morning Glory Bakery, in Bar Harbor), so you can enjoy it on the slabs of pink granite marking Schoodic Point.
NOTE: While Mr. President and family likely will use private transportation to get around the island, everyone else should use the Island Explorer Bus Service. It's free with your park pass, it carries bikes, and it hits almost all the highlights in its multiple routes.