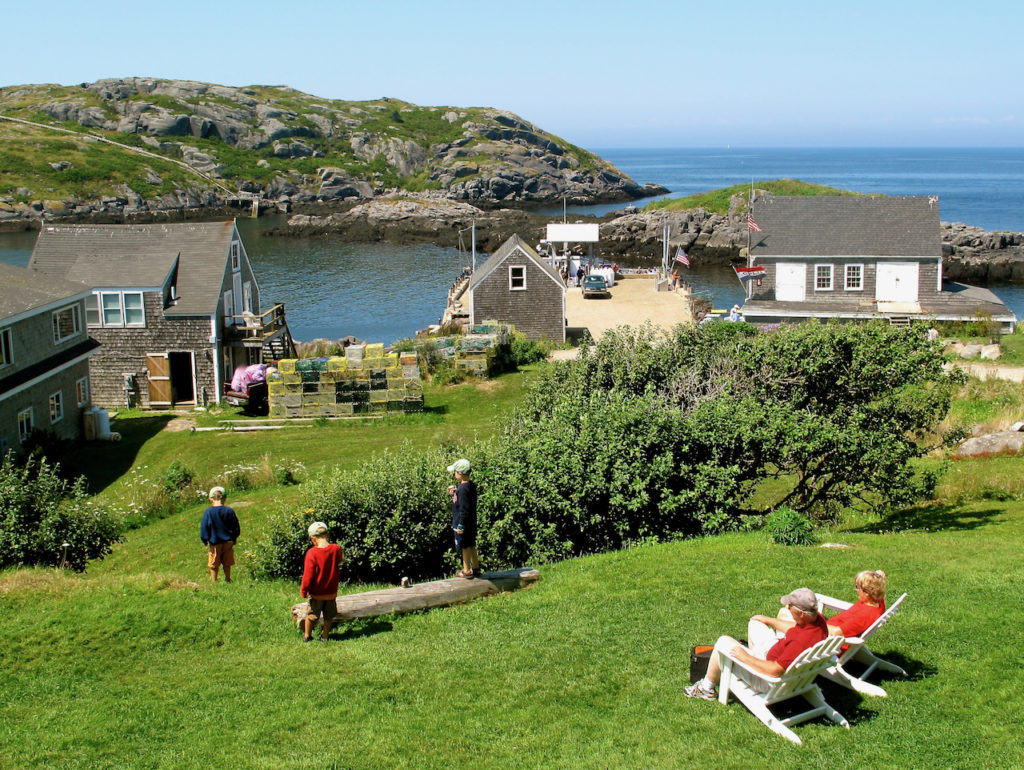 Ahhhh! The Artists' Island. Take a walk about Monhegan Island, and it's easy to see how it earned that moniker. Everywhere you look is a scene waiting to be painted, and indeed, it seems everywhere you look there's also an artist painting it.
Monhegan Island, Maine, has been attracting drifters and dreamers since the early 1600s. Year round, it's home to about 60 hearty souls who mostly make their living off the sea. In summer, the population ebbs and flows with the daily boats that ferry passengers from Boothbay Harbor, New Harbor, and Port Clyde.
It's a perfect one-day escape, but to truly understand Monhegan's lure, plan to spend a night or two. That allows time to visit the museum and galleries, perhaps climb the light tower, enjoy the 'round-the-island cruise, and hike a few of the island trails.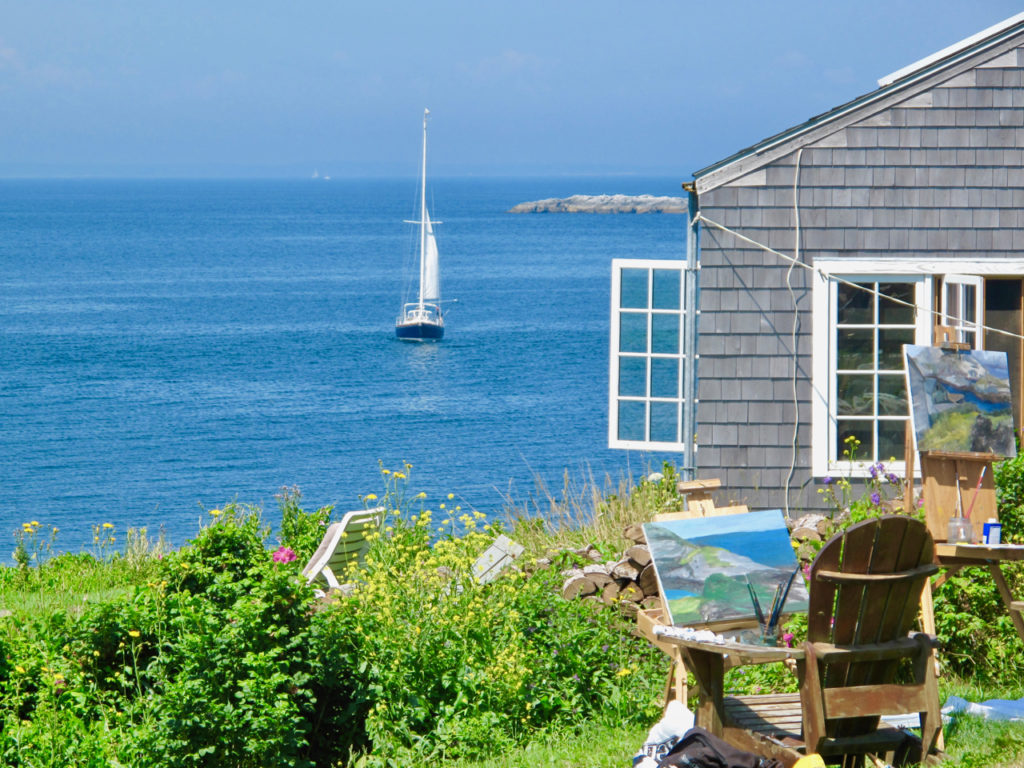 The artists' island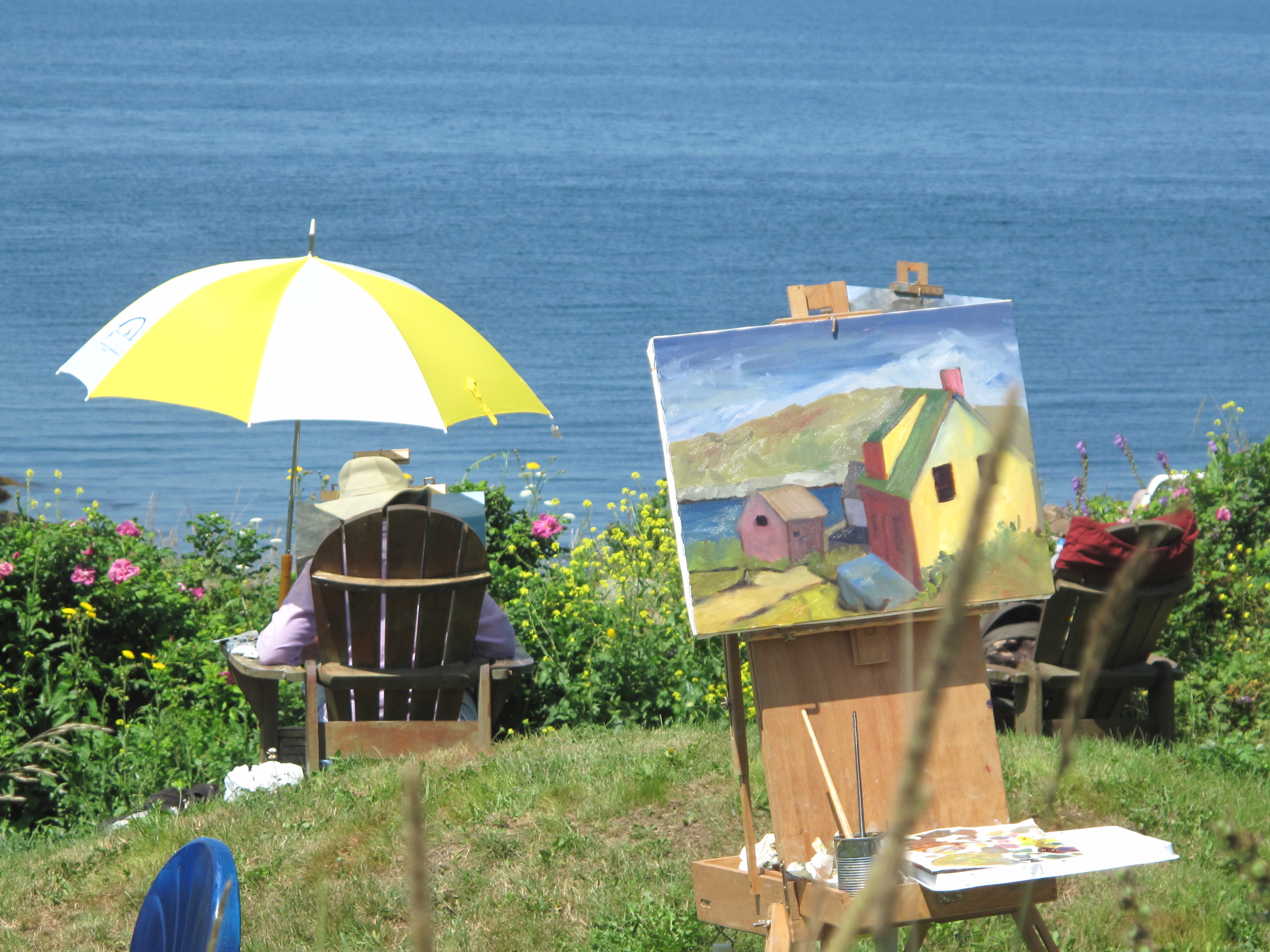 If you're a fan of American art, you'll recognize the scenes: the red house perched on the harbor's edge, stark Manana Island, the soaring cliffs of White and Black Heads, the D. S. Sheridan's rusting hull, the light station at the island's summit. Monhegan's seascapes, landscapes and village scapes are all eerily familiar because many have been painted by icons of American art.
Among the big-name artists who've spent time on Monhegan Island: Robert Henri, Rockwell Kent, George Bellows, Edward Hopper, James Fitzgerald, Alice Kent Stoddard, Reuben Tam, William Kienbusch, three generations of Wyeths, and scores of others.

Preserving Monhegan Island's history and art heritage
The former lighthouse keeper's house houses  The Monhegan Museum of Art and History's impressive collection. It's well worth the effort to climb the Lighthouse Hill to view the exhibits, artifacts, and paintings inside. Among the subjects: the Hermit of Manana, lobstering, and island flora and fauna.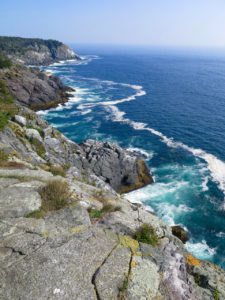 The adjacent, replica assistant keeper's house is a purpose-built gallery showcasing Monhegan-related art. One interesting tidbit about the museum: It shows only the work of deceased artists.
This summer's 50th anniversary exhibition, An Island Treasure: Celebrating 50 Years of the Monhegan Museum, is especially worth viewing. It tells the island's history through 80 works of art by 80 different artists, many of the icons of American art. (Read more about the 50th anniversary, here.)
The light tower also is part of the museum's Lighthouse Hill complex. It's open on a set schedule during the museum's season (late June through September). Climb it for gulls-eye views over village, harbor, and Manana Island to open ocean.
Plan on also visiting the Kent-Fitzgerald House and Studio, both affiliated with the museum. The duo are overseen are part of the Fitzgerald Legacy and listed on the National Trust for Historic Preservation's Historic Artist's Homes and Studios Program. (Note: This joint Monhegan property joined the Winslow Homer Studio in Prouts Neck as the second Maine listings out of about 30 nationwide).
Contemporary artists can be viewed painting all around the island, and about two dozen maintain open studios on a rotating schedule. You can pick up a schedule at the Rope Shed, the island's version of a daily newspaper.
Other art venues include The Island Inn, the Trailing Yew, and the Lupine Gallery.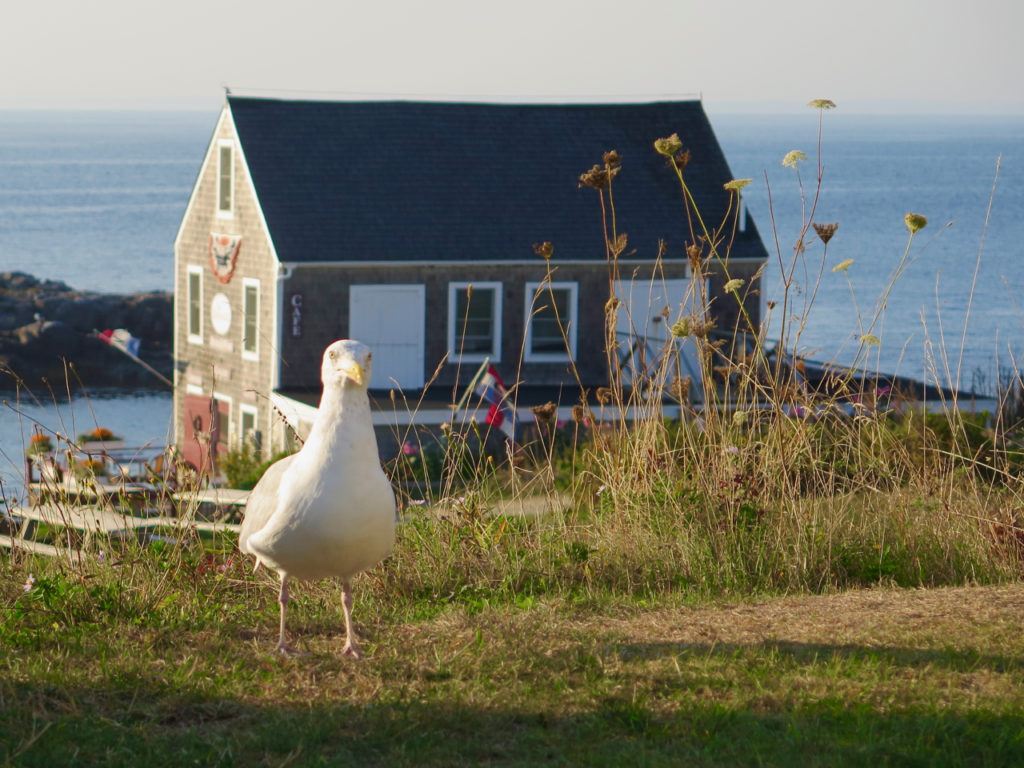 Monhegan Island: happy place for hikers and birders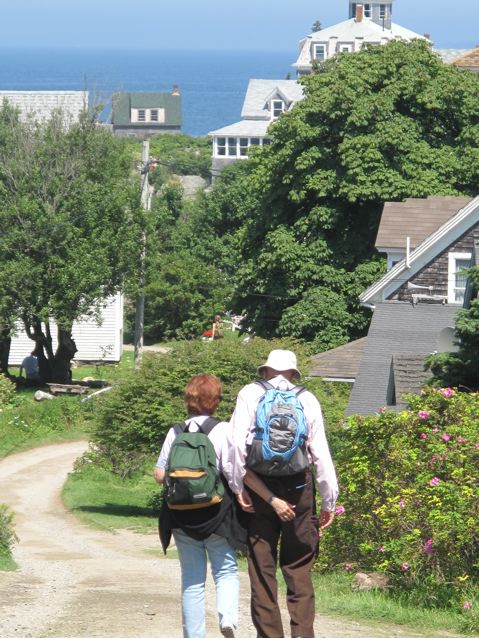 Beyond artists and dreamers, Monhegan lures hikers and birders. Although only 1.7 miles long and barely a half-mile wide, the island is laced with 17 numbered and mapped trails providing about 12 miles of hiking.
Trails edge the cliffs, pass over hills, bisect fields, and shimmy through Cathedral Woods (famous also for its fairy houses). The views are stunning, and for birders, especially during spring and fall flyovers, Monhegan is without par, as it's on the Eastern Flyway migration route.
One of the joys of Mohegan is that it's easy to lose any crowds and find a place, a rock, ledge, or clifftop perch where you can meditate, gaze into the future, or simply contemplate your existence.
Car free is care free
Three passenger ferries service Monhegan: The Balmy Days departs Boothbay Harbor; the Hardy Boat departs New Harbor, and Monhegan Boat Line leaves from Port Clyde. A fleet of trucks from island accommodations greets arriving boats to ferry luggage to each property.
The only other vehicles on island are owned by year-rounders. Some of the summer residents use golf carts. In any case, there's only about a half mile of dirt road.
Note: Monhegan isn't a good choice for those with  mobility issues. It's not easy to navigate the rough, hilly roads.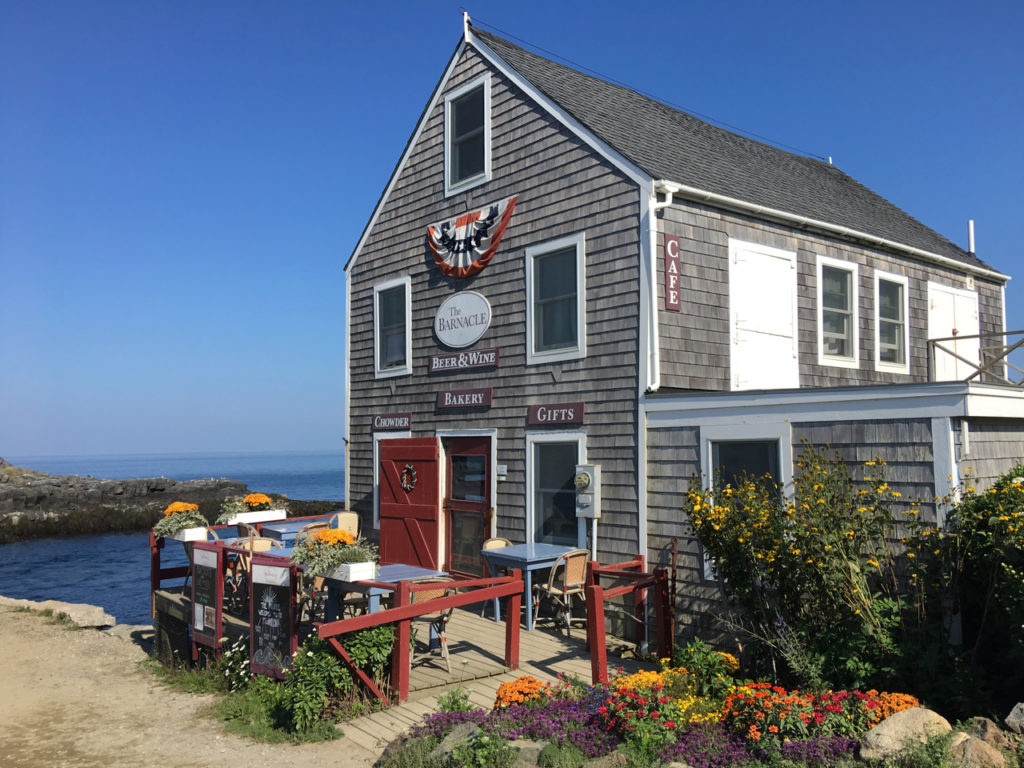 Food options on Monhegan Island
The village offers only a handful of stores and dining options, but there's something for every appetite and budget. All island dining is BYOB.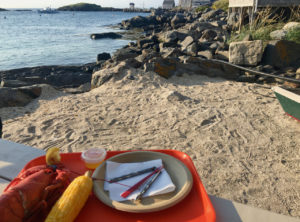 Start with the obvious, The Barnicle, on the left as you disembark from the ferry. It's a great spot for baked goods, coffee, tea, and light fare. It also sells wine and beer. There are a handful of tables
The Monhegan Store sells groceries, wine, and beer and makes to-go breakfast and regular sandwiches to order.
The Barnicle, behind The Monhegan House, offers great New York-style pizza by the slab or pie as well as sandwiches and salads. It also sells wine and beer and it has a few picnic tables, too.
If you're looking for a sit-down meal, the dining rooms at  the Island Inn, Monhegan House, and The Trailing Yew are open for dinner. The Island Inn also serves breakfast and lunch.
My favorite place: the Fish House on Fish House Beach, lobster-doesn't-get-much-rougher shack that also sells chowders and other seafood. Order inside, then snag a picnic table or seat on the beach. Heaven! (It's one of my favorite Maine lobster shacks)
Don't miss Monhegan Brewery with its outdoor Trap Room. Also look for island-made La Nef Chocolate and java from Monhegan Coffee Roasters.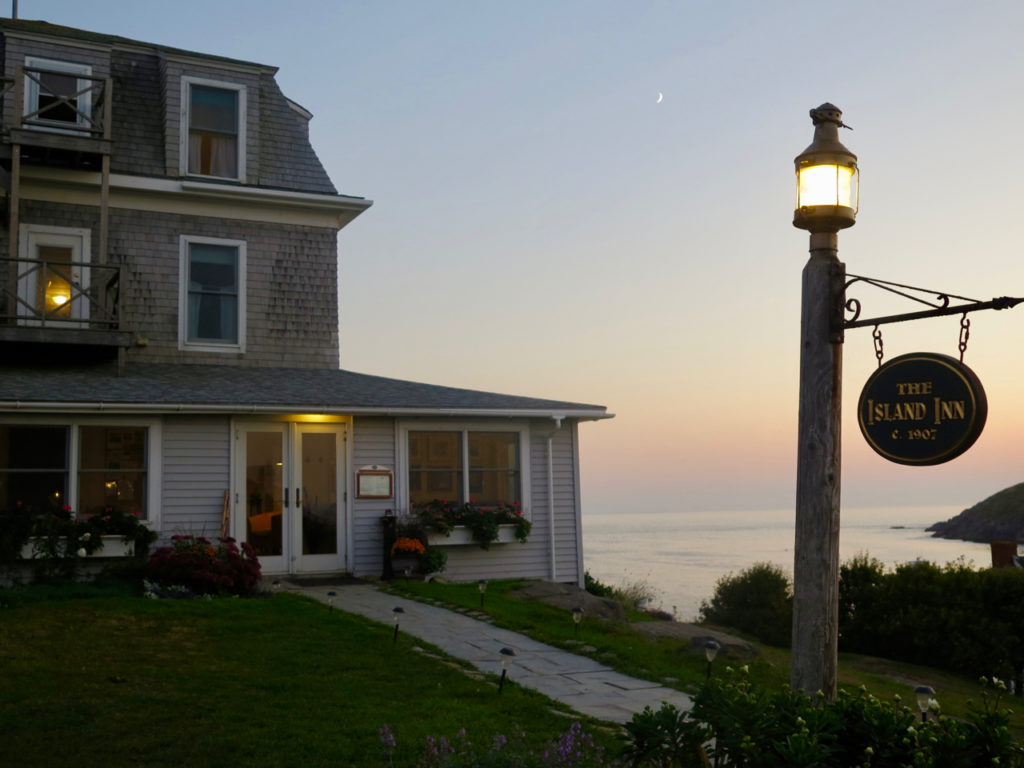 Monhegan Island accommodations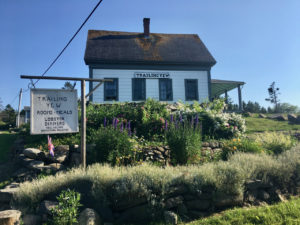 The Island Inn provides the finest accommodations (if you're persnickety, reserve an ocean-view room or suite here). Don't expect fancy; the inn is comfy, and all but a few rooms have private baths. It also has a dining room open for breakfast,  lunch, and dinner, and it has fabulous views from front rooms and the porch, although I think the Adirondack-style chairs on the lawn are irresistible.
Both the Monhegan House and the Trailing Yew are more rustic; most rooms in each share baths. Both are have a long history of sheltering artists.
The Shining Sail offers guest rooms and efficiencies and also acts as an agent for rental cottages. I've stayed at most of these properties, and each has its charms.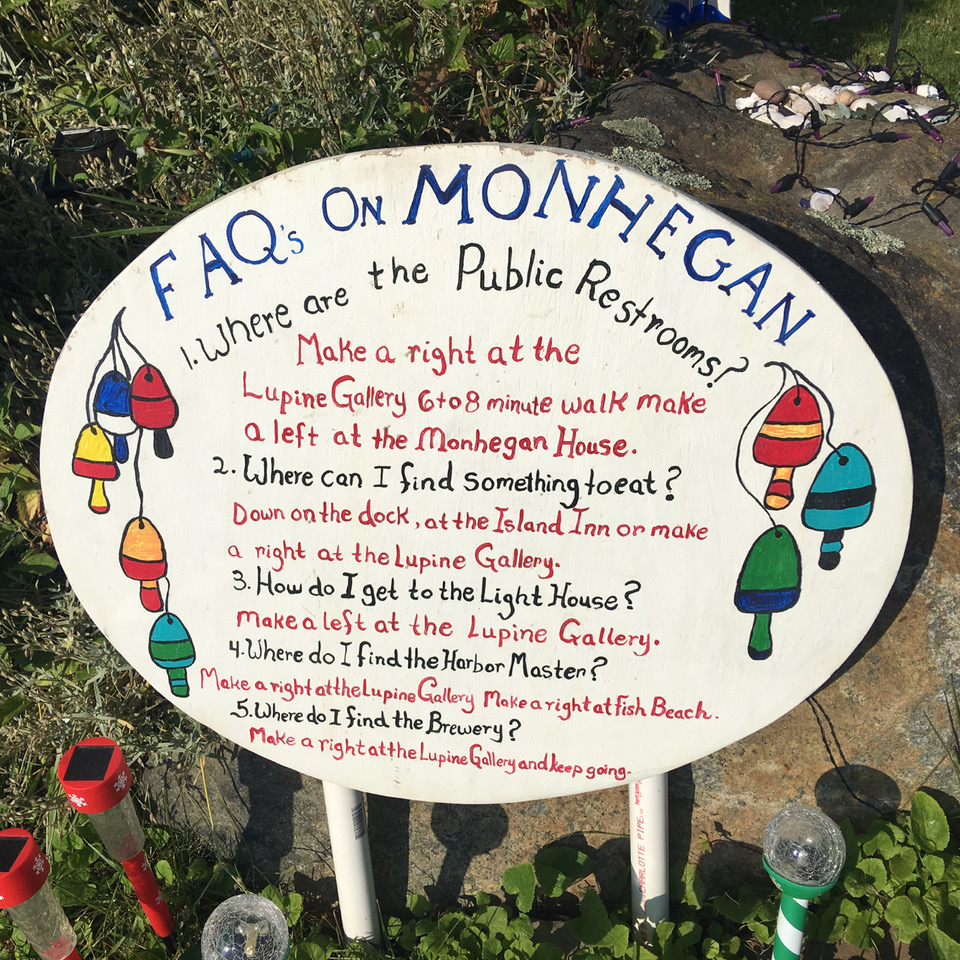 IF YOU GO:
Find general info about Monhegan with links here.