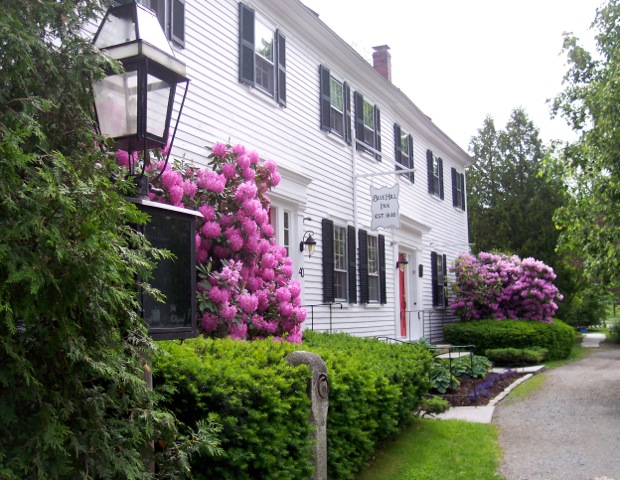 Envision the perfect country inn, a classic with the charm and elegance of that in the old Bob Newhart Show, and it could be the Blue Hill Inn. Open since 1840, the inn has benefitted from more than 20 years of careful owners, the type of people, such as current innkeeper Sarah Pebworth, who have invested in the property, updating it gently with contemporary must-haves, without losing its timeless appeal. Now Sarah is ready to  move on with her life, and she wants to offer someone the opportunity to own and love the the inn, without taking on a mountain of debt.
"I first saw someone doing this at the Center Lovell Inn, and at first blush I thought that's a dumb thing to do," she says. She was a business women who was making a decent salary, but she hadn't saved enough to buy real estate in Maine when she took over the inn. She was able to purchase the inn and live her dream, when her mom died and left her a hefty inheritance. "Fewer and fewer people have that opportunity now, with costs of college, now more and more expensive, it's out of reach for people. It would be great if a family were here—kids could go to school next door, and work in the inn after school." The more she thought about it, the more she loved the idea of more even playing field.
Sarah is offering the inn to a new owner via an essay contest. In 200 words or fewer, explain why you want to own the Blue Hill Inn. The entry fee is $150, non-refundable unless the minimum isn't reached. "I'm confident there are enough people out there who would love to live in Blue Hill and run the Blue Hill Inn," Sarah says. If she receives the minimum 7,500 or more entries, she'll also give $25,000 to the new owners to help jump-start their new business.
Essays are due by Oct. 1, and the decision will be made on Nov. 1. Sarah will screen the entries and choose the top 100, then she'll pass them on to three judges, savvy in the business but with no connection to the inn. They'll pick the winner and two runners-up. "IT has to be above the board; it needs to be fair," Sarah says.
The winner will have a defined period of time to review financials, the property, and assess their own situation. Stipulations: The property must be continued to be run as a B&B for at least one year, and it must remain white with green shutters for at least one year.
"People have been suspicious, they think the property must be run down or that there's something wrong with it," Sarah says, but that's not the case. "We've been having so many projects, I just laugh to hear that. We replaced an entire kitchen wall this spring; full repaint of exterior; replaced fire escape. We've made some nice improvements."
Over the years, the inn has also had a successful restaurant, open to the public by reservation, so that's another opportunity for a new innkeeper.
When Sarah took over in 2007, she was singled and was excited about the inn. "I was ready to be married to this old business, but with Julie Joe in the picture, it's  just different. She's been a great help at the inn but it's not her dream." They both own property in Blue Hill and are involved in the community and plan to remain here. "I really want to be available for a smooth transition, so that it's really successful for new innkeepers."