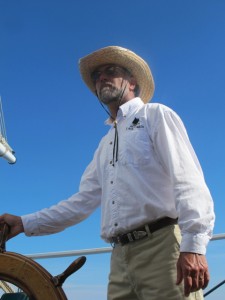 I had the good fortune to spend a day sailing aboard the J.& E. Riggin during the annual Parade of Sail by the Rockland Breakwater. The Riggin, a National Historic Landmark, was built in 1929 as an oyster dredger. Refitted for passengers, it now offers 4- to 10-day sails along the Maine coast. Owners Annie Mahle and Jon Finger are both captains, but Annie, renowned for her cooking, can usually be found in the galley, while Jon navigates the tricky waters.
What is special about a windjammer vacation?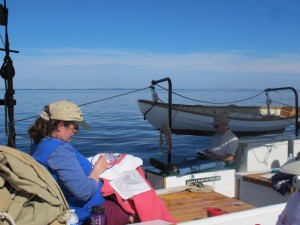 The best way to see Maine is from these old sailing vessels. It forces you to slow down and take in the scenery. There is no engine, no tires. It's all about the wind and tide. It's relatively slow moving in today's fast-paced world, but it shows you what it was like to live in simpler times.
Being aboard a windjammer gives you the time to enjoy each others' company, to tell stories, sit and enjoy a great meal, take in the sights and the sounds and the smells.
Every day is different, the scenery is always changing. Being aboard lets you take it all in and absorb it. These coastal mountains,  spruce-clad islands, ledges with seals, the osprey: There so much that you can's see from a car or bus.
We have a reputation in the fleet of having the best food and that comes from Annie's passion for cooking. And because we're a husband/wife team, there's a family atmosphere.
It's Annie's cooking thought that sets us apart. Because she's so passionate about serving the freshest and best — it often comes from our own garden— there's a farm-to-table atmosphere. The eggs come from our own chickens, the lettuce, radishes, garlic, and herbs from our garden. When our guests arrive, many take taxis and when they tell the driver they're sailing aboard the Riggin, the drivers tell them they'll "love the food."
What makes the waters of Penobcot Bay such a destination for sailors?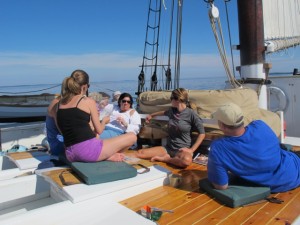 Choices, lots of choices. It's a fairly protected body of water, an no matter what direction the wind is blowing we have all these choices of what direction we can go.
There's the beauty of the coast and being able to weave in and out of the islands. Compare that with Newport (Rhode Island): You leave Newport and your choice is Block Island or Martha's Vineyard, and you spend all day in open ocean and everyone is getting sea sick.
The beauty of Penobscot, Jericho, and Blue Hill Bays is you don't have to go into open ocean. And we have thousands of islands on the coast of Maine. We've had people who've lived their entire life in Maine and they come out with us and say they had no idea there were so many islands.
What are some of your favorite places to sail?
I like Bartlett's Island Narrows in Blue Hill Bay and Somes Sound, Valley Cove is dramatic. Bartlett Island is such a pretty island, so well manicured—I think the Rockefellers own it—and sailing through the Narrows is fun. There are mountains, islands, and bald eagles, and the sailing the Narrows is a challenge.
What don't people understand about sailing aboard a windjammer?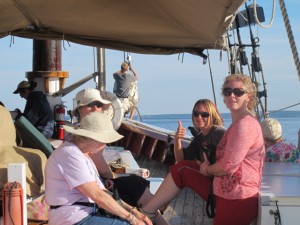 Guests are taken in by the romance. We are bound by wind and tide to where we go. Most people have a destination in mind, depart point A for point B, and they want to know what point B is. I can't tell them. It depends upon the wind and tide. I can't pick B until 3:30 pm. I always know where we are, I just don't know where we're going.
Given the opportunity, we ask if anyone wants to take a trick at the wheel. They're always surprised at how she responds. Some guests don't know how to figure out where the winds is blowing from, they've lost that connection to the natural elements. We once had a charter, a blind adventure group. We put them on the wheel on a day with a nice, gentle breeze. Each could instantly tell which way the wind was blowing. I told them to keep the wind over their right shoulder and go straight. Most were steering better than those who can see.
You're based in Rockland, what shouldn't people miss while here?
The Farnsworth Art Museum and Wyeth Center, definitely. The Owls Head Transportation Museum because it has such cool stuff. Where else can you go ride in a biplane—and because it's a trainer, you're in front—plus, they have such cool cars. Where else can you see a 1965 Shelby Cobra? I always drool over that one. We also love In Good Company, a small, intimate restaurant. When we have a couple of hours off between sails, we go in. We don't need reservations and if we sit in the back, chances are we won't see anyone we know. That's hard in a small town.