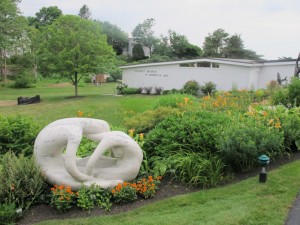 Enter the Ogunquit Museum of Art and it's hard to decide where to look first: The works on the walls or the wall of windows framing the sculptures in the garden with rocky cliffs and ocean as the backdrop. Truth is, many people spend a week on Ogunquit's famed sands without ever visiting the Ogunquit Museum of Art. Don't make that mistake. This small museum is a treasure, both inside and out.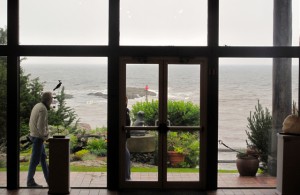 Outside, sculptures by artists including William Zorach, Cabot Lyford, Bernard Langlais, and Robert Laurent accent the lawns and garden. Inside, paintings by some of the biggest names in American art hang on the walls.
During a recent visit, museum director Ron Crusan shared his thoughts about the museum's heritage and its future.
When did Ogunquit become an art colony and why?
When you think about Ogunquit and art, think about the early colonies. They brought a lot of artists here and it's still an art colony. Art has always been a major part of Ogunquit.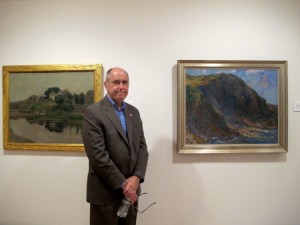 In 1888, Boston artist Charles Woodbury saw Ogunquit and said: "What a great place for an arts school." He bought about five acres between Perkins Cove and Shore Road for $400. This museum sits on part of that land. At that time, the fishermen lived inland, they didn't want to look at the ocean; the land was too salty and rocky for farmers; and the idea of a leisure class didn't exist. Woodbury started the first colony, and his studio is still in Perkins Cove and operated the school for a number of years.
Then, Hamilton Easter Field came along and said: "What a great place for an arts school." He opened Ogunquit's second art school on the other side of the cove. Easter Field was a Modernist from New York. Early on he bought a lot of the Perkins Cove fishing shacks from the fishermen. Fishermen loved him. He added electricity and built an ice house, and gave them to the fishermen.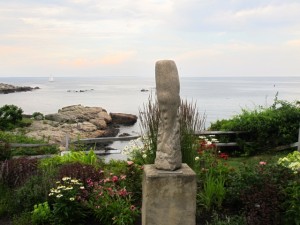 The artists were here, the fishermen had nice amenities, and then the hotels came. One had success and then another opened up.  People started to come to see the artists and the fishermen.  That's how the tourist industry started here. Now, there are about 100 hotels, B&Bs, etc., in Ogunquit. When you think there are 1,300 year-round residents, and nearly 70,000 summer visitors; I like to say the artists had a great part in that, people came to see the art.
Artists still come here to paint on the museum grounds. That's our tradition. When you think of some of the well-known painters who've painted here, you can see the same scenes. You can look out the window and see the same scenes, the same rocks where they painted.
How did the museum get started?
One of the artists who came was Henry Strater. He first came here in 1919, studied here, spent time in Europe, came back, settled here. He knew Easter Field in New York, and met Hemingway and Pound in Europe. Eventually after years of summering in Ogunquit, he decided to build a museum here to honor the artists and he slowly built a collection of American art.
Construction began in 1952 and the museum opened in 1953; this is our 60th year. The museum was much smaller than it is today and it was only open in July and August. There was no heat, and it was all natural light. It's very different now. We've developed over the years, and we continue to develop and improve. Today, the museum's numbers about 2,000 objects, including works by John Marin, Walt Kuhn, Marsden Hartley and others who visited Ogunquit.
How long have you been here and what's your mission?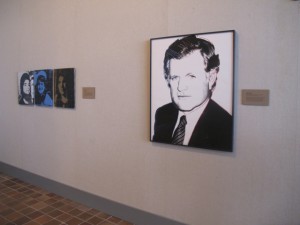 I've been in the art field for more than 25 years. I've been a curator, a director at other museums. I came here for the collection: It's a fabulous American Modernist collection. I've been director here for five years.  I've tried to open it up, broaden our audience, bring people in, and expand our corporate program.
I don't want to be stagnant, just Ogunquit artists. Want an active museum, with a lot of activity. Want people to be excited by the new stuff as well as the old stuff. We do focus on Maine, on Ogunquit, but we are an American Art Museum. We rotate exhibits about every other month. We show a lot of beach and ocean, but we try to challenge the viewer. The current Warhol exhibition is an example. The Warhol show is bigger than just our collection.
How did the Warhol exhibition come about?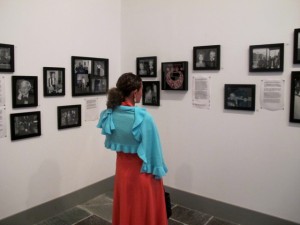 Peter Kelly, who divides his time between Ogunquit and New York, had a friend who knew and photographed Warhol, but she had never shown or printed her works. I went to New York to talk with photographer Pat Hackett about it and decided that what made sense for us was to pair her photographs with a collection of Warhol's works. She chose 60 works to be printed and wrote the text. We sourced Warhol works from private collections. He made gifts to people he knew locally, and we've had that connection.
The exhibit shows Warhol's need to develop the artist as a celebrity. His goal was to raise his profile and increase his business. He bought her a camera and told her to photograph him with everyone he knew. At first she took pictures of Joan Crawford or Warren Beatty. Warhol told her: "You're not getting it. Take a photo of them with ME in it."  It raised his profile and his business. It's done the same for the museum. Since opening (4 days earlier), we've broken all records for attendance.
What distinguishes the Ogunquit Museum of Art, what are the treasures?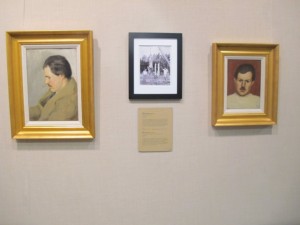 In the Strater Gallery are two portraits of Ernest Hemingway that Strater painted while in Paris.  Hemmingway found the first "Too damn literary, like H.G. Wells," so Strater painted him again after they boxed.
Paired with the paintings is a photo of the two fishing off Bimini. They were out fishing for 30 days, and Strater had the prized fish— on a reel, by the way. As he was pulling it in, Hemingway started to shoot the fish with a machine gun, which resulted in a lot of blood and a lot of sharks, but that's not what made Strater mad. He couldn't enter it  in the contest, because it wasn't whole. When a photo appeared in Time magazine, the caption said that Hemingway had caught the fish. Hemingway wouldn't correct it. That's what made Strater mad.
[The "Sixty Works–60 Years" exhibition, on view through October 2013, comprises some of the most important pieces from the museum's permanent collection. Included are works by Henry Strater, Charles Woodbury, Hamilton Easter Field, Walt Kuhn, Charles Burchfield, Marsden Hartley, Reginald Marsh, and Rockwell Kent. Here Crusan highlights a few treasures]
The Cliff by Charles Woodbury, and First Bridge, Perkins Cove by Hamilton Easter Field: These two works by the founders of Ogunquit's art schools hang side by side. First Bridge depicts the cove before it was dredged, when it was more of a creek.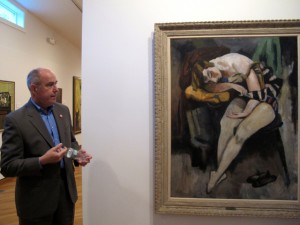 Sleeping Girl, by Walt Kuhn, a modernist who lived in New York and Cape Neddick: This portrait of a girl was in his studio for 30 years. When he died, his wife, Vera, gave it as a gift to museum. It's one of his greatest works.  Just this past winter, it was in a retrospective of his work.
Still Life with Eel, by Marsden Hartley: This is a very important work. It's a transition piece between his work in Europe and coming back and painting in Maine. When in Europe, he painted the German Officer series, with emblems and patches that told the story of this German officer. When he came back to the states and to Maine, you can see the same patterns in this work.
The Bowery Drunks, by Reginald Marsh: Marsh was a member of the Ashcan school. Ashcan artists painted the grit of New York, which was very different from the pastoral scenes a lot of artists were painting. This depicts life on the streets in New York's Bowery.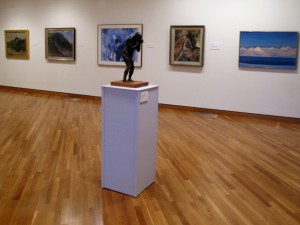 Alaskan Sunrise, by Rockwell Kent. Kent spent time in Russia and Alaska as well as on Monhegan Island.
North Wind in March, by Charles Burchfield: Usually watercolors are small, but this is a huge piece. Very few museums have paintings of this size.