My apologies; I've been neglecting this site as I've been trying to visit every nook and cranny of Maine for a new edition of Moon Maine. I do have lots of news to share, and I'll begin with some recent BBQ finds.
Salvage BBQ, Portland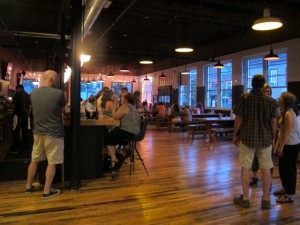 Earlier this weekend, I attended the pre-opening reception for Salvage BBQ, the newest venture from Portland chef/entrepreneur Jay Villani, think Local 188 and Sonny's. The name pretty much says it all. This new barbecue joint is located in the former home of Portland Architectural Salvage, on  Congress Street–a couple of blocks up from St. John. That's a plus for anyone staying at the Inn on St. John (a more budget-friendly lodging than most of Portland's hotels).
Sampling portions of menu items circulated throughout the evening, and my friend L. and I tasted Villani's dry-barbequed pork  and beef spare ribs, brisket, pulled pork, sausage, baked beans, hush puppies, greens, mac and cheese, and chicken. First place was a tie between the brisket and the chicken—I gave the chicken the blue ribbon, followed by the brisket; L. reversed that. Truth is, I far prefer chicken to red meat, so factor that in. This chicken was so moist and flavorful, I'd return for it alone. I really enjoyed the beans, sausage, and hush puppies, but found the mac and cheese lacked any zing. Both L. and I thought this likely was created for kiddos. (Here's the opening menu.)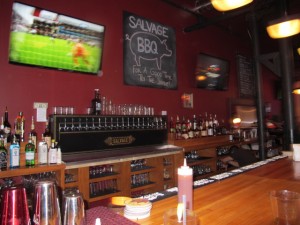 The space is open and somewhat warehouse chic (shades of Fore Street). Big windows fill three walls, a bar runs most of the length of the inside wall, floor is wood, ceiling is high with duct work, and the noise level is loud. Seating is at shared picnic tables, great for families and groups.
About that bar: comfy seating, 16 brews on tap, and an enticing cocktail menu posted on the blackboard.
Eat Here & Get Gas: Standard Gastropub, Bridgton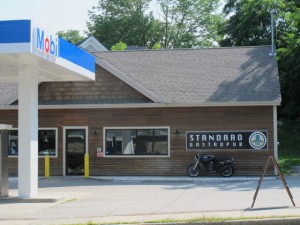 Honestly, when I first walked by this gas station on Main Street, I thought the building was the usual convenience store. Nope, it's a restaurant, Standard Gastropub (a groan-producing name that works), and it's a much welcome entry to Bridgton's rather limited food scene.
Two Bridgton natives doing some serious cooking — and smoking. In addition to the usual BBQ offerings, the daily chalkboard specials (changes for breakfast, lunch, and dinner) might include Pork Rind Coated Schnitzel w/ Sweet Potato Risotto Asiago, and Garlic Rainbow Chard, Crispy Confit Duck & Goat Cheese Egg Rolls, and sometimes lobster rolls.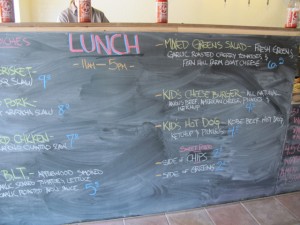 The breakfast menu includes items such as sriracha smoked pork, fried egg & American cheese
on Big Sky English muffin bread and soft-boiled egg packed in pork sausage & deep fried with Tabasco dark ale mustard sauce; lunch options include a house-smoked chicken sandwich with  jalapeño & cilantro slaw and Standard sauce and a kobe beef hot dog for kids.
The room has an open kitchen on one end, tables fill the rest. Did I sample? Nah, I'd just had a very filling lunch at nearby Beth's Kitchen Cafe (great, casual breakfast/lunch bakery/deli, by the way, with a dog-friendly patio), but next time I'm in town, I definitely plan on eating here. If you go, I'd love to hear your thoughts about it.