If you're looking for a new way to experience leaf peeping, book a trip with Jeff Hinman's Flagstaff Lake Scenic Boat Tours. On a brilliant September morning, with a hint of chill in the air , we met Jeff, a Maine Master Guide, at the boat landing in Stratton, boarded his 12-passenger pontoon boat, and set off for a roughly 2.5-hour cruise on Flagstaff Lake to take in autumn's annual peep show.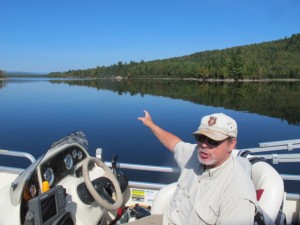 Unless you're willing to bump along back woods roads, hike the rugged Bigelow Mountains, or trek into Maine Huts & Trails Flagstaff Lake Hut, a boat is the best way to see Flagstaff, Maine's fourth-largest lake. And Jeff is the ideal landscape interpreter. He and his wife, Beth, previously owned the (now-gone) Porter House restaurant. The day they sold it, he purchased the boat to set into motion his dream of offering guided tours of Flagstaff.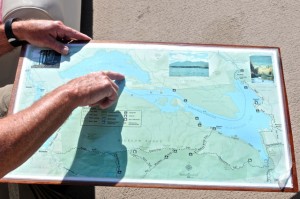 As we cruised along, following the river's deep channel in the shallow lake, Jeff shared the lake's rich history, including these highlights:
• Benedict Arnold's ill-fated march to Quebec along what was then the Dead River and Col. Bigelow's attempt to spy Quebec City from the peak that now carries his name.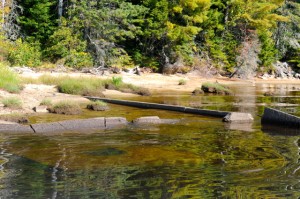 • The stories of the towns and villages in the Flagstaff-Dead River Valley that were flooded by Central Maine Power to create Flagstaff (do yourself a favor and listen to "Below," by Slaid Cleaves). The homes and businesses were relocated or razed, but the foundations remain; the graves were moved; the stained glass windows from the church were installed in a new church, built to resemble the original, in Eustis; the rerouting of the roads; the old J.P. Morgan farm; Schoolhouse Hill.
•  The attempt to create a Vail-quality ski resort on Bigelow.
• The creation of the Bigelow Preserve.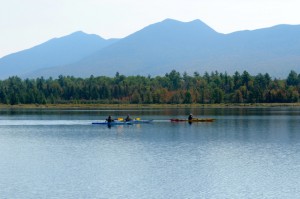 We cruised by islands that once were hilltops under the shadow of the Bigelow range. We kept an eye out for moose, but settled for eagles and loons. Other than a few kayakers and canoeists, we saw no other boats until we were nearly back at the dock, and then only two small pontoon boats. It was quiet, magnificently quiet, the sun was warm, but the colors were just beginning to turn. Go now, and I'm sure you'll see ma nature's flash dance in its full autumn glory.