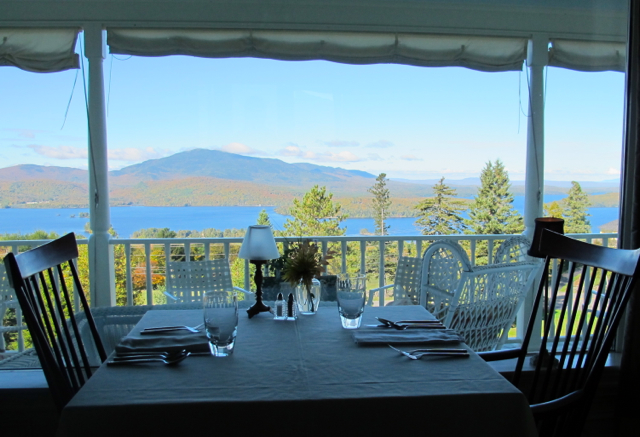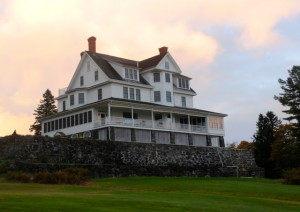 Once north of Bangor, I temper my dining expectations. I know I'll find plentiful farms with farm-made goodies, Mom-and-Pop restaurants serving huge portions of hearty comfort foods, and sporting camps with good home cookin'. I don't expect dining rooms where the ambiance and service sets the stage for professionally prepared, innovative fare that captures the seasons and teases the tastebuds. But that's exactly what's on the menu at the Blair Hill Inn, in Greenville.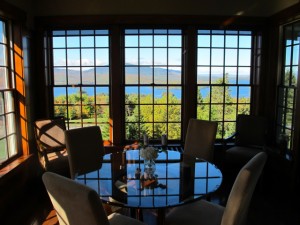 The inn, built as a private mansion in 1891, delivers mesmerizing views over Moosehead Lake from its hillside location. Enter into a refined hush of exquisite woodwork, fine architectural detailing, stained glass , and huge windows taking in those head-swiveling views. We settled first in the in the lounge, where a leather couch and chairs invite settling in by the fireplace. Over glasses of wine, we conversed with other guests as we shared tales of our day's adventures and marveled at the views.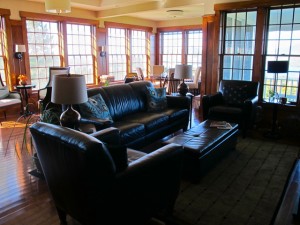 In the evening, the inn sets tables in the lounge, living room, main dining room, and enclosed porch, rooms that flow from one to another. All are decorated with refined flair that honors the inn's Victorian roots but does so with a light and sophisticated style.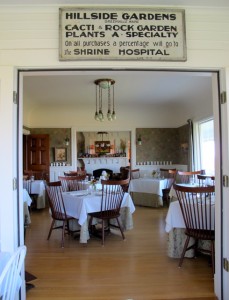 Lines are clean, accents are a well executed blend of contemporary pieces and antiques, woodwork shines, glasses sparkle, soft lighting prevails, and gentle music fills the background. Lighted candles filled the dining room fireplace, adding ambiance without overheating those seated next to it; a log fire burned in the living room fireplace, which was a comfortable distance from the window-side tables. And the views? Outstanding!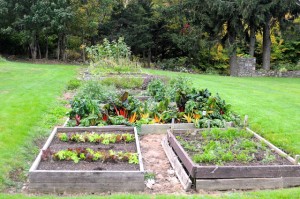 Executive Chef Amy Oliver's  set menu includes a choice of two appetizers, three entrées, and two desserts, as well as a soup and salad. Most of the vegetables and herbs are sourced from the inn's greenhouse and gardens, but Oliver's farm-to-fork cuisine reflects her experiences in the Bahamas, France, Cuba, and Morocco.
After ordering, our dinner began with an amuse bouche, a bite-sized decadence comprising a slice of apple topped with a seared scallop and blueberry chutney.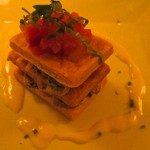 For my appetizer, I chose the autumn mushroom Napoleon, with caramelized onions, rainbow chard, and mushrooms in puff pastry with a warm Parmigian cream, while Tom opted for the Maine lobster, crab, and shrimp cakes pan-fried in crispy potato crumbs with smoky pepper aioli and lemon. Midway through, we grudgingly switched plates. Both appetizers were not only beautifully presented, but also well conceived and executed, delivering sublime flavors that complemented and enhanced each other along with a range of textures. Game on.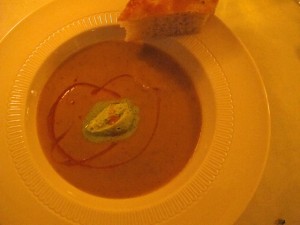 The soup, a puree of root vegetables and lentils with a mascarpone-pesto swirl, was served with a house-made focaccia, which was ideal for mopping up every rich and satisfying drop.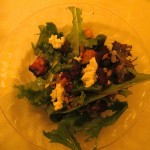 Next came a salad that, like the soup, celebrated autumn. Mixed local lettuces were paired with maple-roasted squash, goat cheese, dried cranberries, and pumpkin seeds, all lightly dressed with a pumpkin-seed oil vinaigrette. The flavors balanced and complemented each other, and the squash croutons were a delightful surprise.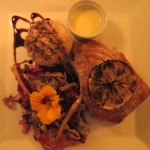 Entrée choices were wood-fired grilled steak with herbs de Provence, parsley & garlic butter, confit tomato, potato gratin dauphinois, and baby carrots OR maple-chile-glazed duck breast, with sweet potato, quinoa pilaf, and dragon-tongue beans OR seared tuna with wasabi-cream sauce, stir-fried cabbage, crispy rice, and sweet soy. After much deliberation, we opted for the steak and the tuna. Both were expertly prepared, delivered a well conceived balance of flavors and textures, and, as with the previous courses, beautifully presented. While I would have preferred a more rare tuna, it wasn't overcooked and remained moist. The crispy rice balls were addictive.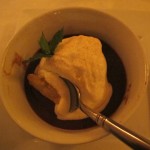 We split the two desserts: chocolate mousse cheesecake in chocolate ganache with exploding chocolate and raspberry purée and cornmeal and molasses pudding topped with baked apples and whipped sour cream. Although I'm a confirmed chocoholic, and this cheesecake was magnificent, I hogged the pudding, which truly delivered the flavors of the season.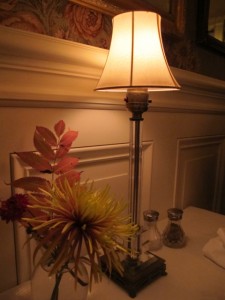 Service throughout was among the best I've experienced in Maine. It was professional, without being stiff, friendly without hovering. Water glasses were kept full, silver wear replaced or provided for each course. Although I later learned the innkeepers, who are on the floor throughout dinner, had to deal with a housekeeping emergency, we never knew it. The dining room retained its decorum, service never missed a beat, and the kitchen delivered on its promise.
What I remember now, as much as the food and service, is the detailed, thoughtful presentation of each course. Plates were never uniform, with each chosen to serve as a perfect backdrop and to enhance the visual pleasure of each dish. I'm still smiling at the memory.
***
The Blair Hill Inn serves dinner Thursday-Saturday nights, by reservation, from early May through late October. The five-course meal is $59. House wines by the glass range $10-12; wine list bottles range $20-$195. Rooms at the inn begin at $325, including breakfast.