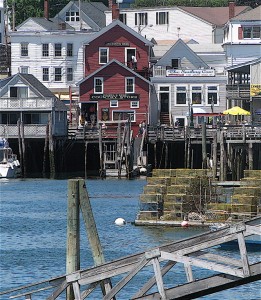 When I mention Boothbay, Maine, folks often cringe. They picture a small town overrun with tourists; cheek-by-jowl shops overstocked with Made-in-Japan lobster charms, lighthouse trinkets, and flimsy tee shirts; and way-too-many overpriced, oversized lobster shacks. But they don't know the Boothbay I know.
While no visit is complete without braving the crowds in downtown Boothbay Harbor (awe, c'mon, you love it—ice cream, taffy, that old fashioned bowling alley, the pedestrian bride, that summer-scented medley of sun, salt, greasy burgers, and popcorn), there's plenty more to this region (encompassing Boothbay, Boothbay Harbor, East Boothbay, and Southport Island). Here's my Top 10 list of what not to miss in the Boothbays.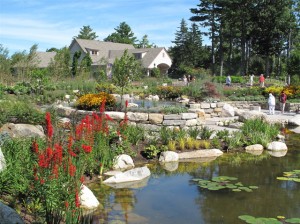 1. Coastal Maine Botanical Gardens: This isn't just a top 10 for the Boothbays, it's a top 10 for the entire state. Although still quite young, this amazing seaside garden keeps growing and developing. It has special gardens for the sensory impaired and for children. Trails weave through and along the oceanfront. Go for a few hours or spend the day (there's a very good cafe on the premises), but don't miss it.
2. Burnt Island Tour: If you're traveling with kids, this is a must; if not, I still highly recommend it. You'll cruise out to the island, pass through a time tunnel, and arrive circa 1952 to be greeted by and shown around by Lightkeeper Joseph Muise and his family. You'll tour the house, perhaps climb the tower, get the lowdown on the flora and fauna and fisheries heritage, and return knowing what it really was like to live in an island lighthouse.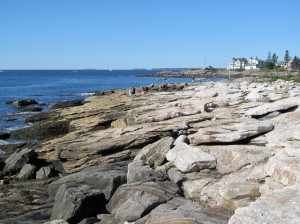 3. Southport Island & Ocean Point: Head out either of these peninsulas either on a bike (if you're an experienced cyclist) or for a lazy drive and discover two old-time summer colonies, along with great general stores, lovely cottages, a few inns, hikes or beaches, lighthouse views, and other treasures.
4. Hiking a Boothbay Region Land Trust Preserve: The options are plentiful, and I guarantee you'll lose the crowds quickly. Porter is the most popular, Ovens Mouth is more challenging, and Linekin has some cool sights like an old sawmill and a beaver dam. All deliver dreamy water views.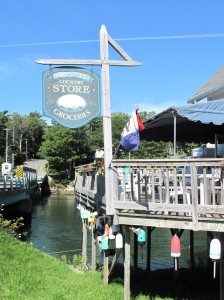 5. Lobster roll from the Trevett Country Store: Many Mainahs think these are the state's best. You can eat overlooking the swing bridge or if you can hold off on digging in, take your feast to nearby Knickercane Island for a picnic.
6. Concert on the library lawn: Bring a chair or a blanket, pack a picnic, and join locals, summah folks, from-aways, and anyone else in the 'hood. It's the place to be on a Thursday evening.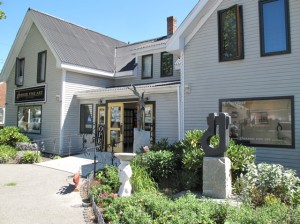 7. Gallery hop: Two of note (and there are plenty of others): In town, don't miss Gleason Fine Art, which shows and sells works by some of Maine's finest artists. And be sure to loop out to the other side of the harbor to visit Villard Studios. Sculptor Philippe Villard and painter Kim Villard summer here and winter in a abandoned village in the midst of a national park in France (how cool is that?) and collaborate on woodcuts and homemade books,; the results are in collections and museums.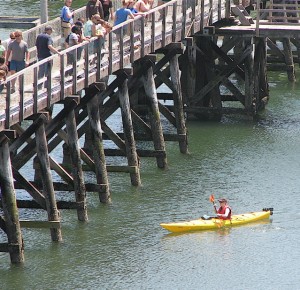 8. Sea kayaking: Sure you can go out on the big excursion boats, but the best way to see the harbor is by paddling, that way you can venture up close to sights you wish to see and get out an explore islands, too. For the less adventuresome, tours are available.
9. Cabbage Island Clambakes: Pricey, yes, but this is two-fer in more ways than one. For starters, you get not only a traditional lobster and clam bake, but you also get the boat ride to the island. And you get two lobsters, in addition to chowder, clams, corn on the cob, an eg, onions, potatoes, and even a slab of blueberry pie. It's not just a lobster dinner, it's an experience.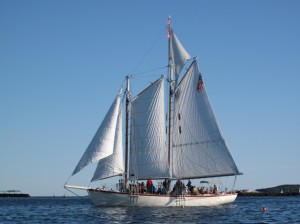 10. Windjammer sail: Herb and Doris Smith have built six schooners, five named Appledore and their current one, Eastwind. A two-hour sail on this beauty will have you singing Boothbay's praises, as you cruise around the islands sheltering the harbor. Wind at your back, sun on your face, now you understand Boothbay's allure.