I asked accessible travel maven Candy Harrington to write a guest post about accessible travel in Maine. Here she shares her thoughts on Freeport's Harraseeket Inn, which has made the necessary modifications to welcome guests with mobility issues.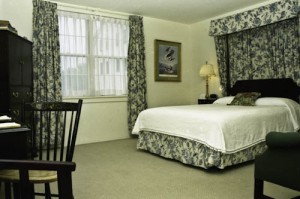 Innkeepers make their properties accessible for a variety of reasons. For some, it's just the right thing to do, while others look at it as planning for their golden years so they can age in place if they end up in a wheelchair. And then there are those folks who do it because they have to – because a close friend or family member becomes disabled.
Chip Gray is one of those "do it because he had to" folks, as he made numerous access modifications to his family's Harraseeket Inn, after his father fell off the roof and fractured his neck. Of course, some of the modifications were made so Mr. Gray could get around and enjoy the property, but clearly others were made so that everybody could access this historic Freeport inn.
Located on Main Street, the Harraseeket Inn encompasses two period buildings which were built in 1795 and 1850, plus a new wing which was added in 1989. This 84-room inn features accessible parking near the back entrance, elevator access to all floors, and a barrier-free pathway through the perennial garden.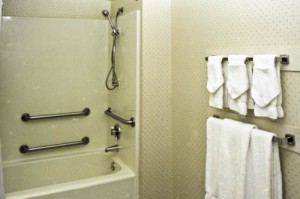 The Gray family first opened the Harraseeket Inn as five-room B&B in 1982, and Chip's mother Nancy Gray recalls how access was treated in the early days.
"Access issues were very confusing back then," she recalls. "Sometimes the federal and the state access regulations were different. I ended up doing a lot of research on the subject and I even served on a state-wide access committee. When I was on that committee I met a lot of people with different disabilities, and I began to really understand the rationale behind the access rules. In the end, we tried to incorporate as many access features as we could into our historic property."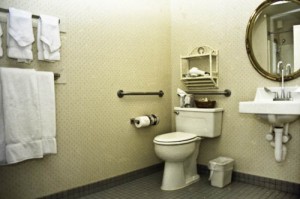 Today the Harraseeket Inn includes two accessible guest rooms. Room 107 is located on the ground floor and features a level entry, wide doorways, good pathway access, lever handles and a lowered closet rod. The bathroom has a tub/shower combination with a hand-held showerhead, a roll-under sink and grab bars in the toilet and shower areas. There is a full five-foot turning radius in the spacious bathroom, and a shower chair is available upon request. Room 204 has these same access features, except it has a roll-in shower in place of the tub/shower combination.
There is good access throughout the public areas of the inn, including the two on-site restaurants. And the swimming pool even has a lift, so everyone can enjoy the water.
You just can't beat the location of the Harraseeket Inn either, as it's just a few blocks away from the hundreds of outlets on and off Freeport's Main drag. Access is fairly good in downtown Freeport. This pedestrian-friendly town has wide sidewalks and plentiful curb-cuts. About 75 percent of the shops have level entries and access to at least one floor. While many of the shops are housed in historic buildings and have a few steps or narrow doorways, there are still plenty of accessible shopping choices in the downtown area.
If you'd prefer to enjoy the great outdoors, head on over to Wolf Neck Woods State Park where you'll find the accessible White Pines Trail. This hard-packed dirt trail winds through the forest and alongside the Harraseeket River. It is four feet wide, level and very easy to navigate in a wheelchair or scooter. Says Chip: "It's one of the few accessible trails in the area that actually takes you right down to the water."
If you visit during the late spring, be on the lookout for Lady's Slippers in the shady areas on the forest floor. These pink orchids are a protected species in Maine, and they bloom from late May to early July.
In the end, no matter when your visit Freeport, you won't be disappointed with the access at the Harraseeket Inn. Truly, the Gray family is committed to providing a comfortable, clean and accessible property – one that everyone can enjoy.
—By Candy Harrington
(editor's note: Read my thoughts on the Harraseeket Inn here).
—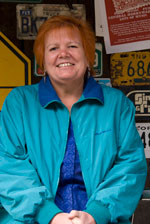 Known as the guru of accessible travel, Candy Harrington is the author of several accessible travel guides including the classic Barrier-Free Travels; A Nuts and Bolts Guide for Wheelers and Slow Walkers. Her newest title, 22 Accessible Road Trips; Driving Vacations for Wheelers and Slow Walkers features 22 driving routes across the United States with information about wheelchair-accessible sites, lodging options, trails, attractions and restaurants along the way. It's a great resource for Baby Boomers, couples, families, or anybody who wants to hit the road. Candy also blogs about accessible travel issues at www.barrierfreetravels.com.