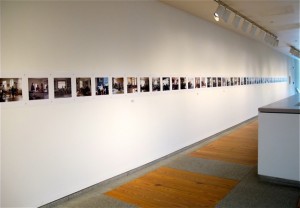 Make it a point to wander all the way to the fourth floor of the Portland Museum of Art to see Tanja Alexia Hollander: Are You Really My Friend?  On view through June 17, 2012, the photography exhibit by Hollander examines what happens when the Maine-based artist reaches across real time and space and connects with her "friends."
The portraits themselves are interesting in a surprisingly one-dimensional way—they let us into each friend's life, capturing friend and family in the home. It's the comments viewers have posted on the museum's wall (real wall, not FB wall) that add life to the exhibit. Some set out to define the word friend, others critique the works, a few add insightful comments, a handful sketched images.
After reading the comments, I returned to the images and looked at them anew, seeing them through the added dimension of these posts. And maybe that's the lesson: Our FB friends on all levels—casual acquaintances to best friends forever—enrich our lives in ways we don't always realize. Just interacting with them by reading occasional FB posts broadens our world.