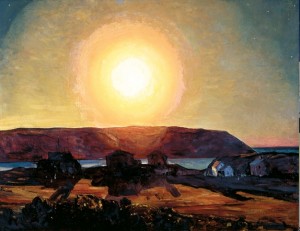 Here's an exhibition fans of Maine islands and art won't want to miss: Jamie Wyeth, Rockwell Kent and Monhegan is on view at the Farnsworth Art Museum, in Rockland, Maine, through Dec. 30, 2012. Both artists have a deep connection to Monhegan, an island that has captured the eyes, hearts, and souls of artists for generations.
If you've never visited Monhegan, it's a Maine treasure that's laced with hiking trails and peppered with artists' studios. It's a fabulous day trip, it's even better if you stay overnight.
Jaime, son of Andrew and grandson of N.C., first visited Monhegan in the late 1950s, and early in his career purchased several pen-and-ink drawings Kent had used as sources for illustration Moby Dick. Wyeth later purchased Kent's last home and studio on the island as well as several early 20th-century paintings by Kent.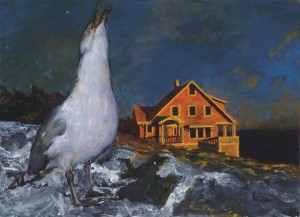 In conjunction with the exhibit, the Farnsworth is presenting a series of lectures and talks:
• Friday, July 6, at 1 p.m., Gallery Talk with Farnsworth Chief Curator Michael K. Komanecky;
• Thursday, July 12, at 6 p.m., Wyeth Day Lecturewith N.C. Wyeth biographer David Michaelis;
• Wednesday, July 25, at 5:30 p.m., Realism and Resonance: George Bellows Paints the Urban Landscape and the Sea,with independent scholar Marianne Doezema;
• Friday, August 3, at 1 p.m., Gallery Talkwith Farnsworth Chief Curator Michael K. Komanecky;
• Tuesday, August 14, at 5:30 p.m., A Conversation with Jamie Wyeth and Chief Curator Michael K. Komanecky;
• Wednesday, September 5, at 5:30 p.m., Rockwell Kent's Illustrations for Moby Dick, with Elizabeth Spear, Fellow in Curatorial Practice, Colby College Museum of Art.
Admission to the Farnsworth's Rockland campus, which includes the museum, the Wyeth Center, and the Farnsworth Homestead, is $12; kids younger than 16 are free. From June 1 through Oct. 31, admission is free from 5-8 p.m. on Wednesdays and on the first Friday of the month (coinciding with Rockland's monthly Art Walk—a don't miss event).