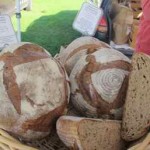 Barak Olins is passionate about bread. Every Friday, he handcrafts 200 loaves, using traditional French bread-making methods and certified organic ingredients, including whole grains that he mills just prior to mixing the dough. Then, he bakes them in a brick oven he built on his South Freeport, Maine, property.
Olins' Zu Bakery breads are as beautiful to behold as they are delicious to eat.  That each loaf is a work of art is not surprising for a man who is an artist as well as a baker. He's also the grandchild of Jewish Halocaust survivors, and that leads him to some disquieting questions.  He writes:
My artwork is derived from the unsettling recognition that my wood-fired brick oven is in many ways indistinguishable from the crematoria of Auschwitz. This observation, as it turns out, is not simply one of frivolous similarities. Indeed, J. A. Topf, the company that designed the crematoria also designed grain roasting ovens for breweries and bread ovens for bakeries.
Strangely, I have found myself working next to a machine that so closely resembles an icon of vast destruction. What would it mean to bake bread in these ovens? How might I consider the space between the life-providing and life-reducing potential of such machinery? How do the mechanics of memory and its inevitable blurring with the present further complicate this quandary? What it means to be a Jewish-Artist-Baker is unsettled — it offers and perhaps even insists on its own questioning.
Is he driven by the desire to bake bread, something deeper and innate, or a combination?
Olins' breads reaffirm the goodness and sanctity of life. I love that he sells them at the farmers market at  Brunswick's Crystal Spring Community Farm, which is owned by the Brunswick Regional Land Trust. That market is itself a celebration of life and community, a promise by the current generation of residents to those of the future.
Note: In winter, Barak Olins sells his Zu Bakery bread at the Brunswick winter farmers market at Fort Andros.
I was fortunate to watch him work the dough and shape loaves of miche. Here's a photo sequence: