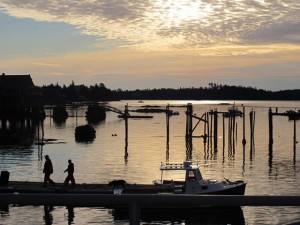 Most of my friends who live beyond Maine's borders think I live in the most ideal place. And they're right, to a point. But I think there's an even better place, and that's one of the islands off the Maine coast. Especially in autumn, when the crowds are gone, the light is soft, the air is clear, and the fire-singed colors of the season are beginning to glow. Take North Haven, for instance. I recently spent an all-too-brief overnight on this island, roughly 70 minutes across Penobscot Bay via the Capt. Neal Burgess ferry from Rockland.
North Haven Oyster Co.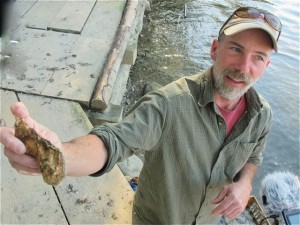 I went for a taste of local fare and began at the North Haven Oyster Co., where Adam Campbell raises the shellfish in Heidi's pond, a brackish mill pond, near Pulpit Harbor. When he's around —he's also a lobsterman, so that's not too often—he'll walk customers to the pond and explain the farming process as well as the proper way to open an oyster and—very important—how to eat one without ending up with gunk on the tip of your nose.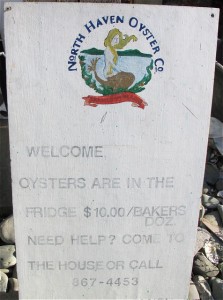 Back in the mid 1990s, a marine biologist visited the island to see if the smelt runs could be restored. He noted as a postscript in his report that the pond would be a great place to grow oysters.
Since Campbell's land fronted on the pond, he decided to pursue it, obtained an aquaculture lease from the state, and began raising oysters from seed. It takes up to four years for an oyster to mature, and when its ready, a diver harvests it by hand.
Turner Farm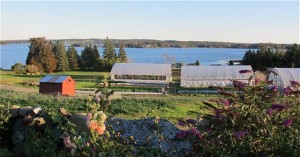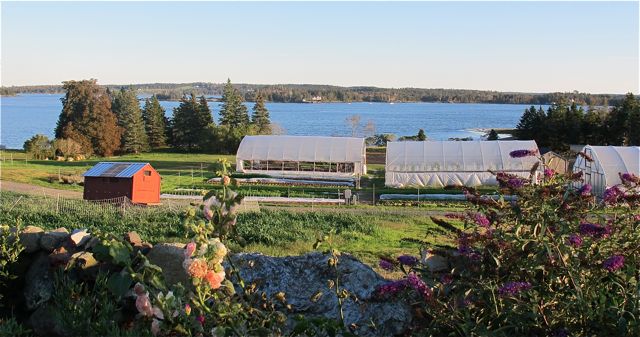 Next stop, Turner Farm, a Maine Organic Farmers and Gardeners Association-certified organic farm on the site of a farm dating back 200 years. This is, perhaps, one of the most visually pleasing farms I've ever seen. The land slopes down to the Fox Island Thoroughfare, a watery passage where lobster boats and sailing yachts pass between North Haven Island and neighboring Vinalhaven Island. On a September late afternoon, it's simply gorgeous, with the light shimmering on the water and the crops coloring the fields.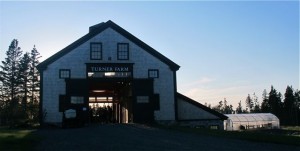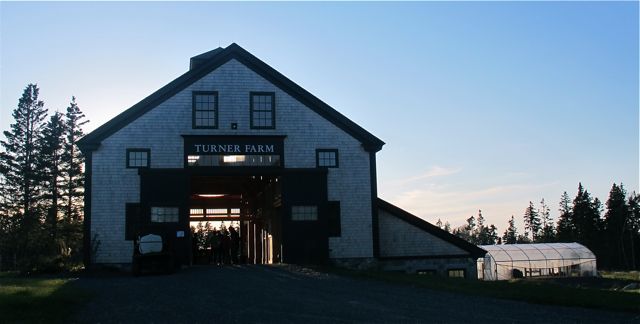 A magnificent barn tops the landscape. It's one farm manager James Blair hopes will stand the test of time, that visitors here 200 years from now will be still admire. The farm could be viewed as a rich man's folly, but it is intended as a profit-making enterprise, and while the setting and buildings are expensive and innovative  (the greenhouses are mobile, for instance), the farming practiced here could be practiced in far less fancy locations.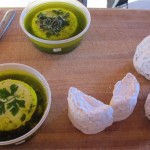 After visiting with the herd of goats penned behind the barn, I sampled a few of the cheeses made from their milk. Cheesemaker Jamien Shields makes fresh chevre and aged goat cheeses in the farm's Maine state-certified creamery. I immediately regretted not bringing a cooler with me, because I would have loved to have brought home the one ribboned with dulse (seaweed).
Nebo Lodge
Turner Farm partners with Nebo Lodge, an inn located just a couple of minutes stroll from the ferry dock. Upstairs are nine rooms decorated in Maine cottage-meets-Maine island style, with accents by famed designer and islander Angela Adams. It's really quite sweet, but while I love hardwood floors, the combo of those and thin walls means you'll hear everyone who walks around at night or who rises early. Be forewarned. Also pack a robe if you'll be staying in one of the rooms with shared bath, as they aren't provided (although I hope they will be soon, as I highly recommended it to the manager).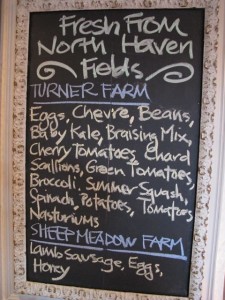 While the rooms are lovely, the heart of Nebo is the downstairs bar and restaurant, a cozy spot favored by islanders—be sure to make reservations if you want to land a table. Turner Farm provides much of the produce and meat served here. The menu is small, but highlights island grown or raised fare whenever possible. Be sure to share a table order of the crispy kale ($4), and don't miss the North Haven Oyster Bisque, North Haven Oysters on the half shell, or the North Haven Oysters Mosca ($9-14). Entrees begin around $24; lighter fare, including pizzas, burgers, and a fried North Haven Oyster  & Maine shrimp po'boy, are $9-16.
Afterwards or in the early morning, walk around the village. There's little as soul-satisfying as a Maine island in the quiet of an autumn night or by first light, when the sounds of an island awakening include the chug of lobster boats and birdsong.
And let me leave you with one more image of those luscious North Haven Oysters.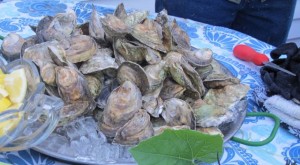 And a couple of parting shots.