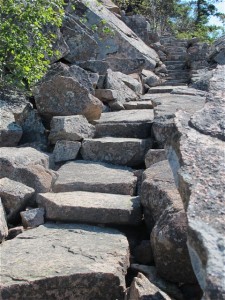 What better way to spend a glorious autumn morning than hiking in Maine's Acadia National Park. It's not only views that make hiking the Beachcroft Trail up Acadia's Huguenot Head so rewarding, but also the trail itself. It's an engineering masterpiece, comprising nearly 1,500 pink granite steps that snake through woods and over ledges.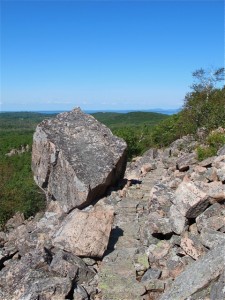 According to The Rusticator's Journal, a collection of articles from Journal of Friends of Acadia  (published 1993), the Beachcroft Trail predates the park. It was constructed in 1915 as a memorial gift from Mrs. C. Morton Smith, who named it for the family's summer cottage.
From the trailhead across from the parking lot at The Tarn, a glacial lake, on Route 3, the Beachcroft Trail climbs roughly a half mile  to the granite headland.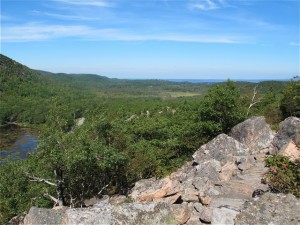 It progresses through deciduous forest to a series of stepped, hairpin switchbacks that rise quickly to granite ledges. Glimpses en route take in The Tarn with Dorr Mountain as a backdrop and eastward to Bar Harbor, Frenchman Bay, and the Porcupine Islands. The hiking is easy to moderate; the views get better and better as you climb.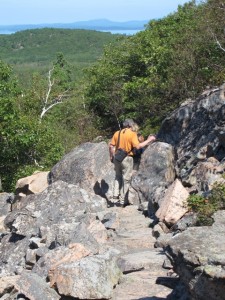 The trail wraps around the headland then descends into the woods before rising steeply to the summit of Champlain Mountain, but if you're not up for the effort, leave the trail where it begins to wrap around and instead scramble up the ledges to Huguenot Head. It's not signed, but it's pretty easy to figure out the route. You'll have to navigate around bushes, but the it's worth the trouble. Just keep ascending and within 10 minutes, you'll arrive at the top.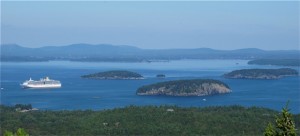 The bald headland is a fine place for a picnic. Chances are, you'll have it to yourself as most hikers here are destined for Champlain's summit. If you do choose to continue to Champlain's summit (yup, the views get even better), you can connect with the Bear Brook or Precipice Trails.
The Tarn parking area, on Route 3, is just south of the Sieur de Monts Spring park entrance and just north of The Tarn. It's on Route 4/Blackwoods of the Island Explorer bus.