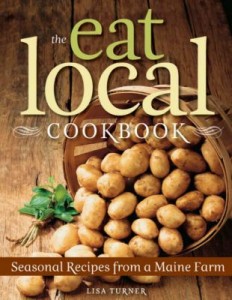 In Maine, eating fresh, local food is easy. The state was farm-to-table in homes and in many restaurants long before it became  trend. Now that it's harvest season,  farm stands and farmers' markets are overflowing with fresh produce, but  sometimes figuring out how to prepare those veggies and fruits can be a challenge. Lisa Turner, of Freeport's Laughing Stock Farm, comes to the rescue with The Eat Local Cookbook: Seasonal Recipes from a Maine Farm.
I love this cookbook, published by Down East. It provides new ways to deal with the overabundance of zucchini (besides leaving in an unsuspecting neighbor's car); shows how to prepare less well known produce, such as fennel, spaghetti squash, and baby bok choi;  provides new takes on old favorites, such as chicken with dumplings, red flannel hash, and even tuna noodle casserole; and delivers ethnic accents, such as recipes for kimchi, moussaka, and Thai-accented lobster and native corn bisque.
Turner not only shares her own recipes, but also those from some of Maine's best-known chefs, including James Beard award winner Sam Hayward, of Fore Street; Abby Harmon, of Caiola's; Dave Iovino, of Blue Spoon; Richard Lemoine, of the Cape Arundel Inn;  Joe Boudreau, of Havana South; and many others.
Recipes are presented by season, so whether it's pea shoots and radishes or potatoes and leeks crowding the market, there's a recipe at hand.  With the chill of fall in the air and apples, cranberries, and pumpkins coloring local fields and farmers' markets varied shades of orange and red, I'm sharing two of Turner's fall/winter recipes.
Apple Cranberry Cake
From The Eat Local Cookbook: Seasonal Recipes from a Maine Farm, by Lisa Turner.
This is a wonderfully moist cake. You can make it in a ring pan and have a pretty and delicious cake.
Preheat the oven to 350 degrees. In a large mixing bowl, cream together:
1 ½ cups brown sugar
½ cup vegetable oil
Add and beat well:
2 eggs
1 teaspoon vanilla
Sift together:
2 cups flour
2 teaspoons baking soda
1½ teaspoons ground cinnamon
½ teaspoon ground nutmeg
½ teaspoon salt
Add the dry ingredients to the wet ingredients and mix well. Stir in
2 cups peeled, cored, and diced apples
2 cups cranberries
Bake in a greased and floured ring pan for 50-60 minutes or 9" X 13" pan for 45-50 minutes, until a toothpick inserted in the center comes out clean.
—
In honor of the whoopie pie being named Maine's official snack food, here's Turner's recipe for Pumpkin Whoopie Pies.
Pumpkin Whoopie Pies
From The Eat Local Cookbook: Seasonal Recipes from a Maine Farm, by Lisa Turner
Who doesn't love a whoopie pie? I'm pretty sure that making them with a vegetable (pumpkin) doesn't even begin to make them "healthy," but it doest make a fabulous variation. This one is courtesy of our CSA member Shari Broder.
With an electric mixer, bet together until blended:
¾ cup packed light brown sugar
¾ cup sugar
6 tablespoons unsalted butter
Gradually beat in:
½ cup vegetable oil
Add one at a time, beating between each addition:
3 large eggs
Beat in:
2 cups Pumpkin Puree* ( if you want to make your own, see below)
In a separate large bowl, sift together:
2 cups white flour
1 cup whole-wheat pastry flour
2 teaspoons ground cinnamon
1 ½ teaspoons baking powder
1 ½ teaspoons baking soda
¾ teaspoon salt
¾ teaspoon ground nutmeg
¾ teaspoon ground allspice
In a third small bowl, mix together:
½ cup sour cream
3 tablespoons milk
Add half of the dry ingredients into the electric mixer bowl and mix well. Add the sour cream and milk mixture and mix well. Add the second half of the dry ingredients. Coer the batter and chill for 1 hour.
Preheat the oven to 350 degrees
Line two cooking sheets with baking parchment. Spoon the batter onto the baking sheet to make the cakes. Use about one heaping tablespoonful for small pies, or two heaping tablespoonfuls for large one. Leave some space between the pies as you put them on the pans. The batter may not all fit on the two sheets, in which case you'll need to do this a second time with the remaining batter. Remember, you need two cake pieces per pie. Let the batter stand on the cookie sheets for 10 minutes.
Set the racks in the oven so that one is 1/3 of the way down from the top and the other is 1/3 of the way up from the bottom
Bake the cakes for about 11 minutes for small pies or 16 to 20 minutes for larger pies, switching the sheets to the opposite racks halfway through baking. They are done when a toothpick stuck n the center comes out clean. Cool the cakes completely on the cookie sheets on a rack. Gently remove the cakes from the parchment.
In a clean bowl, beat with an electric mixer on low to medium speed until smooth:
½ cup unsalted butter
one (8-ounce) package cream cheese
Blend in:
½ teaspoon vanilla
½ teaspoon maple extract
With the mixer on low speed, add slowly and mix until smooth:
3 cups sifted powdered sugar
Once the powdered sugar is fully incorporated, mix at high speed for about 3 minutes to incorporate some air into the filling. Spoon 1 to 2 tablesspoons of filling onto the flat side of a cake. Top with another cake, flat side down. Repeat with the remaining cakes and filling. These can be made ahead and stored in a single layer in an airtight container in the refrigerator for up to a week, if you can resist them for that long!

*Pumpkin Puree
From The Eat Local Cookbook: Seasonal Recipes from a Maine Farm, by Lisa Turner.
To turn a big fat pumpkin into the stuff that comes in the can, you need to cut up the pumpkin and remove the stem and seeds. Cook the pumpkin either by simmering it or baking it until tender—maybe 20 to 30 minutes of simmering or 45 minutes of baking at 400 degrees. Remove the insides from the skin and run it through a food processor or buzz it in the blender, or run it through a food mill. This will make it a uniform consistency.