Farm-to-table is so yesterday; in Maine, you don't even have to leave the farm. These farm-based Maine restaurants, cafés, and pizza ovens serve farm-fresh fare. Most, if not all, ingredients are sourced onsite or nearby. Do call before making a special trip, as hours vary by the season, if not the week or day. (Updated May 2, 2018)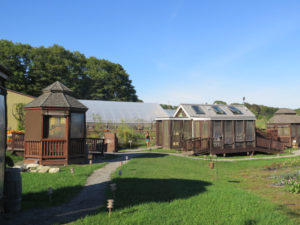 Culinary Institute of America-trained chef Jason Williams presides over The Well, a mobile kitchen set amid the fields, greenhouses, and gardens of Jordan's Farm, a 122-acre third-generation family farm on a land trust. Dining is mostly alfresco, with seats at picnic tables, in gazebos, or at the kitchen counter.
Visit the well-stocked farm store before dinner, pick some fresh flowers for the table, and savor a scratch-made farm-fresh meal. Definitely make reservations.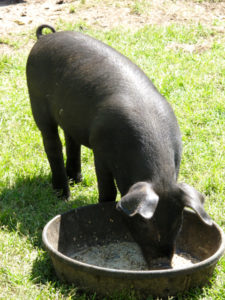 While most places on this list were farms first, Primo, owned by two-time James Beard award-winning chef Melissa Kelly, was first a restaurant. Kelly purchased the property in 1990. Over the years, she's cultivated the property, sowing crops and adding gardens, beehives, and livestock for true farm-fresh fare.
I love arriving early to wander around the produce and tea gardens, view the hives, and visit with the pigs, chickens, and guinea pigs in the pastures.
Primo has both a formal dining room and more casual lounges. Definitely make advance reservations for the dining room.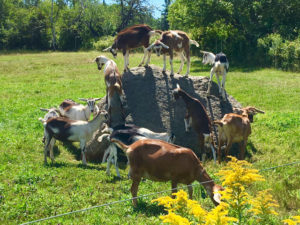 Visiting Acadia? Nose out to Lemoine and watch Nubian goats romp in the field and play king of the rock, while you wait for your personal pizza (~$12) to be made and cooked in Seal Cove Farm's outdoor oven. Pizza menus vary to reflect what's currently fresh from the farm, but each is topped with Seal Cove's various goat cheeses and, if you want, goataroni. Go on a fine day, as there's no indoor seating.
The farm store sells the cheeses as well as goat gelato, when available. The pizza oven usually operates for lunch Friday through Sunday.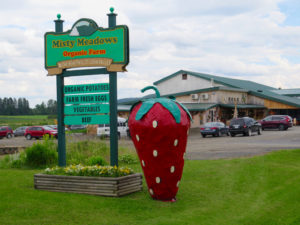 Whenever I'm in the St. John Valley, which edges the namesake river at the crown of Maine, I come here for lunch. Farm-fresh produce, preserves, salted herbs, pickled veggies, baked goods, and Maine-made crafts fill the Misty Meadows Organic Farm store, which doubles as a country café.
The menu features Maine spuds with all manner of toppings, as well as typical luncheon fare. There are sweets (oh my, the pies!), a barbecue pit (Thursdays), and hearty daily specials, too. There's seating both indoors and outside. Say hello to Princess the pig, if she's hanging around outside.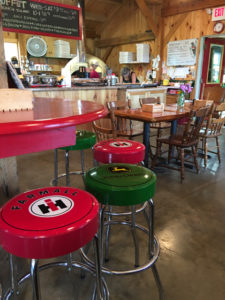 If heading north to the Moosehead or the Katahdin & Lakes regions, detour to Stutzman's. This third-generation family farm has a store stocked with farm-fresh produce and a bakery producing scratch-made breads, pies, pastries, and more, but it's the café that steals my heart—or maybe stomach.
Stutzman's serves soups, salads, desserts, daily specials, and wood-fired pizzas drawing from the farm's bounty. Everything looks good, but I always to for the pizza, sold by the slice and pie. Even better, there's a pizza buffet. For about 12, you get an all-you-can-eat feast with varied pizzas, salads, dessert, and beverage.
Dine inside or out at the Riverside Farm Restaurant. This cabin, on the Tyler family's 25-acre working farm on the Kennebec River, offers lunch, dinner, and Sunday brunch. Everything is scratch-made, with an emphasis on fresh & local ingredients.
Live music is often offered. Also here is a great farm market, with a bakery (pies!), produce, condiments, traditional Maine bean-hole beans, handmade crafts, and, yes, wine. It's equally accessible from Waterville and the Belgrade Lakes.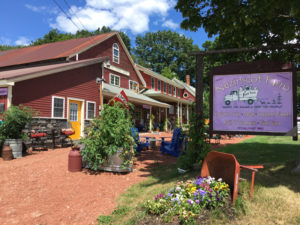 Nezinscot, Maine's first organic dairy farm, is a multi-faceted find. Sited on 250 organic acres edging the Nezinscot River are veggie gardens, farm animals, and a huge farmstead and barn. Housed inside are a gourmet food shop, cafe and coffee shop, bakery, fromagerie, charcuterie, and a yarn and fiber studio.
Go for brunch or lunch, or simply stop in for the fresh-baked pies, doughnuts, breads, and sweets. Make a picnic adding cheeses and charcuterie, veggies, and other finds.
The Cafe offers a full breakfast menu including crepes, quiche, and even poutine, along with soups, sandwiches, burgers, pizza in season, and specials.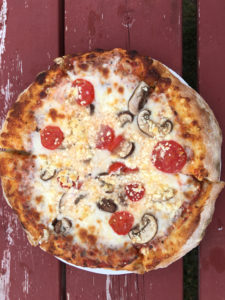 Tabitha King, wife of horror maven Stephen, owns Pietree Orchard a hilltop orchard with eye-candy mountain views that are gorgeous anytime but glorious in autumn. The farm store carries produce and house-made baked goods and sweets, including cider doughnuts.
That said, plan a visit around the baked-to-order pizzas cooked in the outdoor wood-fired oven. You can even go home with a tasty souvenir: Depending on the season, fruit-picking opportunities range from strawberries to pumpkins.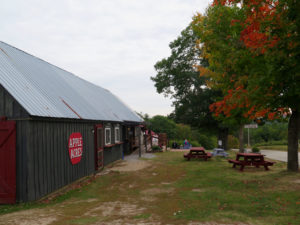 The best time to visit Apple Acres Farm is in autumn, when the apple orchard is heavy with fruit and the hills surrounding it are ablaze with color. Can't make it then? Not to worry, you can stop in anytime for apple-cider doughnuts, ice cream, and oh yes, doughnut-ice cream sandwiches, not to mention sandwiches, pies, and—surprise!—even a decent lobster roll.