Yes, you can find reasonably priced accommodations along the Maine Coast between Brunswick and Thomaston, including these in Boothbay Harbor, on the Pemaquid Peninsula, and adjacent to Moody's Diner in Waldoboro.
Mid-Town Motel, Boothbay Harbor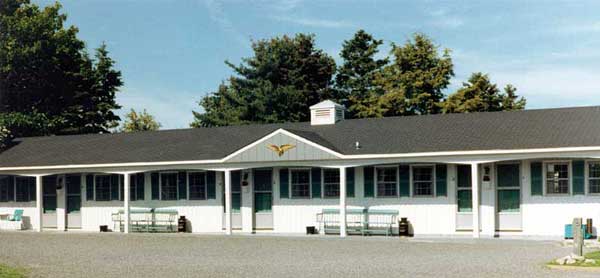 Smack dab in the center of Boothbay Harbor, the appropriately named Mid-Town Motel has been owned and operated by the Lewis family for more than years. "My Father always said keep the property well maintained, have good clean rooms, make people feel at home, and keep the room rates reasonable, and I still think those words ring clear today," says owner Tim Lewis. The walk-to-everything location eliminates the hassle of parking in this seaside village. The cozy rooms are classic 1950s in style. No frills, but at these prices, who cares!
Hotel Pemaquid, New Harbor
Although guests can't see Pemaquid Point Light from the Hotel Pemaquid, they sure can hear the foghorn when it blows. New owners have gently renovated and upgraded the 1888 accommodations without loosing the charm of seaside Victorian hotel, right down to the rockers on the front porch, but rates are creeping upwards. Antiques are plentiful, but the emphasis is on comfort. Coffee is served in the morning, but most guests stroll over to the oceanfront Sea Gull restaurant for blueberry pancakes served with a view of the lighthouse.
Moody's Motel, Waldoboro
Moody's Diner (photo) has been a landmark for generations of travelers heading up Route 1 through Maine's mid coast, its neon sign a beacon for weary drivers seeking a cup of joe and a slab of pie. Hidden from sight up a quarter-mile drive behind the diner is Moody's Motel and Cabins, a coastal tourist cabin classic that's been operating since 1927. The location is convenient for exploring from Wiscasset through Searsport. Every unit has a screen porch and TV; some have kitchenettes. And the rates? Right out of a different era.