Yes, you can find cheap sleeps in Maine's Acadia region, encompassing the Blue Hill/Deer Isle Peninsula, Mount Desert Island home to Bar Harbor, and the Schoodic Peninsula, all providing easy access to Acadia National Park.
Some of these are waterfront. Some have a bit more, uh, character. If you're used to five-star lodgings, these won't cut it; many wouldn't earn even two. But all are clean and pass my sniff test. And each has peak-season rooms (not every room mind you, but at least a few) that go for less than $100 per night, some considerably less. (post updated Feb. 21, 2018)
Check into Boyce's, and perhaps purchase artwork from one of Deer Isle's numerous galleries with the savings. The hodgepodge of rooms and apartments are strung perpendicular to Main Street. The décor isn't fancy, but the frills include a harbor-front dock, Wifi, and in-room refrigerators. Some rooms have kitchens, water views, and private decks. Pets are accepted in some rooms for an additional $15 per stay. The nearby Harbor Café is the local hot spot for grub and gossip, and Aragosta is the spot for finer dining. It's an easy walk to the Isle au Haut ferry accessing a remote section Acadia National Park. Peak season rates from $85.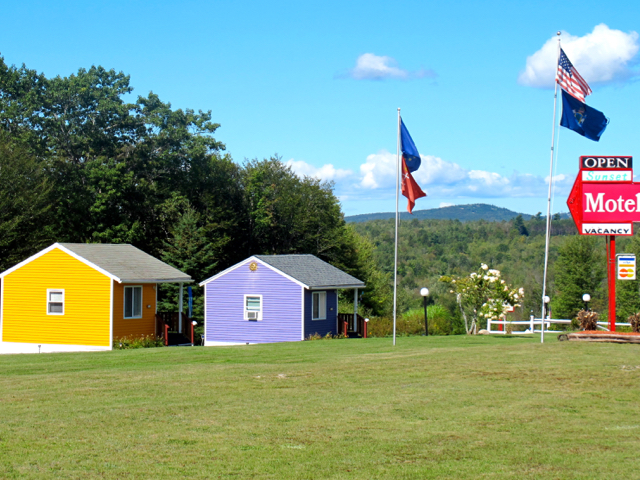 Over the years, this colony of tourist cabins located on Route 1 about 6 miles south of Ellsworth have caught my eye. They're eye candy: Each is painted a different color and many are adorned with artsy embellishments, such as stars. The five one-bedroom (sleep two) and two two-bedroom cottages (sleep six) are spotless and well equipped. Each is air-conditioned and heated and furnished with queen-size beds, refrigerator, microwave, coffee maker, and even packaged pastries. Yes, you'll hear the noise from Route 1, but the air-conditioners should help muffle it. (NOTE: Feb 2018—web site is down. I know the property is for sale, I will check back as the season approaches for updated rates. In the meantime, call 207/667-8390. )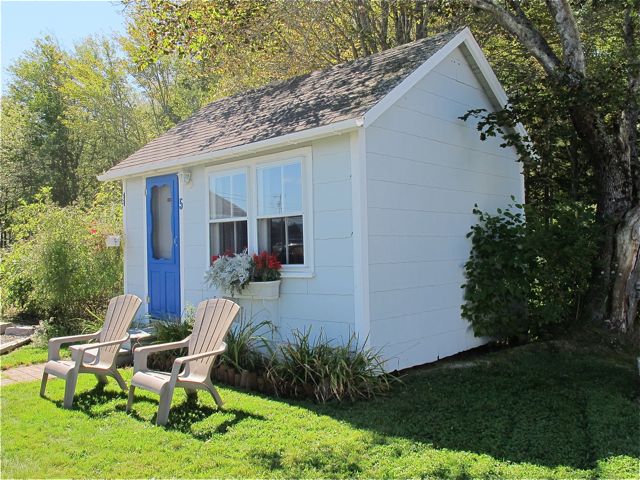 The Kelley family's Isleview Motel & Cottages is a budget find. The property comprises a motel, one- and two-bedroom cottages, and a few "sleep-and-go" rooms above the office, all decorated with country style. At these prices and with this location—facing Route 3 (yes, you'll hear the traffic), 8 miles from the park entrance, on the Island Explorer shuttle route, across from a lobster restaurant, and just a half-mile from the Thompson Island picnic area—don't go looking for fancy, but wallet-conscious travelers will be tickled with it. Most rooms are small but are equipped with mini refrigerator, microwave, Wi-Fi, coffee-maker, air-conditioning, and TV. Outside are picnic tables and grills. When I visited, I peeked in on two chambermaids who were cleaning one cottage. It was spotless, and they were rightly proud of their work. Peak season rates from $83.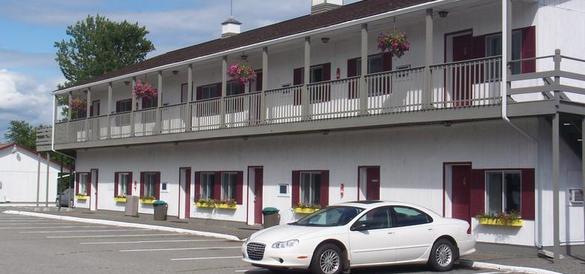 Here's another cheap sleep with a few surprises, such as an outdoor heated pool. New owners, in 2009, have been upgrading and updating the 1985 building (originally built as a strip mall). All rooms have air-conditioning, cable TV, phone, refrigerator, microwave, and coffeemaker; some rooms have full kitchens. Other pluses include a guest laundry, fire pit, and pirate ship playground. Pets are allowed in some rooms for $15/night. This motel faces Route 3, so noise can be a problem; solution: Ask for a rear-facing room, which has the added plus of views over the airport, to the water, with the mountains of Acadia as a backdrop. It's serviced by the Island Explorer. Peak season rates from $90.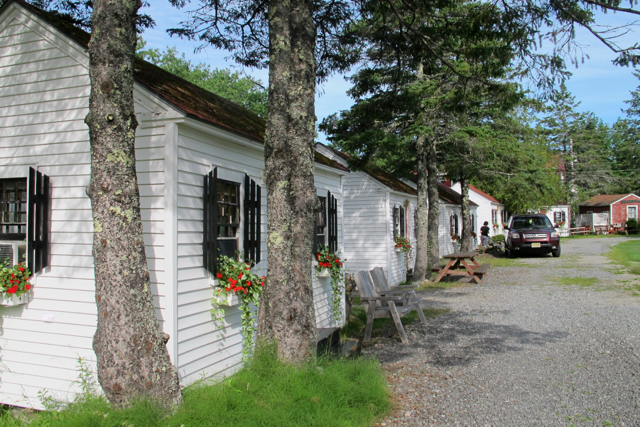 This family owned cottage colony, with inn rooms, lodge rooms, and an apartment is a charmer. I stayed in one of the lodge rooms and it had the amenities of a mid-range chain hotel, but was far more spacious, with two queen beds and a futon sofa, small fridge, and microwave, too. The cabin-style cottages are well tended, and one guest, who spent the night in one with her mother, said she adored the place. Coffee, tea, and homemade muffins are available in the office each morning. Cabins are set back a wee bit from Route 1 and shaded by mature pines. Air-conditioners help muffle noise. The Open Hearth is across from the airport and a lobster pound, and on the Island Explorer bus route. Peak season rates from $85.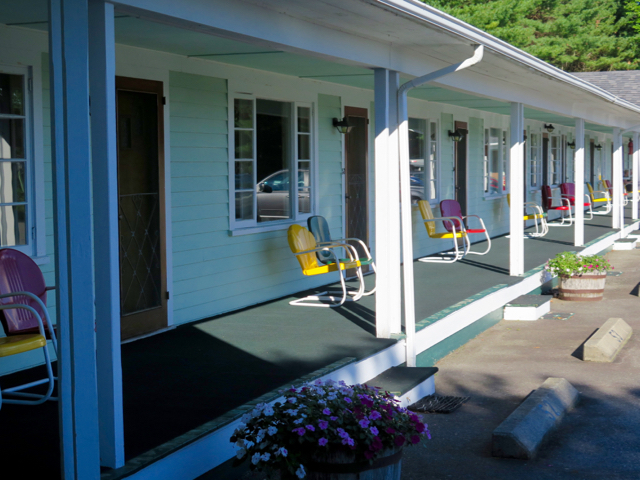 Snagging a cheap and decent room in a convenient location isn't easy in Bar Harbor. Meeting the criteria is the Edenbrook, with four buildings tiered up a hillside, a walk-able mile from downtown. The least expensive rooms are on the lowest level, but those on the upper ones have increasingly panoramic views over Frenchman Bay. No flash here, expect 1960s-esque style and amenities. It's on the free (with Acadia park pass) Island Explorer bus system, which provides access to most of Mt. Desert Island, and a short walk from College of the Atlantic, with an inexpensive cafeteria. I've stayed here a few times. Peak season rates from $80.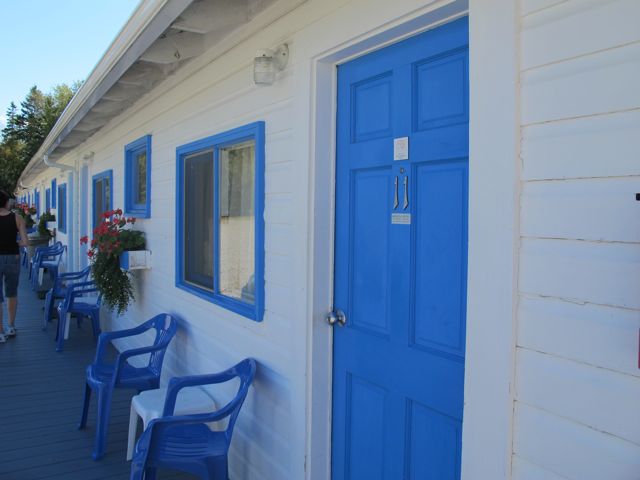 Clean and affordable, The Belle Isle, a vintage mom-and-pop roadside motel, delivers on both counts. Darren and Camille Taylor purchased the Belle in 2011 and have spruced it up with plans to do more (here's hoping the low prices remain). The standard rooms are small, but all have air-conditioning, TV,  Wi-fi, and refrigerators; deluxe rooms are more spacious, but closer to the road. Also on the premises are a heated pool, playground, picnic area, and a guest laundry. A microwave is available for guest use. Another plus: It's on the  free Island Explorer bus route. Pets are welcome for $10/night. Peak season rates from $90.
If all you crave is a room with a bed, Robbins Motel, an older motel, has 30 small, pine-paneled, unadorned (some might call them dismal) but clean queen-bedded guest rooms. While frills are few, all have air-conditioning, TVs, and Wi-Fi. There is no charm, it's not quiet, but it's cheap and clean and serviced by the free Island Explorer bus. Peak season rate is $69.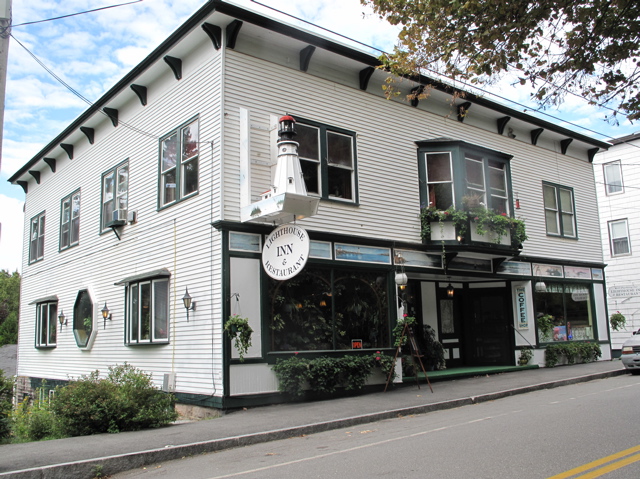 Here's a gen-u-ine bahgain in oh-so-tony Seal Harbor. Sure, it's dated and dowdy, but at these prices ($75-125 in season, $45 winter), who cares? All rooms have private baths and two have kitchenettes (one with a separate bedroom); there's a restaurant downstairs serving inexpensive meals; and it's a short walk to Seal Harbor Beach and the Seal Harbor entrance to Acadia National Park's carriage road system. Who knows? You may even spy summer Seal Harbor resident Martha Stewart while here. Yup, it's on the Northeast Harbor route of the free Island Explorer bus service. Peak season rates from $75.
Shhh, don't tell too many folks about this property at the head of Southwest Harbor. The shorefront Harbor View is on the edge of downtown, but hidden from the highway. Picnic tables dot the grassy lawn, and at low tide there's a private pebble beach. Rooms are split between two vintage motels and a newer three-story building with fancier (and a bit pricier) units. The Island Explorer bus stops nearby. Pets are allowed in some rooms for $10 per day. Also here are cottages that rent by the week. Peak season rates from $98.
Niftiest cottage at the Main Stay is the one-bedroom Boathouse, which dates from the 1880s. It hangs over Henry's Cove, letting water lapping below serenade guests to sleep at high tide. More spacious is Little Cranberry, a one-room cottage with full kitchen, gas fireplace, and big deck taking in those harbor views. There's also an expansive second-floor room in the main house with private entrance off the deck. The property is adjacent to the Bar Harbor Ferry dock and on the Island Explorer Schoodic route, making it easy to explore the region. Peak rates from $99.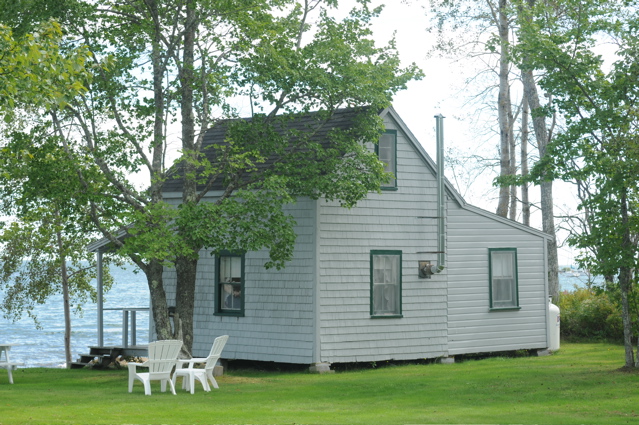 The Ritz these aren't, but I love staying here. Albee's comprises 10 rustic and somewhat ramshackle cottages (wallpaper may be stained or peeling, old furnishings, some spring-coil beds), hugging the shorefront; some are just feet away from the high-tide line. The cottages are decorated with homey touches such as braided rugs and fresh flowers, and most have views to Prospect Harbor Light. Guests often lounge on the ledges with computers, taking advantage of the Wifi. And how's this for service: Purchase lobsters, and owner Richard Rieth will prepare and deliver them to your cottage. In peak season, cottages rent by the week, but shorter stays often are available. Rieth is slowly fixing the place up, but if you're the least bit fussy, look elsewhere. Dogs are welcome. Peak season rates from $90.