Maine is renowned for its lobster shacks, but its fried fish joints are equally tasty finds. At these 10 coastal gems—a mix of sit-down restaurants and take-out shacks—the fish is ultra fresh and moist and the coatings are flavorful and crisp. Expect big portions, low prices, salty gossip, and homemade desserts that are as alluring as the catch of the day.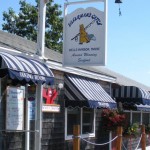 • Fisherman's Catch, 134 Harbor Rd.,Wells
The Cardinali family's shingle-clad fish joint edges a saltwater marsh on the road to Wells Harbor. Snag a picnic table inside or out. The secret to their the light, crispy yet moist fried fish, says Ned Cardinali, is their labor-intensive, multi-step dipping-shaking-and-frying process. Order fish'n'chips, served with homemade slaw and a roll, or  splurge on the seafood platter or split the Captain's Feast, a mountain of scallops, Maine shrimp, whole-belly clams, and haddock, and fries, with rolls and slaw . The Catch also earns raves for the fried smelts, calarmari, and oysters. Don't even think about skipping the sweet potato fries or homemade desserts: Both the blueberry pie, served warm with ice cream, and the vanilla bread pudding, with a warm whiskey caramel sauce and whipped cream, are alone worth visits. This seasonal place is extremely popular, go early to avoid a wait.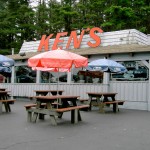 • Ken's Place, 207 Pine Point Rd., Pine Point, Scarborough
Crunchy, chewy, tasty: When it comes to fried clams, Ken's gets it right. And no wonder, this place has been frying clams since 1927, and has generations of Mainers as devotees. Owner Dave Wilcox daily selects the best-grade fish, right off the boat. While the whole belly clams—available battered or crumbed—are justly famous, it's the made-to-order clam cakes that are the biggest sellers. Ken's sells upwards of 1,000 daily, but id does all type of fried seafood—the seafood platter feeds two—and Ken's has earned a cult-like following for its fried oysters, available the first Tuesday for each month. Seasonal.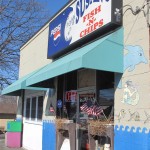 • Susan's Fish-N-Chips, 1135 Forest Ave., Portland
This garage-turned-fish shack evokes the sea, from the mermaids and fish painted on the exterior to the netting hanging over the counter inside. But don't expect a fishy odor, Susan's is clean, efficient, and dishes out some of Portland's best and cheapest fried seafood. Owner Susan Eklund makes sure Susan's delivers on its motto: "Our fish is so fresh, you'll want to slap it." Big portions, low prices, crispy flavorful fish,, and daily specials reel in the locals. On Mondays and Tuesdays, two fish-burgers are $2.50, and Wednesday is haddock day, with fried specialties ranging from nuggets to a haddock and scallop dinner. Open year round.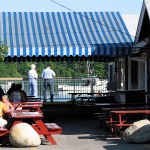 • Harraseekett Lunch and Lobster , 36 Main St., S. Freeport
Tucked down on the harbor in South Freeport, a world away from downtown Freeport's shopping madness, Harraseeket Lunch serves fried seafood in abundance. Order at the window, then grab picnic table outside or a seat in the dining room. This is the place to settle that ages-old question about fried clams. Order a half-point of breaded and another of battered, and decide for yourself which is better. Finish with a homemade whoopie pie. This place is no secret, so expect crowds. Seasonal.
• Sea Basket, 303 Old Bath Rd., Rte. 1, Wiscasset
Healthful fried food? The Sea Basket is as close as it gets. It  uses a convection frying system that quickly sears the outer coating, so far less oil is absorbed than in standard frying. The roadside restaurant just south of Wiscasset is easy to spot, the parking lot is always full, especially on Sundays, when locals congregate here after church. Fried haddock, scallops, clams, Maine shrimp, even clam cakes and crab cakes are all available, served alone, in rolls, and in baskets. Bonus: Don't miss the lobster stew. Seasonal.
• Bet's Famous Fish Fry, Rte. 27, Town Common, Boothbay
"Free Beer Tomorrow" proclaims the sign outside Bet's Fish Fry, a strictly take-out shack on the town common in Boothbay. Owner Bet Finocchiaro is an institution in these parts Although she no longer catches the fish herself, she still uses sing her grandmother's breading recipe, whips up her special tartar sauce, and makes the fries. Bet sys she goes through 1,500 pounds of haddock and 800 pounds of potatoes each 4.5-day week. The haddock sandwich and the fish and chips are legendary, but unless you're a big eater, plan on splitting; portions are huge. No indoor seating, but there are plenty of picnic tables on the common. Seasonal.
• Surfside, Vinalhaven
Catch an early ferry from Rockland to Vinalhaven island, and stop in at the Surfside, Donna Smith's no-frills dinerette hanging over the harbor with a few tables on the deck. If you're lucky–or it's a Sunday morning–fishcakes will be available; breakfast is served until 11 a.m..
• Angler's, Rte. 1, Searsport
The Hall family now operates three Angler's restaurants, but this one is the original, and it reels in the both locals and tourists heading up Route 1. They come not only for the fried haddock, Maine shrimp, oysters, scallops, and clams, but also for the homemade desserts (coconut cream pie and blueberry pie are the top sellers). The fried haddock dinner comes with two large, hand-battered filets served with a choice of potato and vegetable. It's enough to feed two, especially if you plan on ordering one of the 12-15 dessert choices, most of which are made on site. Year round.
• Just Barb's, Rte. 1, Stockton Springs
Here's a dandy place for an unfussy meal at a low price. This hole-in-the-wall offers a few counter stools, a handful of tables, and outdoor picnic tables. The all-you-can-eat fish fry, available daily after 11 a.m., is a mere $7.99 and comes with top-quality Alaskan white fish, fries, slaw and a roll (one order, without seconds, easily fed my husband and I). Owner Doug Fraser mixes his own batter from three types of flour, and fries the fish in canola oil that's changed every other day. Year round.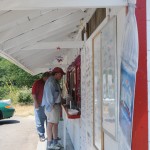 • Bagaduce Lunch, 145 Franks Flat Rd./Rtes. 175/176, Penobscot
Judy Astbury, along with her husband, Mike, is the third-generation owner of Bagaduce Lunch, a roadside takeout founded by her grandfather Sidney Snow. In 2008, no less an authority than the James Beard Foundation named it an American Classic. Regulars know to order the clams, lightly breaded and fried in vegetable oil. Aim for a riverside picnic table, where you can watch for gulls, eagles, osprey, and seals. Time a visit to coincide with the change of tide so see the reversing falls on tidal Bagaduce River really rip. It's being renovated for this season, so it might look a bit fancier. Seasonal.
• Chester Pike's Galley, Rte. 1, Sullivan
From the exterior, Chester Pike's is quite unassuming, if it weren't for the parking lot jam-packed with Maine license plates, one might not stop. Those local folks know a good thing. Fish queen Jane Fogg and dessert queen Amy McGarr are an umatched kitchen duo. The fish 'n ' chips, a large portion of haddock  and fries served with homemade slaw and homemade tartar sauce, are lunch-time bargain at $6.95, but the Friday night fish fry, which includes two pieces of fish, fries, slaw, tartar, and a homemade roll, is $10.95, and includes free seconds. The secrets to fried fish perfection, Fogg says, is not to use egg wash and to fry in trans-fat free oil. McGarr's desserts—which highlight seasonally fresh ingredients—greet diners at the door. Order dessert first, and stash it away, or your top pick might sell out. Seasonal.