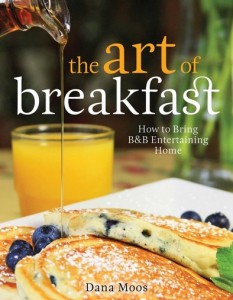 Yesterday, I had the good fortune to attend a brunch at Portland's Pomegranate Inn launching innkeeper Dana Moos new cookbook, The Art of Breakfast: How to Bring B&B Entertaining Home (Down East Books, May 2011). Dana made putting together a nine-course (!) meal look easy, and she says it is, explaining how in this book.
Dana is an accomplished and talented woman. Former owner/innkeeper at the Kingsleigh Inn, in Southwest Harbor, she's now innkeeper and (more importantly) breakfast maker at the Pomegranate, a lovely 1884 Italinate-style inn that's filled with contemporary artwork, including paintings, sculptures, and even murals. It's against this richly ornamented backdrop that Dana presents her own masterpieces.
The Art of Breakfast, Dana says, is about "creating beautiful art on a plate by combining fresh fruits and vegetables in imaginative, yet simple ways. It's about seeing food in colors, the way we learned from the color chart in elementary school. It's about looking at a plate of food as a composition and balancing colors, textures, and flavors."
That was evident in each of the nine sampling courses presented. These ranged from a fiddlehead frittta, made with carmelized shallots, goat cheese, beets, jicama, and carrots, to an egg roulade with leeks, Parmesan, lobster, and sherry butter (her signature dish); cheese blintz souffle made with mango puree and blackberry coulis to banana-stuffed French toast prepared with raspberry coulis and dark chocolate sauce. Each course was eye candy, as delightful to behold as to eat.
I'm including a few recipes here, but if you want to indulge without fuss, book a room at the inn. It's located in the city's tony West End, a pleasant stroll from the Arts District and the Portland Museum of Art and the Victoria Mansion. For food-lovers, it's another feather in Portland's dining toque.
And do pick up a copy of the cookbook, which also features Moos' photographs of many of the dishes presented. While I haven't included the recipe for watermelon and kiwi with coconut lime creme, I'd highly recommend that light but flavor-rich treat, which transported me briefly to the Caribbean. Another favorite from the tasting was the poached eggs over sweet potato pancakes with poblano cream, mango, papaya and strawberies, lemon and basil (and maybe I'll share that one at a later date).
***
Fiddlehead (or Asparagus), Caramelized Shallots, and Goat Cheese Frittata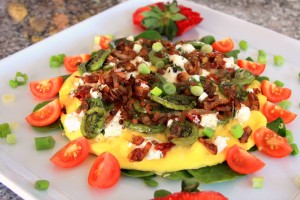 This recipe holds up well in a warm oven for an extended period of time, likely due to the heavy cream. I don't incorporate my toppings into the frittata, in case an item is not to someone's taste, it can be removed without ruining the whole dish for them.  I use Fiddleheads when they're in season in Maine during a few weeks in early spring. Fiddleheads are the unfurled fronds of a fern and several varieties are harvested; cinnamon ferns are one of them. I think they are similar in taste and texture to asparagus and broccolini.
Serves 6 to 8
Ingredients
20 large eggs
1.75 cups heavy cream
1 teaspoon salt
freshly ground black pepper
4 shallots, diced
2 tablespoons extra virgin olive oil
1.25 to 2 cups fiddleheads (or asparagus cut into 1-inch pieces)
4 ounces goat cheese
Preparation
1. Mix the eggs, cream, and salt in blender for about 4 to 5 seconds. (A blender really incorporates air and increases the volume dramatically.)
2. Preheat the oven to 325 degrees.
3. In a small skillet over low-medium heat, add the olive oil and sauté the shallots until caramelized, about 16 to 18 minutes.
4. Boil the fiddleheads until tender, about 15 minutes, and drain. (If using asparagus, steam in the microwave in a bowl covered with a wet paper towel for 2 minutes).
5. Heat an ovenproof 10-inch non-stick skillet over medium-high heat. Add the egg mixture and stir constantly with a heatproof rubber spatula until curds form. Once you see curds form, quickly lower the heat and continue to move the eggs around, never stopping, almost as if to scramble. Remove from heat when the eggs are about half set. This helps the bottom from cooking in place and browning.
6. Place on the center rack in oven for about 10 minutes.
7. Remove from oven and top with the goat cheese, shallots, and fiddleheads or asparagus. Finish in the oven for another 10 minutes, just until the toppings warm slightly.
8. Let sit 3 to 4 minutes before slicing and serving.
***
Egg Roulade Filled with Sautéed Leeks and Parmesan, Topped with Lobster, Sherry, and Melted Butter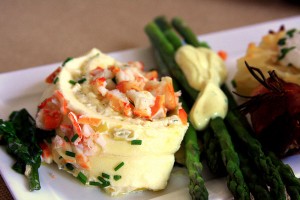 Roulade simply means rolled. This is constructed just like a jelly roll on a sheet pan, but with egg; it's basically a rolled and baked omelet. The results are worth the extra steps. This version was our signature savory dish at the inn, a particular favorite for the chunks of fresh Maine lobster on top. This is one of the most indulgent entrées we served, but it was worth every calorie and penny. We even received a recipe request from Gourmet Magazine, but unfortunately, our recipe didn't make it into the magazine before we sadly had to say farewell to the publication. So here it is.
Serves 4 to 6
Ingredients
8 eggs
2 cups plus 2 tablespoons heavy cream
1 teaspoon salt
2 tablespoons extra virgin olive oil
3 large leeks, washed and thinly sliced
one (8-ounce) package cream cheese
1 teaspoon Worcestershire sauce
juice from 1/4 lemon
1 stick plus 3 tablespoons butter
1.5 cups shredded Parmesan cheese
1/2 cup dry sherry
16 ounces fresh, cooked lobster meat, cut into small chunks
one (10-ounce) package baby spinach, washed and dried
fresh chopped chives, for garnish
Preparation
1. Preheat the oven to 350 degrees.
2. Grease a rimmed heavy-duty half sheet pan with butter or vegetable oil, then line with parchment paper, and then grease the  parchment, making sure to press it flat to the surface of the pan, leaving at least an inch overhang.
3. In a blender, mix the eggs, 2 cups of cream, and 1/2 teaspoon salt on high speed for 4 to 5 seconds. Pour the mixture into the lined baking sheet. Bake until you begin to see the surface of the egg just start to brown, about 20 minutes. Remove and let cool.
4. While cooling, heat the olive oil in a pan over medium-high heat. Sauté the leeks, covered, until soft, about 10 to 12 minutes. When soft, add the cream cheese, Worcestershire sauce, the remaining 2 tablespoons of cream, lemon juice, and the remaining 1/2 teaspoon of salt and stir. When the cream cheese is thoroughly incorporated, add three tablespoons of butter, mix in, and remove from heat. Let cool for about 3 minutes.
5. Dollop small amounts of the leek filling onto the egg. Using an offset spatula, carefully spread the mixture over the entire egg sponge, trying not to tear the egg as it is very delicate. Sprinkle the Parmesan over the filling.
6. Here's the fun part: the rolling. With the short edge of the pan closest to you using the parchment as a guide, roll the egg up onto itself (like a Hostess Ho-Ho!) until you end up with the egg seam on the underside of the roll. Keep the egg covered with the parchment left after rolling as it will help keep the egg moist. Cover the entire roll with aluminum foil and bake for another 20 minutes.
7. While baking, melt the remaining stick of butter in a pan with the sherry and cook for about 5 minutes, allowing much of the alcohol to burn off. Then add the lobster, lower the heat, and cover. Simmer for 5 minutes.
8. To serve, place a pile of fresh baby spinach on a plate. Slice the roulade into 4 to 6 slices, layer onto the spinach, and top with a couple of spoonfuls of the lobster butter.  Garnish with fresh chives.
***
For more from Dana and The Art of Breakfast, read her blog.