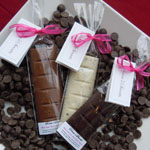 Chocolate-maker Dean Bingham, of Dean'sSweets, has found inspiration in the bar—the chocolate bar. The Portland, Maine, chocolatier has introduced three chocolate bars to his line of handmade truffles and caramels. Not just any chocolate bars, mind you, but three in intriguing flavors: Maine potato chip, brandied orange peel, and mocha latte.
The brandied orange peel is a dark chocolate stunner, and the mocha latte flavor comprises crunchy espresso beans in a double layer of white and dark chocolate. But the Maine potato chip flavor is the one that's a match made in Maine-made foodie heaven. Dean uses Fox Family Potato Chips, from Aroostook County—I'm  huge fan of Fox Family chips; best I've ever tasted. He enrobes these perfect Maine potato chips in milk chocolate. (Egad! milk! Dean,  I'm begging you to make this one in dark, too).
Dean's is in the East End foodiehood, the Middle Street block shared by Hugo's, Rabelais, Pepperclub/Good Egg, Duck Fat, Ribollita, and East Ender, and bookeneded by Micucci's, Two Cats, Amato's, and Coffee By Design.