Maine's big resorts get most of the attention, but for young families or anyone on a budget, smaller areas provide not only a fun experience, but also a good value. Perhaps the vertical isn't as grand, but really, how often do you ski 2,000 feet without stopping? All of these little guys have night skiing, most have tubing parks, and some have Nordic trails, too. If you're searching for areas with soul, for friendly faces, and places where kids matter, try these un-resorts.

Lost Valley is a vest-pocket ski area secreted in the barely rolling countryside outside Auburn, Maine. Don't be deceived by the hill's diminutive size. Although the vertical drop is only 240 feet, it was enough to produce four Olympians: Karl Anderson and Anna, Julie, and Rob Parisien. This is an especially family-friendly area; the base lodge doubles as the local baby-sitting service–parents just naturally watch out for one another's kids. According to Julie Parisien, who grew up skiing here, you may be able to make only 10 turns from top to bottom, but that's 10 good turns. And that's what matters.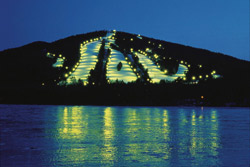 Maine's oldest ski area is Shawnee Peak, an especially popular destination given its proximity to Portland (45 miles). I have a soft spot for the area where I spent my youth–bring your family, and you'll likely understand why. The setting is rural, and the mountain appears to rise out of Moose Pond. The views, which take in Mt. Washington and the Presidential Range of the White Mountains, are calming, almost inspirational. It's one of the largest night-skiing facility, acreage-wise, in New England. Arrive at night, and you'll notice that the trails spell out the word LOV in 1960s-block-style lettering. The mountain skis bigger than its 1,300-foot vertical indicates, as it has two faces, with open slopes on one and squiggly trails ribboning the other.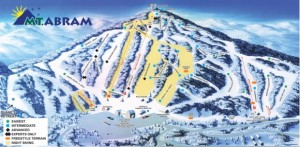 For anyone weak in the wallet or overawed by megaresorts, Mt. Abram is the solution. This longtime family favorite is something of a sleeper. Most folks drive right by on their way to glitzy Sunday River, just up the road. A savvy few turn off Route 26 in Locke Mills, drawn by this resort's commitment to family skiing and a decent 1,150-foot vertical. The segregated learning area, tubing park, night lights, cross-country loop, low-key atmosphere, and lack of crowds make it a real gem.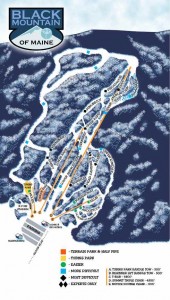 A real success story is Black Mountain of Maine, where prices are low and spirit is high. It's owned and operated by the Maine Winter Sports Center, which is committed to reestablishing skiing as part of the local lifestyle. MWSC has invested heavily in the 1,150-foot vertical hill, putting in new lifts, cutting new trails, adding snowmaking and night skiing, and making it smoke free. Another plus is the Nordic trail system, designed by two-time Olympian Chummy Broomhall.
The Farmington Ski Club operates Titcomb Mountain Ski Area, an all-volunteer operation with a modest 340-foot vertical. It's the hill where two-time Olympic gold medalist Seth Wescott played as a youth. In addition to the alpine terrain, there are nine miles of groomed trails for cross-countryskiing and snowboarding (a potential solution for mixed marriages or partnerships). The operating schedule coincides with school hours, so it's open late afternoon and evenings, weekends, and daily during vacation weeks. Yes, it's a club, but nonmembers are welcomed.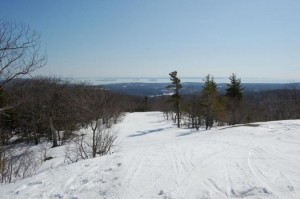 When a Nor'easter roars up the East Coast, the place to be is Camden Snow Bowl, in coastal Camden, a town better known among yachtsmen than skiers. The reward for riding the pokey chair or creaky T-bars a is cruising down nautically named trails that ebb and flow down Ragged Mountain's 950-foot vertical and deliver glimpses of island-salted Penobscot Bay. The town-owned four-season recreation area has alpine trails, night skiing and riding, a tubing park, Nordic trail,  ice skating on Hosmer Pond, and a 400-foot toboggan chute that's home to the annual National Toboggan Championships, held during the first weekend of February. The area exists in a time warp, with a vintage A-frame base lodge and retro food and ticket prices. All that, however, will change. A $6.5 million redevelopment plan includes a new four-season lodge, improved road and trail access, parking, new lifts, an expanded beginner area, and additional snow making.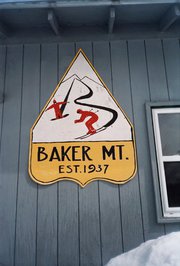 At a friend's suggestion, I'm adding Baker Mountain, in Moscow, to the list. It's small, an open slope with five runs serviced by a T-bar, but it's a non-profit community love fest. One of Maine's older ski areas, dating from 1937, it's now operated by its passholders, members of the Baker Mountain Ski Tow Club, which owns it. Baker operates on weekends and during February school breaks, and it even has night skiing and a vacation week ski school. Tickets are dirt cheap, smiles are huge. If you're searching of skiing the way it used to be, Baker is the place for you.