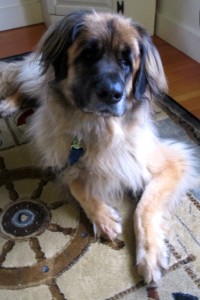 I frequently travel with my furry sidekick, Bernie, a 97-pound Leonberger. Both of us can vouch for these Maine accommodations that extend a welcoming paw—and often a treat. I'll add to this list whenever I stay with Bernie at an appropriate property.
NOTE: All require proof of vaccinations, and most charge a fee to cover cleaning and extras (some by night, others by stay). Most provide poop bags, but it's wise to bring a stash with you. None limit dogs by size.
PAW PRINT: Bernie crossed the Rainbow Bridge in July 2017.
Dog-friendly inns are wonderful, but don't abuse them: Do not bring your dog is he or she is aggressive, not friendly with other animals, not housebroken, or is an incessant barker; find a kennel, instead.
Last updated July 2017.
Bernie-approved dog-friendly accommodations in Maine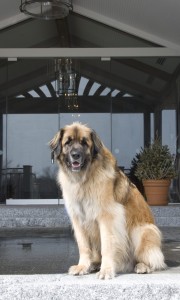 All I have to do is whisper the words Inn by the Sea and Bernie perks up. This upscale, boutique inn, bordering Crescent Beach, pampers dogs as well as their owner. Not only does it supply bed, bowls, and turn-down treat, it also offers a doggy dining menu (Bernie recommends the meat ruoff) and spa services. We've stayed in the spa suites as well as one of the Beach House Suites (which have full kitchens).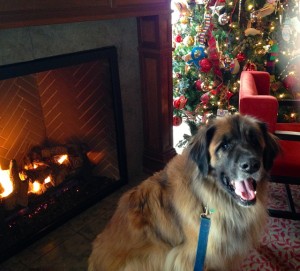 While dogs are not permitted in the restaurant, they are allowed in the lounge and on the deck, and breakfast, lunch, and dinner are served in those locations, too. Dogs can walk on the beach in the off season; in season, pad along the beach's service road or over to nearby preserves for nice walks. The inn is about 15 minutes to downtown Portland, where there's a good fenced in dog park. While the inn isn't exactly budget friendly, especially  in summer,  winter rates are far lower and the annual spring Habitat for Humanity promotion is a win-win all around.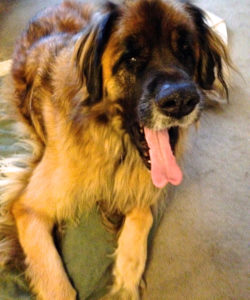 Rodger Dodger is the official spokesdog for the Harraseeket Inn, which is conveniently located within steps of L.L. Bean, Freeport's gazillion outlets, and all the action downtown. Rooms in the Carriage House and some two-bedroom townhouses are pet friendly. A portion of the nightly pet fee is donated to the Coastal Humane Society, another plus.
Bernie gives a high paw to the Carriage House, where his room included a wet bar and a fireplace—cozy for napping. Also provided were a dog bed, small can of food, clean-up bags, and bowls.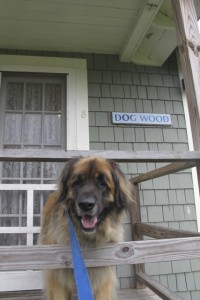 Another oceanfront gem, Sebasco is a 550-acre family pleaser, a full-service resort blending old fashioned charms with contemporary amenities. With two restaurants, an outdoor saltwater oceanfront pool, boat trips, a spa, recreation hall, and a nine-hole golf course, the resort's appeal is broad.
The resort has three pet-friendly cottages. We stayed in Dogwood, which offered two bedrooms, bathroom, living room, and kitchenette; perfect for Bernie. The resort's expansive grounds provide plentiful walking opportunities.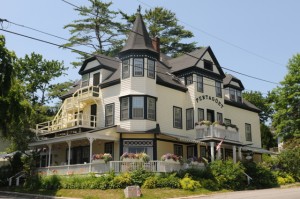 I adore Castine, a serene New England seaside village with a rich history and outstanding architecture. Smack downtown is the lovely Pentagoet Inn, a butter-yellow, classic Queen Anne Victorian with a turret, wrap-around porch, and harbor views.
What most people don't realize, is the inn also includes an adjoining 18th-century cottage, which offers pet-friendly rooms. All rooms are beautifully furnished with antiques, and a full breakfast is included (the inn is justly renowned for its dining room and its cozy pub).
While you can't bring your pooch into the dining room, you can dine with him or or her on the porch. Castine's quiet streets invite stolling, and the signs placed throughout town detailing the tumultuous past add interest. Or head over to Witherle Woods, a preserve, for a walks in the woods.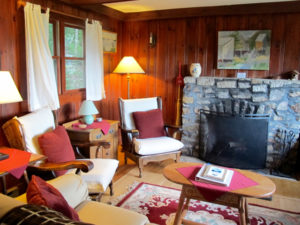 Bernie loved the Birches at Oakland House, a wonderful cottage colony on the shores of Eggemoggin Reach. The one-bedroom dog-friendly cabin is cozy and rustic, with a granite fireplace, kitchen, bedroom with queen-size bed, and a small deck with water views. Most of the furnishing had throws, so he could rest on them, if so inclined.
Bernie was welcomed with a letter instructing him on doggie etiquette and advising him where he was welcome to explore, as well as doggie towels for clean up, and necessary bags. While he wasn't allowed on the beach, he could pad the trails on a leash.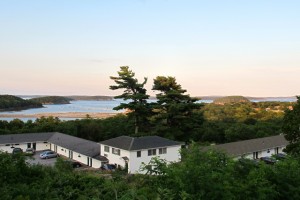 Sited on the former 14-acre hillside estate of America's Agatha Christie, Mary Reinhart Roberts (she's credited with coining the phrase "The butler did it" and inspiring the character Batman), the Wonder View delivers on its name with panoramic views over Bar Harbor and out to the Porcupine Islands. It comprises four older motels on estate-like grounds with grassy lawns and mature shade trees, an outdoor pool, and a restaurant, with a pet-friendly deck.
Guest rooms vary widely, and rates reflect both style of accommodation and views; all have refrigerator, TV, Wi-Fi, and air-conditioning. Those in the upper buildings have the best views. Tea and coffee are always available in the lobby, where a continental buffet breakfast is spread in the morning (packaged muffins, bagels, bread, hard-boiled eggs, waffle-making station, etc.).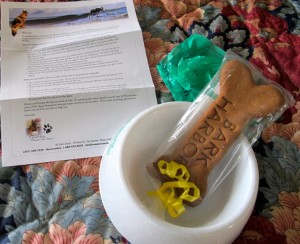 Dogs are welcomed with a letter penned by the inn's non-resident mascot, a water bowl, disposal bags, a Bark Harbor treat, a listing of dog-friendly restaurants, and info on dog sitters, kennels, and recommendations for pet-friendly touring. Bernie would return again just for the large bone-shaped treat (we, of course, stopped in at Bark Harbor, downtown, too). We also appreciated being able to dine on the deck, enjoying the views.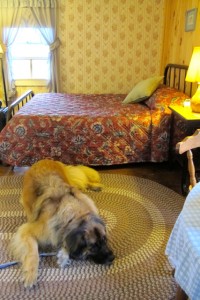 I adore this old-timey cluster of sweet and rustic cottages edging the shoreline of Prospect Harbor. Definitely not a property for fussbudgets, but a great find for budget-conscious travelers (it's listed under my Cheap Sleeps, too) who appreciate the braided rugs, fresh flowers, country antiques, and other homey touches that make this place truly special. Yes, the floors are creaky, the floors slope, and some of the doors don't fully close, but the high-tide line is just a few feet from the front porch of most of them.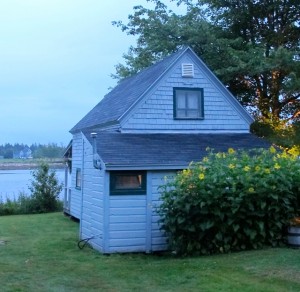 The property is entirely dog friendly, and there are plenty of places to walk or run with your dog on the beautifully landscaped grounds (do keep him out of the flower gardens, though, and be sure to clean up any messes). Most of the cottages have cooking facilities, and Wi-fi is throughout the property. If you stay for a week and pick up lobsters, owner Richard Rieth will prepare them and deliver to your cottage.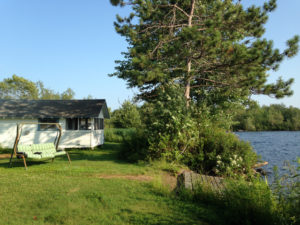 Simple cabins smack on the shores of Big Lake make it easy for dogs to swim and play at the Lakeside. Although the rooms in the country inn aren't pet friendly, the five one- and two-bedroom housekeeping cabins are. Guests have use of docks, canoes, and paddleboats at no charge. Motorboat rentals and licenses are available.
Bernie thought the firepit would be a great place to hang in the evening and toast marshmallows when we returned from the nearby Grand Lake Stream Folk Arts Festival, but after grooving to the music all day, he (we?) was too exhausted to think about it.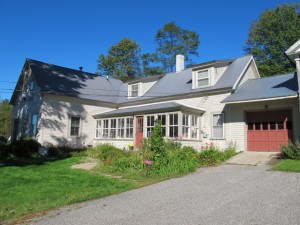 With a name like Paws Inn, you know it's going to be dog friendly. Carolyn Bailey and her sidekick, Sampson, outfit their canine guests with dog beds or crates, plentiful treats, and lots of love. There are fenced-in and barn play area, and dogs are allowed to remain in guest rooms unsupervised. Human guests enjoy a generous continental breakfast and access to a guest refrigerator stocked with juices and water.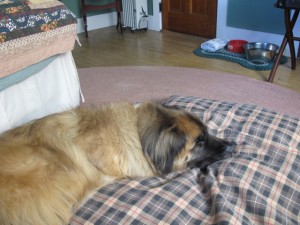 Guest rooms are on the second floor, so this might not be the best choice for those with dogs that have problems with stairs. Rooms have air-conditioning and cable TV. A . The B&B is on a knoll, 2 miles south of downtown Bethel, and convenient to Sunday River and Mt. Abrams. No credit cards.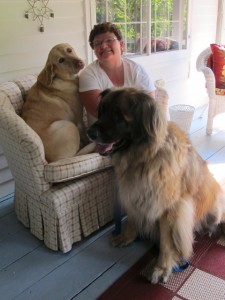 I love innkeeper Donna Pearce's philosophy. "Dogs are welcome to stay free, as long as they can vouch for the behavior of their people." Bernie gave us a good recommendation, so we checked in. What distinguishes this intown B&B is its expansive and plentiful public rooms. No matter how many dogs or humans are in residence, there's always a place to find a private nook.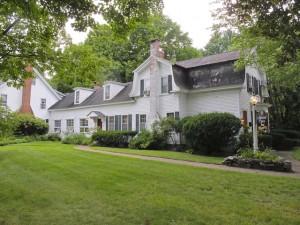 Choose from the well-stocked library, the parlor, the dining room, the humongous kitchen, or the truly great room, tricked out with a fireplace, 50-inch TV, and pool table nook (and a big wrap-around couch that's perfect for cuddling with your pooch). There's also a large three-season porch, as well as a back deck and spacious back and side yards.
The inn, by the way, is named for the famed Arctic explorer who briefly resided here.