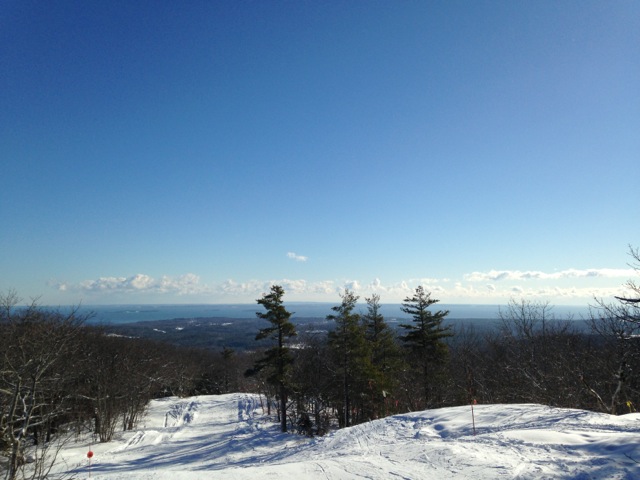 I can't think of a better way to welcome the new year than a morning of skiing at the Camden Snow Bowl, followed by brunch at Rockland's Home Kitchen Cafe. That's especially true on a crisp bluebird day, when frigid temps and sunshine combine to make the ocean and sky blues pop against the whiteness of the snow.
For a few hours, I etched easy turns while gazing out to the island-salted Atlantic waters of Penobscot Bay. There aren't many ski areas that deliver ocean views (Alyeska, Alaska, and Marble Mountain, Newfoundland, come to mind), but neither of those matches Camden Snow Bowl for in-your-face wows.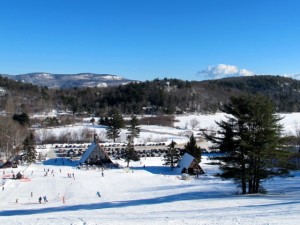 Town-owned Camden Snow Bowl is an old time, family centered ski hill that just happens to be in a seaside, summer resort community. That location is reflected in more than the views. Skiers and snowboarders cruise down just-wide-enough trails, with names like Spinnaker, Mussel Ridge, Windjammer, and Scrimshaw; trails that ebb and flow like the sea and follow the mountain's contours (see trail map, below).
The base lodge is a simple A frame; the primary lifts are an ancient double chair that goes almost — but not quite — to the top, and a trusty T bar that runs base to summit. Add a toboggan run that shoots sledders out on to frozen Hosmer Pond, Nordic and snowshoe trails, and a tubing hill.
It's small, it's friendly, and it's about to get bigger.
Not too much bigger, thank goodness. Voters recently overwhelmingly approved a plan to borrow $2 million to help fund $6.5 million in improvements, which include a new and much larger base lodge, a base-to-summit triple chair, moving the old chair to a new beginner area, removing the T-bars, and improving and expanding snowmaking to cover 80 percent of the mountain. Bravo! Those improvements will allow the ski area to continue to serve local families and visitors for generations to come, while preserving the hometown flavor.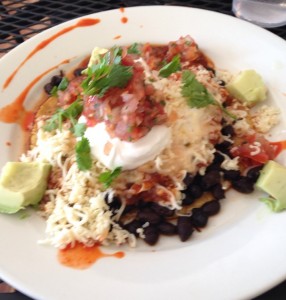 Speaking of flavor, after a morning of skiing, we slid into Rockland's Home Kitchen Cafe. The recent renovations and additions provide seating on two floors now — and in warmer seasons, on a deck with great harbor views. Breakfast is served all day, which means the renowned sticky buns and huervos rancheros, among other delights, are always available. Plus, there are great sandwiches and fish tacos and too many other choices on the two-sided menu. Breads and tortillas are made from scratch, as are those sticky buns and many of the other baked goods. Just one of the reasons this place earns raves. Add friendly efficient service, generous portions, and prices that don't break the budget.
Given that we seem to be in a pattern of coastal snow storms — expecting another 4-6 or more tomorrow — do yourself a favor and make tracks to Camden. Not only will you be able to enjoy classic, old-style skiing, but you'll also reap off-season rates at area accommodations.