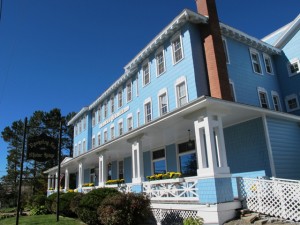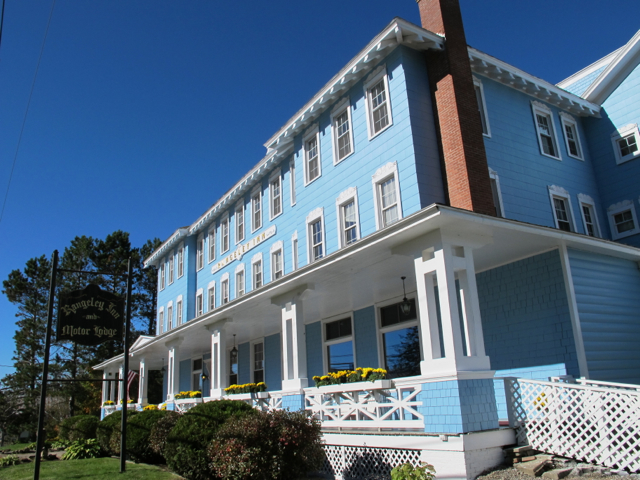 Travis Ferland is working to restore the Rangeley Inn to its former grandeur. Already, the three-story historical hotel in downtown Rangeley is looking better, thanks to a coat of sky blue paint.
Before grandeur, however, there's a lot of work to be done. For starters, he's bringing the building up to code, installing a sprinkler system and updating the heating system. "We're doing essential repairs and repainting," he says.
He's going through the hotel room by room, evaluating and replacing furnishing, fixtures, TVs, and carpeting as needed. "We're all about guest comfort. And we're adding free Wi-Fi, that's a big thing for our guests," he says. He's also completing rooms in the adjacent  motor lodge that were never finished. "No major work is needed on  that building, it's in pretty good condition," he says.
The inn is open for business, and he's aiming to reopen the pub by late December. "I'd like to serve more unique food than typical pub fare. I'd like to see upscale, quality, from-scratch cooking."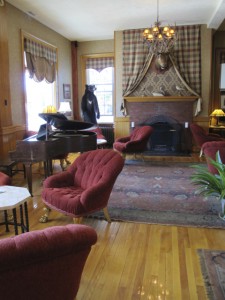 Ferland, 32, grew up in the hotel industry. His parents ran the Pink Blossoms property in Ogunquit, purchasing it as motor inn and transforming it into a boutique property with a repeat clientele. "I grew up in the biz, it's in my blood. It comes naturally to me," Ferland says.
After graduating college in Boston, Ferland joined the Peace Corps in Senegal, returned to manage his parents business, and then went to New York to work for the Peace Corps International Rescue Committee. "I worked with displaced persons in refugee camps, it was fascinating work," he says. As part of his support role, he organized conferences, so he says he understands people's expectations, which should come in handy as he grows the corporate business.
He earned an MA in international affairs, but knew it would be difficult to find work. For about six months, he worked as the executive director of a small, nonprofit gay and lesbian travel association. But he knew he wanted to return to Maine.
His mother mentioned that the Rangeley Inn was coming up for auction. They researched the property, put info together, and bid, winning it for $800,000.
"It needs a lot of work, it's an old building, but it has so much potential," he says. He has information on past occupancy. "I want to bring it back." He's looking to the Bethel Inn, Mount Washington Hotel, and the former Balsams for inspiration, and he plans to market corporate retreats, weddings, reunions, and packages.
During his years in New York, he traveled often. "It got to the point where travel was not as fulfilling because I wasn't rooted. Now I'm rooted."
"It was a gut feeling, moving back to Maine," he says. "I haven't looked back ."