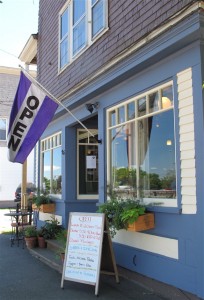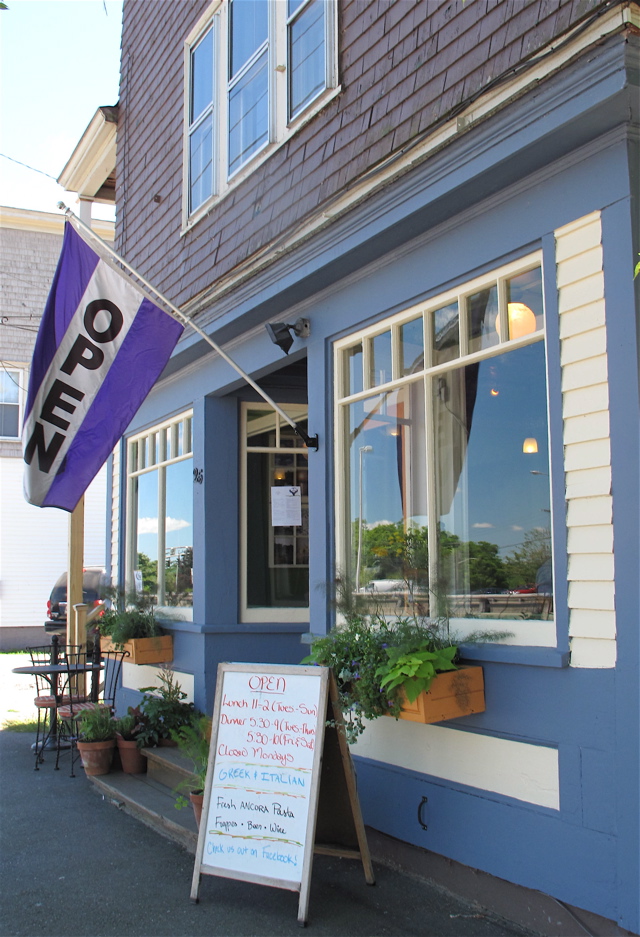 I think you'd be hard pressed to find another town with the variety of ethnic restaurants per capita as Brunswick, Maine: Thai, Chinese, German, Italian, Indian, Mexican, with most packed tightly in the downtown. To those, add some recent additions: Irish (O'Shea's Irish Restaurant & Cantina), Japanese (Little Tokyo), Greek/Italian (Trattoria Athena), and a player to be named later, when the folks at popular El Camino open a new restaurant at 111 Maine.
Based on the recommendation of acquaintances who had dined there the previous day, I lunched at Trattoria Athena during its first week of operation. It's a small but inviting space, with a diamond pattern in the wood floor, olive green walls, wooden tables crafted from old barn doors, and a small copper bar. There were fresh flowers on the table, and water was served in a mason jar. I could imagine it once discovered, filled with locals; it's that kind of spot—comfy, casual, unpretentious, inviting.
Sealing the deal is the food. Trattoria Athena, true to its name, serves Italian and Greek fare, prepared from locally sourced ingredients. The menus (it's open for lunch and dinner) aren't extensive, but they do capture those Mediterranean flavors.
The lunch menu—on a chalkboard—listed salads, paninis, and fresh pastas, most in the $6-9 range. I opted for a feta cheese and pesto panini, which sounded like a nice Italian-Greek blend. It was sharp with garlic and salty from feta, just as I imagined. It came with fresh greens, lightly dressed with a nice vinaigrette. Service was friendly and efficient, although hard not to be with only two tables at the time.
The early-summer dinner menu, presented clipped to a wooden board with a fork,  is enticing, with a nice selection of traditional fare (lamb and goat) as well as some fresh house-made pasta choices that left me salivating to return. Specials are drawn from farm-market finds.
The location, on a one-way street off Maine Street, is tough one, but I think it's worth finding.