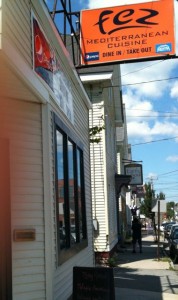 On a lark, I had lunch at Fez, Portland, Maine's, new Somalian-Moroccan Restaurant on Washington Avenue. Loved it! That's the short story, now let me tell you the rest of it.
My plan was to eat at Silly's, one of my favorite cheap-but-damn-good-eats spots, but I landed a parking space in front of Fez. So I took a look in the door, and was quickly welcomed inside. I asked to see a menu, and at first glance, it appeared to be heartier fare, more appropriate for dinner than  lunch. Then a woman seated at a table pointed to her falafel salad and said it was really good. Okay, sold.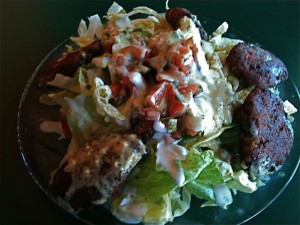 And how. One taste, and I was planning my return. In a former life, I pursued a graduate degree in Middle Eastern studies, and during that time, I learned what falafel should taste like. This was it. Falafel at its most basic is deep-fried chickpeas, but getting the seasoning and textures right can be a challenge. All too often it's dry and virtually tasteless. No so Fez's version, which is served on a salad of greens with tomatoes dressed with an herbed tahini dressing that enhanced the flavors. Hands down, this was the best falafel I've had in Maine.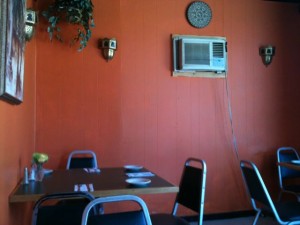 Fez is in the space that previously was occupied by Hamdi. The L-shaped front room is kind of diveish, it's small, with a no-frills decor: a handful of banquet-style tables and chairs (the small vase of fresh flowers on each is a nice touch), a soda cooler, sink, and open window to the small kitchen. Two more rooms are stocked with specialty grocery items. Out back is a nice, fenced-inn patio area with umbrella-covered tables.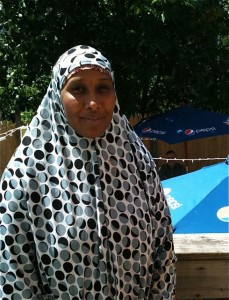 Hinda, one of the owners, sat down and chatted with me for a few minutes. She's especially outgoing, engaging in easy conversation with strangers. She came to Portland from Somalia about 15 years ago and is now a U.S. citizen. We talked about the famine and lawless situation in her homeland. She still has family there, who she supports and hopes will be able to join her here some day.
Hindi's a talented—and passionate—self-trained cook (she makes the falafel). She says she serves a what she considers a normal-sized portion: There's too much food waste in the world. And too many people going hungry. If diners want more, I'll give them more. She simply doesn't want to throw good food away. That may be true, but my salad was listed as an appetizer, and it easily sufficed for my lunch. ($6.25, by the way).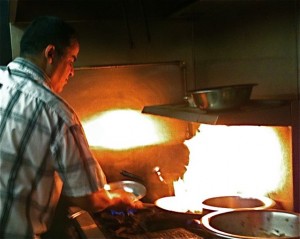 Her biz partner, Abraham,  (strictly biz, each is married and has a family) is Moroccan and a trained chef. He strode into the restaurant carrying a couple of large bags, while I was eating my salad. "Here, have some bread," he said, placing a large piece of fresh bread on a plate in front of me. "Usually we make it here," he said, "but we ran out. This is homemade by someone locally." I eagerly used it to sop up what was left of the dressing on my plate. Later, I peered through the kitchen window and watched Abraham dance with knives, pans, and fire as he prepared a more elaborate lunch for three other customers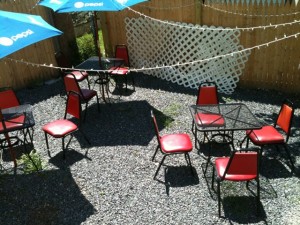 When I return—and I will—I might opt for a special (today's was tilapia sauteed in garlic, olive oil, cilantro, and lemon sauce, $9.95) or the lamb tagine, tender lamb slow cooked in a saffron sauce served with dolphin potatoes ($12.95) or maybe the hilib ari, pieces of goat meat (on bone) slow cooked with onion and cilantro, served with basmati rice and a banana ($10.95). Kebabs also are on the menu.
While I'll miss Hamdi, it's nice to know goat meat hasn't disappeared from this stretch of Washington Avenue, a pocket of entrepreneurial immigrant-owned few-if-any-frills restaurants delivering tastes of their home countries at wallet-friendly prices.