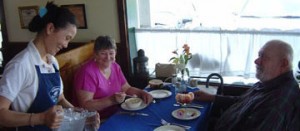 Restaurants come and go in Winter Harbor, Maine, but Carl and Kathy Johnson's Fisherman's Inn Restaurant has stood the test of time, serving fresh and local fare since long before it was the trendy thing to do. The menu, service, and food draw local folks, tourists visiting the Schoodic section of Acadia National Park, and also the umpteenth-generation rusticators who summah in the cottages on Grindstone Neck.
Carl, who trained at the Culinary Institute of America, is the chef, but he's also the brains behind Grindstone Neck of Maine, located just up the street. That operation produces some of the state's best smoked seafood (and a divine smoked blue cheese). Diners at Fisherman's are always welcomed with a tasting sample, including Fisherman's Inn cheese spread, Grindstone Neck of Maine smoked salmon spread, and perhaps a few other goodies.  Smart move. I'm sure I'm not the only who left the region laden with goodies from the shop.
It's no surprise that seafood is the specialty at Fisherman's Inn, both traditional fare (including finnan haddie, a special, recipe below), or more spicy versions with a South East Asian twist (see Carl's recipe for spicy Thai-style mussels, below). The latter is thanks to the Johnsons spending many winters  volunteering in Thailand. They're dedicated to getting involved at the grassroots level, cutting out middlemen, and seeing through projects such as bringing fresh water to a village. He also serves a great children's menu, including items such as meatballs made from scratch.
This year, Carl replaced the restaurant's lunch service with a hot dog/lobster roll cart that has been a tremendous success. The cart, which is out front of the restaurant daily from 10 a.m.-3 p.m. (and at Tidal Falls, for the Monday night concert series), sells lobster rolls for $10 (1/4 pound served on a butter-grilled roll, with Carl's homemade lemon mayo available) and three types of  hot dogs, steamed or grilled, with a deli pickle, and choice of homemade chilies and relishes, for $2.50.
Finnan Haddie Fisherman's Inn
serves 2-4
1 lb. Cold smoked haddock (Grindstone Neck of Maine's is our favorite)
2 c.  1/2 & 1/2 cream
3 Tbs. Butter
3 Tbs. Flour
shredded sharp cheddar (State of  Maine Cheese Co. brand)
Poach haddock in cream for 4 minutes
Remove haddock and save cream
Cook butter and flour together over low heat, without browning, for 2 minutes, to make a roux
Add reserved cream to roux, whip together quickly to avoid lumps.
Bring to simmer and season with salt and white pepper.
Add poached haddock in bite size pieces.
Place in a buttered casserole and top with shredded sharp cheddar
Bake in 450 f oven until browned and bubbly.
Maine Mussels in Yellow Thai Curry, Fisherman's Inn
serves 2
4 lbs. Maine Mussels, cleaned and debearded
2 oz. Vegetable Oil
4 Tbs. Garlic, chopped
2 Thai Chilis, chopped
Cook mussels in oil/garlic/chili till shells are shiny, ADD:
2+ Tbs. Yellow Thai Curry Paste
6-7 oz. Coconut Milk
2 large Limes, juiced
2 Tbs. Thai Fish sauce
2-3 Tbs. Brown Sugar
Cook mussels in seasoned coconut milk until opened.
Remove mussels from broth, taste broth, adjust seasonings, and reduce till broth coats the shells as desired.
Pour over mussels.
Serve with fresh lime wedges and sliced scallions as garnish.