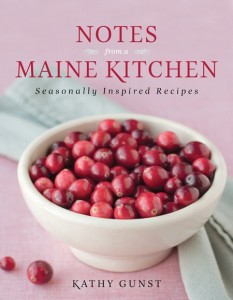 Talk about perfect timing: A review copy of Notes from a Maine Kitchen: Seasonally Inspired Recipes, by Kathy Gunst, arrived in the mail at the same time my local produce stand was brimming with possibilities.
Experiencing Maine is as much about plate as it is about place. The state has developed a national reputation for its farm-to-table fare. Farmers markets, farm stands, and humble honor bars salt the landscape and food festivals—from lobster to blueberries, chowder or bean-hole bean suppers to harvest fairs—pepper events calendars. Gunst understands this. She writes:
"These days Maine is a major culinary destination, and not only because of lobster. While this is not a book about restaurants or chefs, what inspired me to write this book is how the climate of the food world here has changed dramatically. The local, sustainable food movement is alive and strong, making Maine a place where good local food abounds. Be it wild ramps or fiddleheads, amazing cheeses, crusty breads, smoked local salmn, Maine-grown wheat, berries, and so  much more."
She shares recipes for all of those, and so much more. A renowned food writer (author 14 cookbooks, Resident Chef on PBS series Here & Now, recipient of IACP and James Beard nominees), Gunst live in southern Maine and knows Maine food. In this book, she shares her knowledge, providing recipes as well as insights (her essay Hunger in Maine is a must read), stories, facts, and trivia.
It's the recipes highlighting seasonal Maine foods that snagged my attention. She provides snappy versions of Maine classics, such as a lobster roll, but also encourages cooks to get creative, with preparations such as Latin-style lobster (recipe below).
Chapters cover the months, and as I perused through, a few that caught my eye were: Maine Crab Cakes; Rich Dark-Chocolate Tart with Maine Sea Salt (listed in February…as if I'm going to wait that long to make it!); Fried Eggs in  Olive Oil with Fresh Chive Oil Drizzle; Ginger Shortcakes with Local Strawberries and Lemon Cream; Filet of Sole with Slivered Almonds, Capers and Whole Lemon Slices; Cold Cucumber Soup with Mint, Dill, and Lemon (recipe below). And those are drawn only from the January through July chapters.
August is devoted to lobster, including the a lobster and corn chowder and an intriguing (if somewhat intimidating) Angry Lobster (a name likely derived from the preparation). And when fresh corn is abundant, recipes for Maple Breakfast Corn Fritters  (recipe below) and Fresh Corn-Cracked, Pepper-Scallion Cornbread are begging. Since I love making potato-leek soup, her version with sharp cheddar cheese and a chive-walnut-cheddar swirl is on my fall must-make list.
Truth is, I'm a cookbook collector. I have way, way too many on my shelves. I usually use them for inspiration, only a handful I keep within reach and actually follow the step-by-step instructions. Gunst's book, Notes from a Maine Kitchen, will be one of those.
Latin-Style Lobster Salad
As much as I'm a purist when it comes to eating lobster, this salad — flavored with fresh corn, lime, and avocado — is delicious and refreshing served as a summer lunch or light dinner. All the fresh flavors, colors, and textures work well with the lobster meat. Serve with warm biscuits, French bread, or tortillas. The salad can be made, covered, and refrigerated, several hours ahead of time.
Serves 2-4
1 cup cooked lobster meat, cut into small cubes
1 cup fresh raw corn kernels, shucked off the cob of 2 or 3 ears of corn
1/2 ripe (but not overly ripe) avocado, cubed
juice of 1 large lime
1 tablespoon olive oil
salt and freshly ground black pepper
1 dash hot pepper sauce
tender butter lettuce leaves
In a medium-size bowl, gently mix the lobster, corn, avocado, lime juice, oil, salt, pepper, and a dash of hot pepper sauce; season to taste. Scoop the salad in the lettuce leaves and serve with any of the accompaniments listed above.
—–
Cold Cucumber Soup with Mint, Dill, and Lemon
On a steamy summer day this is ideal cooling food. The soup is whirled in a blender or food processor and can be made in less than fifteen  minutes. Chill for several hours (or overnight) and serve with chopped cucumber, dill, mint, and drizzle of lemon oil. Warm pita triangles make a nice accompaniment.
Makes about 4 cups; serves 4 to 6
1.5 pounds cucumbers, peeled, seeded, and chopped
1/4 cup fresh dill
1/4 cup fresh mint
1 cup low-fat milk or buttermilk
1 cup sour cream or low-fat plain yogurt
salt and freshly ground black pepper
1 dash hot pepper sauce
1 tablespoon lemon-flavored olive oil, plus more for garnishing drizzle, or 1 tablespoon olive oil plus 1/2 teaspoon grated lemon zest, optional
For the garnish
1 cup cucumber (peeped, seeded and finely chopped) mixed with 2 tablespoons finely chopped dill and 2 tablespoons finely chopped mint
drizzle of lemon olive oil or olive oil mixed with touch of grated lemon zest, optional
In the container of a food processor or blender, add the cucumbers, dill, mint, milk, and sour cream or yogurt and process until blended, but not totally smooth. Add the salt, pepper, and hot pepper sauce to taste, and drizzle in the olive oil (and lemon zest) if using. Place in a bowl or jar and chill for several hours.
Serve ice cold sprinkled with cucumber-mint-dill garnish m ixture and a drizzle of oil.
(TIP: To seed a cucumber, simply cut it in half lengthwise and use a spoon to scoop out the seeds in the middle)
—
Maple Breakfast Corn Fritters
This recipe makes a sweet fritter by adding maple syrup to the batter (and omitting the herbs and scallions) and serving the finished fritters with maple syrup. Either way, you want to use really fresh corn.
Makes about ten small fritters; serves 3 or 4
1/2 cup flour
1 pinch salt
1/2 teaspoon baking powder
1/4 cup milk
1 large egg, slightly beaten
2 tablespoons maple syrup, plus syrup for serving
2 cups fresh corn kernels cut off 2 or 3 cobs
3 tablespoons vegetable oil
warm maple syrup for serving
In a large bowl, sift the flour, salt, and baking powder. Add the milk and whisk until smooth. Beat in the egg and maple syrup and then gently mix in the corn.
In a large skillet, heat the oil over moderately high heat. Drop 2 to 3 tablespoons of batter into the hot oil and cook 2 to 3 minutes on each side, or until golden brown. Serve hot, with a small pitcher of maple syrup on the side.