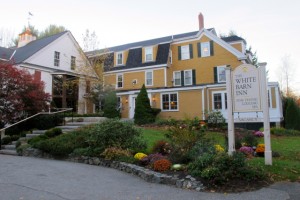 Dining at the five-star, five-diamond White Barn Inn, a Relais & Châteaux-member property in Kennebunk, Maine, is a splurge, but it's one where value exceeds price. Sure the $106 per person price tag (plus tax, alcohol, and gratuity) for a four-course menu is stratospheric, but it's not just four courses. The well orchestrated dining experience also includes an amuse bouche, and pre- and post-desserts, and the little teacakes served at meal's end, with each bite as memorable as the previous one.
Then there's the meticulous, choreographed service; the exquisite elegant-yet-rustic décor with the handcrafted table accents from France; and the live piano music that blends magically into the background. It's also one of the few places in Maine that requires you to dress up a bit for the occasion; gentlemen must wear jackets (but not ties).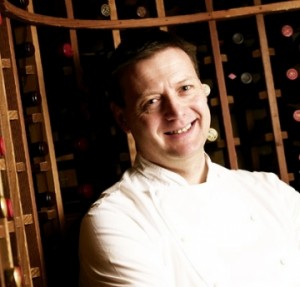 Relais & Châteaux Grand Chef Jonathan Carter has been at the inn since 1994 and choreographing the dining experience since 1996. Prior to joining the White Barn, the native of northern England, apprenticed at London's Savoy Hotel and held positions at the Blantyre, Horned Dorset Primavera, and Hotel Bareiss. He's also the executive chef of Muse by Jonathan Cartwright at the White Barn's sister property, the Vanderbilt Grace in Newport, R.I.
How do you describe your cuisine and the White Barn Inn dining experience?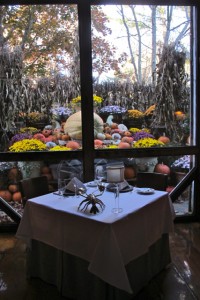 We try to do regional American cuisine with European flair. We stay as local and regional as possible. We're not making the dishes too wacky, we're not fusing flavors. Flavors need to be there, complimenting each other, not complicating each other.
This is a great area to be in, with farming, foraging, and fishing. We have a wonderful product to work with. Chefs get all this credit for being superstars; truth is, you have to have great product to work with. If you cook it with love and care, you can't go wrong. It really is that simple. You can't make a silk purse out of a pig's ear.
I think America is one of world leaders in the culinary field right now. American food is truly international now. My kids are Americans, born to German and English parents, and we're not an unusual family, not even in this area.
Our audience is much better than it used to be, so much more educated. I say to waiters: You're being paid good money; you're there to explain the dish, give them your knowledge. When someone goes away and knows a bit more about the wine, grape varietal, the food, it's above the dollar amount paid for food and wine. It's free for them, and they can share the info at another dinner or party, and it makes them feel good about the knowledge.
America has moved on in dining habits and they understand what goes into the dining experience; it really does cost that much, we don't facetiously make up a price. If you go to the supermarket, you see that good products are expensive. It takes hands-on hours of labor to make, grow, and raise animals humanely and organically. We start with a great product, so it's a huge price tag to get in the door. For one dish at the White Barn, it's not unusual for four or five people to have worked on its preparation and plating. We always say what's value? We don't want to sell you a Ferrari, and give you the keys for Ford Focus. If dining a la carte, you'd pay double for the quality level we do. We have a great service team, lovely restaurant ambiance, and valets. Most people say it was expensive but worth it.
We garner so much respect from Relais & Châteaux in North America, an organization founded on food and the premise that one can stop off, have a great meal, rest, relax, and then go back on their journey.
You're an avid cyclist, are there comparisons with being a chef?
Cycling is a very good sport that complements cooking: It takes strength, stamina, endurance, mental willpower, and fighting spirit to want to win and get to the top. My dream as a little boy was to be first English person to win the Tour de France. To win, you need a team or you can't take a day off, can't take your eyes off the prize. You can have a great day and win the world championships, but the Tour de France takes three weeks; you can't set off and win the prologue and think you've won the race. Accidents, sickness, crowd interference, and strikes have all played parts in the Tour de France's history. Even on an off night has to be a brilliant night. We're defending the yellow jersey in the mountains, maybe not feeling well, have to figure out how to drag up hill. People have to pull together in the kitchen even on bad days.
You change the menu weekly, how do you find inspiration for new dishes?
Everybody on my culinary team has the opportunity to create a dish to bring to me to taste and say: Chef I'd like you consider putting this on the menu. It gets them to invest in what we're doing. Even if we move people around in the kitchen, if they have it in mind as their dish—spearheaded it, came up with it—even though we tweaked it, they own it. Even when they move off that station, they come in to check that it's done right. We take pictures of every dish so that the consistency is always there.
You recently participated in a cook-off with the lunch ladies at your children's school, what was your take away?
I said to the lunch ladies: You're struggling to make ends meet on budget; make eating part of the curriculum. Dining/eating, socializing over the dinner table is something a young child needs to know. How much business is done over a table in a restaurant? Everyone needs to know how to eat, how to order, and it's best to start at a young age to learn to appreciate food and have an understanding of it. My daughter doesn't want to go fishing, she doesn't want to kill a fish, but she loves fish and chips. How far do you take it with a 9-year-old? If we need and catch the right-sized fish for the four of us, say a prayer, and do it responsibly, is it right?
If eating were truly made part of the curriculum, like phys. ed., more money would be budgeted, it would be better received, and kids would be better prepared out in the dog-eat-dog world of business lunches. It's very confusing trying to look relaxed, trying to be natural at a cocktail party or over lunch, when you've been given the opportunity to help grow a company. I think if dining education started with school, life would be much easier for everyone and would create better success for the country.
What are some of your most memorable experiences as a chef?
I took my first job to buy new bike parts. I was miserable in my apprenticeship at a fine dining restaurant; I thought I hate this guy (he's now a second father). One day, the sous chef and the junior sous chef were off, and the chef was left to do the evening service with just two apprentices. It could have been a night of Hell, but the chef didn't take that attitude. He set up the whole kitchen singlehandedly, gave clear instructions, and set us up for success, not failure. He could have done it the other way and screamed at us all night long. He was amazing. It was at that point I realized that this is not the crazy world I thought it was. Everything clicked. Seeing how he led that day, just like a Tour de France leader. When the chips are down, he showed how to fix it and defend the jersey.
My first New Year's Eve here, I was horrified. I left in tears. I would have lost my staff had I stayed. We charged a lot of money, and people came, ate, and left to go to a party. That's unheard of in Europe, where people stay, dance, and have breakfast at 3 a.m. Here, the whole place was empty but for staff by midnight. I wasn't going to go through another New Year's Eve like that, I decided to change what we do. Now New Year's Eve is amazing. There's only one seating, and we charge a lot of money, but everyone ends up in the kitchen at 3 a.m.
Note: New Year's Eve 2012/13 at the White Barn Inn begins at 7 p.m. with canapes. The first seating for dinner is at 8 p.m. The evening includes dinner with wine pairings, live music, and a midnight toast with Chef Cartwright, followed by a kitcen tour. The cost is $290 pp. Here's a PDF of the menu.