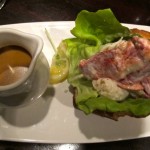 In May 2012, Executive Chef Timothy Labonte joined Eve's at the Garden in the Portland Harbor Hotel. The Maine native is thrilled to be back in his home state and savor the goodness of the seasons. After chatting with him earlier this week, I dined at Eve's. Chef had me at the pork belly, caviar, and lobster risotto amuse, then won me over with his version of a lobster roll: lobster mixed with crème fraîche and herbs and served in a popover shell along with a warm green curry sauce (recipe below). I was skeptical about this at first, but it was lovely, the sauce complemented the lobster beautifully. After that rich and delicious combo, I wasn't able to finish the Atlantic catch seafood paella, but I sure tried.
What excites you about being back in Maine?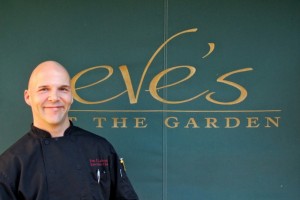 I've had chef positions in Maine, so there are things I've used in past. There's a Maine chef repertoire part of me just waiting to come back. I'm eager to work with Maine ingredients: Rhubarb, fiddleheads, mushrooms, sea urchins, Damariscotta oysters, fresh blueberries, garden-fresh tomatoes, strawberries, apples.
I'm working with a few farmers who deliver twice weekly, and I started making those connections as soon as I knew I had the position, before I actually started here. I couldn't wait to work with this and that. I had a shopping list in my mind. You can get anything in Florida, but heirloom tomatoes just don't taste the same.
And strawberries, I love them. All the chefs are just waiting, ready to pounce to be the first one to get them. I'm always pushing on a daily basis, even though they say it'll be two more weeks. I keep pushing, so when they come in, they say give them to him, so he doesn't bother us anymore.
Being fresh and local requires staying current with purveyors. I started picking my fish purveyor's mind a month ago. I need to know what's seasonal, how long I have to work with it.
Portland is very supportive community. I got a great contact for a lobsterman from another chef. Whenever I call the lobsterman, he's on his boat, and because he's on boat, it's kind of exciting to call. Wouldn't have had that connection if the other chef hadn't provided it. There are a lot of restaurants in Portland, and that pushes every chef, every restaurateur, to do better.
How do you define your cuisine?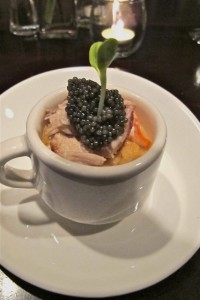 I can't put a label on my personal cuisine. As a chef you have to stay open to all flavor elements and profiles throughout the world and have the ability to take those flavors in your mind's palette and taste them with local ingredients, such as blueberries, fiddleheads, and lobster; that's the key to staying current with trends.
Here at Eve's we're more Mediterranean in flavors. People hear the word Mediterranean and think Italy and Greece, but it's so much broader than that. When I looked at the list of Mediterranean countries, I was dumbfounded. It's so much fun, never ending; there are no limitations.
Being a chef in a hotel means you have to have broad appeal, what are the challenges and what are you trying to achieve at Eve's
I've been in hotels and restaurants for better side of five years. Every position I've had, people had a tendency to stay away because of the mindset that hotels only cater to their guests. That's not the case. I want to achieve a certain level that other chefs have achieved in a short period of time. Portland has a lot of phenomenal restaurants. There's a lot of good food going on, so diners are able to be opinionated.  I want Eve's to be on the top tier of restaurants in Portland.
For those guests who just want steak and potatoes, I run a kitchen where we believe in yes; there's no such thing as no. If it's not on the menu, we'll try to make what they want. I don't like to bring out the A-1 sauce, but if it makes them happy, we'll serve it in a nice little ramekin.
What are your specialties, any signature dish?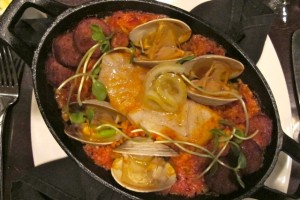 We going to be looking at changing the menu in the next couple of weeks, and we've decided to go with seasonal approach, changing it four times a year, which is again a rarity for hotels. There are probably a few items that have earned a spot on the menu. I think the Atlantic catch paella is a great dish, and we're using local seafood. It's served in cast iron skillet, which creates rustic with elegant dynamic with the dining room. Our filet mignon, served with truffle tahini, garbanzo fries, and garlic honey aioli dipping sauce is another one of those dishes people love. Those two would be the most likely to stay on the menu. They're fitting and can stand the test of time and change of seasons.
What's the process for creating new menus and special ones, such as the upcoming Harvest Caviar Dinner?
It's the same for any menu development here. When we're ready to roll with a new dinner menu, we conceive it on paper, and then Gerard (hotel manager Gerard Kiladjian) invites a few diners and I present the dishes, make notes, tweak, and then it goes to print.
I prepared the caviar dinner menu just thinking of ideas I felt would got well with caviar, even before I met with Rod Mitchell (of Browne Trading Co.). Then he made notes on caviars, we paired the foods with caviars, and then paired it with wine. Originally, we had pork belly panini, but they felt it was too overpowering for caviar, so we changed it up to a lobster panini, but that was the only major change. That's why we do tastings.
On the caviar menu, I'm really partial to the scrambled egg roll. I scramble the eggs until they're light and fluffy, add herbs, then chop them, roll in egg roll wrappers, and fry them. They're served with sea urchin hollandaise, served in the urchin shell, as a dipping sauce.
The Caviar Dinner, Friday, Oct. 26, 2012, includes a champagne and caviar reception and four-course tapas- style with wine pairings, including tax and gratuity, is schedule; $120 pp. Both caviar guru Rod Mitchell and sommelier Erica Archer of Wine Wise will be on hand to help educate dinners.
NOTE: Eve's at the Garden is open to the public for breakfast, lunch, happy hour, and dinner daily and also serves a lounge menu.
Chef Timothy Labonte's Lobster Popover /Thyme Dressing / Lobster Curry
4 servings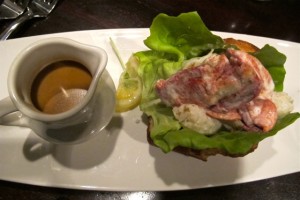 For the Popovers:
1 cup all-purpose flour
1 cup warm milk
2 eggs
Pinch salt and pepper
1. In a mixer whip eggs until double in volume.
2. To the eggs, mix in the warm milk followed by the flour.  Strain mix of any lumps that may have accumulated, add a pinch of salt and pepper.
3. Pour batter into 4 wells of popover pan; a bit more than ¾ full.
4. Bake @ 400 for 20-25 minutes or until fully risen to double in size and golden brown.
Note:  Poke a small hole in the popover top as it comes from the oven to allow steam to vent out, this will help it retain its structure.
For the Lobster Salad:
1 # Fresh Maine Lobster meat cut into generous size pieces
2 sprigs fresh thyme, chopped
2 oz. crème fraiche
Juice of ½ lemon
Salt and pepper to taste
1. Mix together all ingredients, refrigerate until serving
For the Curry:
1 cup rich lobster or shellfish stock
½ cup heavy cream
1 tbsp traditional roux
1 oz. pickled ginger
1tsp. green curry paste
1. In a saucepan add cream, stock, ginger and curry paste, bring to a boil and reduce to a simmer.  Add roux to mix and continue to simmer for 10 minutes stirring occasionally.
2. Add curry sauce to a blender and blend until smooth and velvety.
Note: Be extremely careful when mixing hot ingredients in a blender; start at very low speed and work your way up to avoid splatter.  Feel free to use a food processor in lieu of a blender.
Assemble:
1. Split popover in half lengthwise leaving a bit still attached to work as a hinge rather than having two halves.
2. Place bib lettuce and lobster inside of popover, serve with a lemon wedge and a side of curry sauce to enhance you popover as you wish.
May your life and stomach always be full.
—Timothy Labonte