Ahhhh, October, summer's last stand. I treasure October: the light is soft, the air is gentle, the breezes are clear, and the bugs are gone, as are many of the summahfolk. It's the perfect time to get outdoors in Maine. Here are three new books that will help you do just that: the new edition of the comprehensive AMC's Maine Mountain Guide, compiled and edited by Carey Kish; Mr. Rockefeller's Roads, by Ann Rockefeller Roberts; and Coastal Maine Botanical Gardens: A People's Garden, by William Culina, Dorothy E. Freeman, and Barbara Hill Freeman.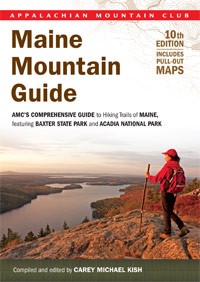 Intrepid Maine-based hiker Carey Kish took on one heckuva assignment in updating the 10th anniversary edition of this Appalachian  Mountain Club's tome, a bible for hikers in Maine. Readers of his hiking column in the Portland Papers followed in his footsteps as he climbed peaks throughout the state. This nearly 400-page book shares his wisdom, and guides hikers of all abilities to trails best suited for them, from an easy 25-minute jaunt up Jockey Cap (where the views far exceed the effort) to the Big Kahoona, Katahdin. Accompanying the book are two maps. Once covers Baxter State Park—Katahdin and the 100-Mile Wilderness; the other Bigelow Range, Camden Hills, Eastern Mount Desert Island, Mahoosuc Range, and Evans Notch. Carey's promised a guest post about hiking in Maine, so stay tuned.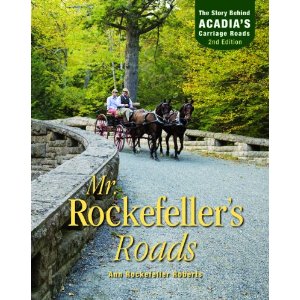 Ann Rockefeller Roberts penned this ode to the Acadia National Park carriage roads created by her grandfather John D. Rockefeller Jr. In this second edition (updated from the original 1990 one), she shares the story behind the roads, detailing their history, along with anecdotes. New in this edition is a chapter, written by Ed Winterberg, prior director of Wildwood Stables, with former park superintendent Jack Hauptman, covering the restoration of the roads from 1987 to 2006. While the first edition was amply illustrated with historical photos and artwork, this one adds color photographs taken by Robert's daughter Mary Louise Pierson. This isn't a guidebook but a fascinating and indepth study of the carriage roads, full of tidbits to engage those who have lingered by one of the stone bridges and pondered its heritage or savored the views while walking or riding. Until reading this, I didn't know that renowned landscape architect Beatrix Farrand had a hand in the plantings that edge the roads. These roads are a gift that keeps giving.
 Coastal Maine Botanical Gardens: A People's Garden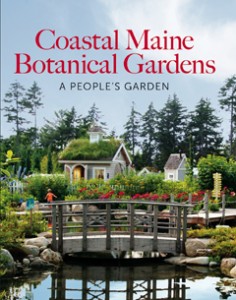 In the five years since its June 2007 opening, the magical Coastal Maine Botanical Gardens in Boothbay have earned must-visit status and national recognition. This hardcover, full-color book by executive director William Cullina, director of philanthropy Dorothy E. Freeman, PhD, and communications director Barbara Hill Freeman, makes it possible to visit the garden's splendor without leaving your armchair. Chapters cover the  20-year history, as well as each of the unique gardens. It's a delightful book that could have been stellar. Such a color-rich book, with images by some of Maine's most talented photographers (including Lynn Karlin and Robert Mitchell) deserved a higher quality printing. Still, it's an inspiration for aspiring gardeners everywhere and a promise worth settling down with during winter.