In winter, when most shops and many restaurants are closed and summer sights are shuttered, Kennebunkport, Maine, is a peaceful, restorative escape. The Captain Lord Mansion makes it easy, as I discovered earlier this week when invited to experience the inn post Christmas Prelude.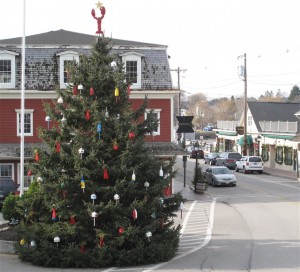 Yes, I said car-free, and I meant it. If you take the Amtrak Downeaster train from Boston (stops in Woburn, Haverhill, Exeter, Durham, Dover) or south from Portland, and make advance arrangements, the Capt. Lord will pick you up at the Wells Transportation Center station for free. And once you're in K'port, you can walk to restaurants and shops and along the waterfront. Granted, a car makes field explorations a bit easier, but there's enough locally. That is, if you can tear yourself away from the inn.
Deal Alert: Be sure to check the Downeaster's deals and discounts page; I took advantage of a current promo offering two-for-one savings on trips from Boston, AND be sure to check out the inn's February promotion, which I wrote about previously.
The Inn
I've dished about the Capt. Lord previously, but this visit I had the luxury of experiencing it as if I were on a vacation, not simply using it as a base for research. As befitting a mansion built by a successful sea captain, the inn is filled with luxuries and treasures, comfortable furnishings, original artwork, and plentiful little extras. For travelers, it's these little extras that are a real plus. Yes, the Capt. Lord can be a budget stretcher (although off-season rates and packages make it far more accessible), but the inn provides real value, real bang for your buck.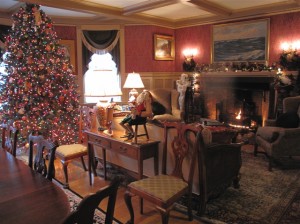 Innkeepers Bev and Rick Litchfield have been welcoming guests to the Capt. Lord for 32 years. They live and breathe hospitality. They don't nickle and dime their guests. On our first night there, we gathered with friends in the appropriately named Gathering Room and realized we wanted a glass of wine and some nibbles, so we asked if the inn had a license and a list. We expected the usual high priced options, but no. The  list was a real eye-opener, with a seasonal selection of Rick and Bev's favorites presented at retail cost. My bottle of pinot grigio cost less than $10—heck, you pay that just for a glass in some places—my friends ordered a bottle of malbec for $14. And in the kitchen—open to guests—we found cheese and crackers, hot mulled cider, and a daily sweet. This is all in addition to the in-room fridges stocked with soft drinks, juices, and water. And the welcome cookies. And the little in-room sweets. And the 24-hour tea/coffee/hot cocoa/etc.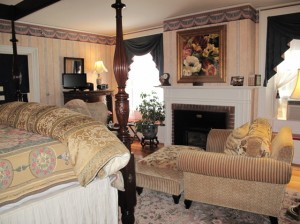 Now Westin hotels can have the Heavenly bed, I'll take what I've nicknamed the Lord's bed. It starts with a plush featherbed-topped mattress yielding a soft yet firm foundation. Now add ultra soft, silky sheets and a lightweight down comforter. While every room in the inn is different, they all share this type of bedding, although the spreads and pillows differ.
Deal Alert: The Capt. Lord is offering a $600 gift certificate for $500, not sure how long this special will be offered, it's timed as a gift for the holidays, and if you order pronto via phone, they'll send it via priority mail so it arrives in time to go under the tree. EXPIRED, but worth a call to see if it's being offered again.

Old Vines Wine Bar

Night one, we went to the Old Vines Wine Bar, actually just over the line in Kennebunk's Lower Village, but an easy walk from the inn. Although we were the only folks in the place, and I'm sure owner Mike Farrell would have loved to close early, we never felt pressured. Indeed quite the opposite. Farrell knows his wines, and has an extensive selection by the glass. Four of us mixed and matched selections from the tapas-style menu, which includes small plates ($5-9), salads and panini ($9-18), cheese plates ($10), and cured meats ($5) .
We began with a shared small plate: Toasted baguette slices with a Romesco dip. The dip, made with red pepper and almonds had depth of flavor and it disappeared quickly. I ordered the meatloaf panini, made with veal, pork, and beef along with smoked bacok, pickled red onions, Maytag blue cheese, and truffle oil. This was a revelation; who knew meatloaf could taste this good. The pickled onions provided a nice bite that contrasted with the meat, which we later learned also contained duck fat. No wonder, really, how can one go wrong with duck fat and truffle oil?
Other table choices were the lobster cannelloni, a simple but flavor- and lobster-rich dish that earned its reputation as a local favorite; a Maytag blue and Mahon cheese plate, served with condiments (light and excellent); and a roasted beet salad, made with mixed greens, roasted golden beets, Bucheron goat cheese, sour cherries, radishes, and toasted hazelnut vinaigrette—a salad that went beyond simply being very good, to being memorable.
Hurricane Restaurant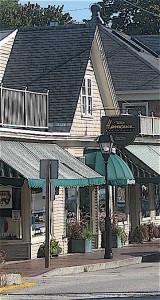 The second night, we dined at Hurricane, which overhangs the river in K'port and has a long history here and previously in Ogunquit. I've never been disappointed here, and often, like the other night, my expectations are exceeded. With a a prime Dock Square location, Hurricane could succeed at being mediocre. But it isn't; far from it.
Other times I've sat in the bar side, this time we relaxed at a white-clothed table in the dining room, where service was attentive without being overbearing. The dinner menu (which changes daily) offered soups and salads ($7-18), small plates ($8-45) and entrees ($19-45). Our orders included a Caesar salad (very good, but a few too many croutons); roasted beet salad (field greens, roasted shallots, pistachios, cracked peppercorn dressing); Hurricane garlic shrimp (roasted garlic, white wine, shallots, fresh fettuccine); and I had the bento box. While everything was delicious–especially those shrimp, I think I hit the jackpot with my box. It was more than a meal, with a shrimp, scallop, salmon roll; Maine lobster rangoon; vegetable nori roll; marinated beef; pickled ginger; and wakame salad.
Deal alert: While we didn't get there early enough to take advantage, other guests at the inn enjoyed the three-course fixed price ($30) menu served from 5-6:30 p.m.