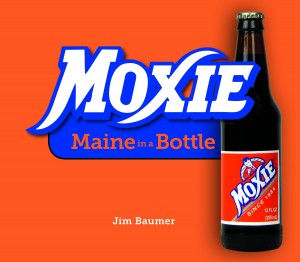 Are you familiar with Moxie, official soft drink of Maine? Jim Baumer and Frank Anicetti want to make sure you know about a beverage that once was more popular than either Coca-Cola or Pepsi. Baumer is the auther of Moxie: Maine in a Bottle (Down East Books, 2012), and Anicetti is the wizard behind the annual Moxie Festival, held  in July, in Lisbon Falls (July 13-16, 2012).
Moxie was created by Dr. Augustin Thompson, a native of Union, Maine. On his patent registration in 1885, he described Moxie as "a liquid preparation charged with soda for the cure of paralysis, softening of the brain, and mental imbecility."
Author Jim Baumer grew up in Lisbon Falls, which is, in his words, "the epicenter of the Moxie universe." In Moxie: Maine in a Bottle he explains the soft drink's history and cult-like following, and delves into its relationship with Lisbon Falls and Maine.
That relationship is due to Frank Anicetti, the Moxie Man, proprietor of Kennebec Fruit Company store, a.k.a. Kennebec's, in Lisbon Falls. The dedicated Moxie fan and collector of Moxie memorabilia is credited with starting the annual Moxie Festival, which now draws tens of thousands of visitors to the small town on the Androscoggin River between Lewiston and Brunswick. The festival had its roots in book signings in 1982 and 1983 with Frank N. Potter, whose 1981 book The Moxie Mystique was the soft drink's bible. Crowds of Moxie fans came, and the local chamber took over in 1984. Since then, the classic small town wind-ding has evolved into a three-day whoop-di-do, without losing its soul.
The  jam-packed schedule includes games and family fun nights, breakfasts and suppers, dance recitals and concerts, pony rides and foot races, fireman's muster and fireworks, but the biggies are the Moxie Festival Parade, Moxie Recipe Contest Judging, Moxie Chug-n-Challenge, Moxie Car Show, and the Chief Worumbo Androscoggin River Race. Baumer will be  signing his book on Saturday in front of Kennebec's, just after the parade.
Looks like a perfect weekend to find out if you've got it, Moxie, that is.