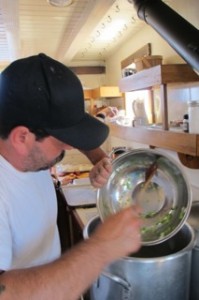 "I don't really use recipes," says William Howe, chef on the traditional Maine windjammer Angelique as he peels potatoes for the day's fish chowder lunch. "I go by technique."
Sailing aboard a Maine windjammer is as much about the food as it is about the cruising, but the Angelique is one of the few, if not the only, windjammer with a chef, rather than a cook. Howe trained and instructed at Le Cordon Bleu's New Hampshire campus and has worked in restaurant kitchens throughout New England, most recently at Portland's Petite Jacqueline.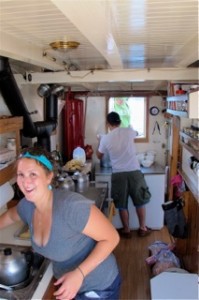 I joined Howe in the small galley of the Angelique, doing my best to stay out of the way of his cooking dance with Sarah, the baker. They've perfected a routine of half-pirouette, arabesque, and hip-hop moves as they slide by each other in the narrow space, avoiding the hot oven, cooling trays, chef's knives, and preparations underway.They've also created an ingenious oven-mitt system, where each keeps at least one mitt attached via a draw cord at the waist.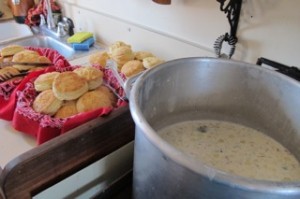 Today's lunch is fish chowder, accompanied by biscuits, fresh greens, and jam-filled cookies. While Howe makes the chowder, Sarah is making the biscuits and cookies, and someone below decks was composing the salad and dressing (the latter brought to Howe for a tasting before serving: "a little more vanilla," he directed).
Note: See pics from my day aboard the Angelique here.
William Howe's Angelique Fish Chowder
Serves 4
Ingredients
4 medium potatoes, cut into bite-size pieces (Howe recommends Yukon Gold or Red Bliss).
2 yellow onions or 1 Spanish onion chopped medium
1 stalk celery chopped small
½ pound hickory smoked bacon chopped into quart-inch pieces
½ clove garlic smashed then mashed with a knife
2 quarts fish stock (Make from scratch by simmering fish bones in water or make from fish base using water from cooked potatoes)
1 cup milk (preferably warmed)
1 cup heavy cream (preferably warmed)
1 bay leaf
1 teaspoon each: sage, dill, celery seed
dash of red pepper
salt and pepper to taste
all-purpose flour (You need enough to soak up all the fat and have a dry sand-texture mixture. Amount varies depending upon how much moisture the flour has absorbed from the air that day. Start with 1.5 cups and go from there)
1 pound fish (haddock, cod, pollock, hake), cut into bite-size pieces
Preparation
1. Fill a large pot three-quarters full with cold water, salt heavily (this is crucial for flavor), add potatoes, then bring to a boil. Cook to al dente: not raw / not cooked. Pull out of water and let continue to steam in covered pot.
2. While potatoes cook, render bacon in a little bit of fat. Sweat it: goal is to caramelize the bacon until it's crispy and dark, but don't let it burn.
3. Add onions and celery to the bacon and let simmer.
4. Add mashed garlic to onion/celery/bacon mix, and simmer, stirring occasionally, until onion is translucent..
5. Remove pot with onion/celery/bacon mix from heat, and then sprinkle flour into  it gradually, mixing it thoroughly after each sprinkle to avoid globs. It will thicken. Go slowly. You want it to be almost dry with a sand-like texture.
6.  Add the fish stock (and go ahead, hit it with a splash of white wine, too). You want a pancake batter texture.
7. Return pot to stove, and bring it to a bubble to activate the gluten and thicken  it. Be careful not to boil it.
8. Add warmed milk and cream in stages. It's easier to thin a chowder than to thicken it. Bring it to a bubble (not boil) again.
9. Taste and season with salt and pepper. Be careful, because the potatoes have been cooked in heavily salted water. It's a balancing act.
10. Add bay leaf, sage, dill, celery seed, and red pepper and potatoes and bring to a bubble again.
11. Add fish and bring to a bubble, then serve with biscuits and a salad.