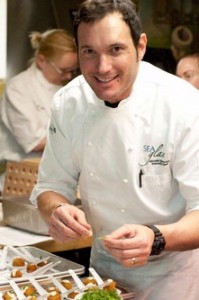 UPDATE: Chef Mitchell Kaldrovich is now at his own Maine restaurant, MK Kitchen.
I think one of Greater Portland's best dining secrets is the Sea Glass Restaurant at the Inn by the Sea, in Cape Elizabeth, Maine. The space is casual and yet tony, with big windows framing ocean views. There's also dining on the deck (which is dog friendly and Bernie-dog approved, by the way; there's even a menu for dogs). Chef Mitchell Kaldrovich's dinner menu ($22-34) is familiar and yet inspired and draws, whenever possible, from local vendors and farms. I've dined here a few times, and never have been disappointed in the service, the fare, or those dreamy views. (Update: Although Kaldrovich is no longer here, I still think Sea Glass is a great spot to dine).
While I'm not vegetarian, I've found it easy to be tempted by the offers on Sea Glass' separate vegetarian menu (with vegan alternatives), and don't get me started on the five-course lobster-tasting menu ($65). Sea Glass is also open to the public for breakfast ($12-18) and lunch ($12-19); menus can be found here. I can vouch for the crab cake and avocado Benedict and the pan-roasted spicy fish tacos.
I recently spent a few minutes with Chef Kaldrovich. Although born in New Jersey, he was reared in Argentina, and by age 10 was helping his grandmother prepare family meals. He later attended culinary school and cooked in top restaurants in Argentina and stateside.
How does your Argentinian background influence your cooking?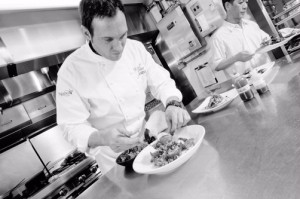 Because I'm Argentinian, I'm humble and appreciate food. I came from war, and the economy was up and down all the time. If I had $2, I saved it. I run my kitchen the same way. I peel asparagus; puree scraps. I want to help the culture of America to become healthy, to use less fat, less bacon, do less cooking out of the box. Cooking is easy and it's important. We all should be able to cook instead of microwave. We pay the price when we're older if we're not cooking.
Argentina has had a lot of major influences of its food, including Gaucho and Spanish. Gaucho is very Argentinian and a very flavorful way of cooking. I'm a beef guy. I make my own steak sauce. No A-1. As a hotel, I do what the guests want.
I serve a grilled gaucho steak [herb-marinated skirt steak, roasted mushrooms, chimichurri, crispy fingerling potatoes; $27]. Chimichurri in Argentina is like salsa in Mexico; each cook has own methods or techniques. The ingredients are parsley and oregano, fresh smoked paprika, salt, garlic, vinegar. We use it as a relish, put it on chorizo, or on chicken, or on steak. It's not like ketchup; it doesn't go on everything. And chimichurri is one thing: it's not mango chimichurri, not basil chimichurri, not cilantro chimichurri.
I could do more Argentinian dinners empanadas, stews, and ceviche in summer: I make South American, not Mexican ceviche. My soups are usually vegan. My vegetable soup is pure roasted vegies with white wine and stock. It's light, colorful, and nutritious, and you can feel the flavor of the vegetables. Right now, I'm serving a gazpacho; it's very Spanish. My version is vegan. It's an entrée in Spain, but I make it as an appetizer. Mine has a little basil, pepper, cucumber salsa, peppers, and chives in it.
How is cooking at a hotel restaurant different than an independent one?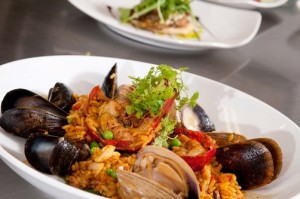 I was taught by French chefs, and I use French techniques to make New American cuisine. And I think about what people expect when they come here. I try to make a great clam chowder, and lobster bisque is my signature.
I want to have lobster on the menu at every meal, breakfast, lunch, and dinner. Everywhere. Because only so much lobster, I need to utilize everything, lobster stock, and reduce everything. That's why I came up with a paella dish [Gulf of Maine seafood and lobster paella: Spanish saffron rice, peas, chorizo, grilled lobster tail, clams, mussels, shrimp, calamari; $26] that uses lobster stock and seafood, and it makes people very happy.
As a hotel chef, I have to satisfy 100 percent of the hotel's guests. Diets are crazy these days; we can't do old school secret ingredients. We have to say what it is. We show off certain things, our great vendors, farmers, and fishermen. I try to be local, but must make exceptions, such as a shrimp cocktail and Alaskan salmon, when requested by guests.
What distinguishes your menus?
My salads are light. I make the dressings. I compose salads, and each has a purpose. I go against techniques. For example, my marinated beets salad [baby mixed greens, Pineland Farm feta, pumpkin seeds, beet vinaigrette; $9]. Most chefs bake beets; I like to poach them in water and vegetable stock until tender. The natural sugars of the beets get concentrated too strongly when baked; I prefer braising.
People are weird with textures. I do the labor for my guests. On my menus, you're never going to find bones; you'll never have to deal with a lobster; you're not going to have to fight your food. Nothing should be on a plate that you shouldn't eat, even the garnish. We play with colors and ingredients.
Fusion confusion. I've been in 13 countries, so I have many restaurants in my background and I try to bring the tastes back because I've been there, but I give it an American touch; it's global Continental. What I'm trying to do is what's me: comfort food from Argentina: pastas, steaks chicken.
My chicken [oven-roasted chicken under a brick: natural chicken breast, whipped potato puree, lemon-garlic wilted spinach, bacon pan sauce; $24] is some of the best around. It's natural, free range. I take a chicken breast, cook it, flip it, and put it under a brick. It gets a crispy skin. There isn't much fat, and it gets tossed. I make a bacon vinaigrette, but the bacon is super dry and crispy and mixed with herbs and lemon, and garlic butter as a dressing for the chicken. I've been making it this way for eight to ten years, and I think it's the best way to prepare chicken.
You take part in the Gulf of Maine Research Institute's Out of the Blue program for sustainable seafood, how does that effect the fish you serve?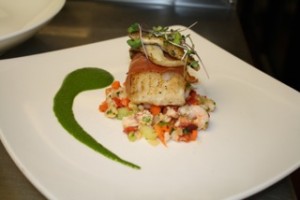 Halibut is an amazing fish, great to cook, but it costs $18 a pound. I want people to appreciate pollock, hake, and redfish. Pollock takes a crust better than haddock.
The best way to prepare pollock or redfish is to pan sear it in a hot, super heavy, cast iron pan. I serve it with a lemon or citrus vinaigrette. I never use a cream sauce on fish, period; this type of fish needs acidity. I also use farm-raised salmon in order to let the wild grow.
I know what seafood I want to use, and I disregard the price, it shouldn't be part of the talk. Fish is fish. Market price is a trick; market price is always profitable. You should be able to control your costs. Pay less, make more, pay more, make less. Bottom line is to give a good product. That's the key to success.
Share a few of your favorite places to eat?
I wish I could get at a restaurant what I like to eat at home. Pan-seared steak or fish is hard to find. I like to go to Fore Street; it has great salads and a wood oven. I just went to Zapoteca, and I liked the food. Bar Lola has great food and value, and it's cozy. I hate noise. I gave up on noisy bars when I was 20. I like a warm, relaxed, calm ambiance.
I also like simple food. I've dined at top-notch restaurants, places like French Laundry. They show off, but I like simple, there's nothing better than home cooking, but what I do at home, you can't do in a restaurant. It takes me two hours to make my chicken. There are no good steak houses in Maine, but then, in Maine, I want lobster and fish.
Every year on my birthday I go to Primo in Rockland. I admire her and the crew. I like the farm-to-table system; they raise the pigs and the chickens.  I like the tasting menu and the charcuterie.
Chef Mitchell Kaldrovich's Serrano-Wrapped Roasted Red Fish
Lobster & Seafood Salpicon, Roasted Oyster Mushrooms & Salsa Verde
Photo above
Serves 4
Ingredients:
2# Thick cut Red Fish, Skin Off
4-6 Slices of Serrano Ham or Prosciutto Ham
1 Whole Lobster, Full Cooked with Meat Sliced
1 Cup Local Shrimp, Quickly Blanched (20 sec. in Salty water then iced)
½ Cup Smoked Bay Scallops
½ Cup Celery, dice
½ Cup Carrot, dice
½ Cup Cucumber, Seedless, dice
2 Tbs. Fine Chopped Chives, Tarragon & Parsley
Juice of 2 Fresh Lemons
5 Tbs. Fruity Extra Virgin Olive Oil
Sea Salt, Pepper, Cumin Powder, Coriander
1.5 Cup Fresh Ouster Mushrooms, Clean & w. bottom removed
1 Garlic Clove
Chopped Italian Parsley
Prepping the Salpicon:
Salpicon is a Traditional South-American cold "chopped salad" usually made with leftovers such as Roasted Chicken or grilled fish. You can add any kind of vegetables as well.
Blanch, chilled and strain the shrimps. Sliced the lobster meat into little bites. Mix all seafood in a bowl. Add the raw diced vegetables, season with salt & pepper and lightly sprinkle with cumin & coriander.
Add the herbs and the lemon juice and olive oil. Keep refrigerated.
Red Fish:
Ask your fish Market to skin your red fish. Red Fish have a great taste and are fun to work with.
In a very hot cast iron skillet, add some canola oil and roast the fish wrapped in Serrano, then lower the heat to medium. Cook for 3-5 minutes or until it starts to get golden brown- then flip the brown side up and transfer the pan to a preheated oven at 350F and cook for about 8-10 more minutes. The Serrano Ham should be crispy but not burned and the fish should be just cooked thru. Reserve the fish in a warm place.
Oyster Mushrooms:
Using your finger, tear the mushrooms into smaller stripes. Make sure there is no dirt or leaves.
In another very hot sautéed pan, quickly add some olive oil or canola and cook the whole garlic clove for 10 seconds, then add the mushrooms and cook for 3-4 minutes or golden brown, season with salt, pepper and chopped parsley.
Salsa Verde:
1 Cup Cilantro Leaves / 3 tbs. Chopped Chives / ½ Cup Parsley Leaves / 4 Sprigs of fresh Tarragon
2 Tbs. of Capers
3 Tbs Champagne Vinegar
Juice of 1 Lemon
Juice and Zest of 1 Lime
½ Cup Olive Oil
Blend all ingredients into the blender until a smooth puree. Season with salt and pepper. Chill