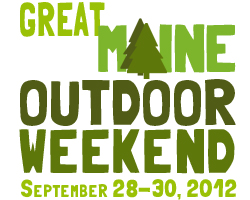 This weekend, Sept. 28-30, 2012,  is the second Great Maine Outdoor Weekend, with more than 70 outdoor activities scheduled statewide. Even better, most are free or are offered at greatly reduced rates to encourage neophytes to try new sports or engage in easy outdoor fun. The program is sponsored by the Maine Outdoor Coalition, which comprises more than 30 outdoor-oriented organizations and businesses, and it coincides with National Public Lands Day, which celebrates national, state, and local parks and public lands.
"Maine has some of the most spectacular natural areas in the country, yet many residents never 'play tourist' in their own home state," says coalition member Lindsay Bourgoine of the Appalachian Mountain Club.  "Great Maine Outdoor Weekend gives Mainers an excuse to get outside and take full advantage of all our state has to offer."
This fall, the focus is on Hancock and Washington Counties, although there are events statewide. Events are organized by date, by county, and by activity: biking, camping, family fun, fishing, hiking, nature/wildlife, paddling, swimming, volunteer service, walking, and the always intriguing wild card. Possibilities range from passive walks to adrenaline-pumping activities. You  might try a family climb in Acadia, a full moon walk on the Eastern Trail, a Bold Coast biking tour, a kids tree walk, or visit an open house at a nature center or take part in a cider pressing.
NOTE: Check the calendars as some activities require advance reservation.