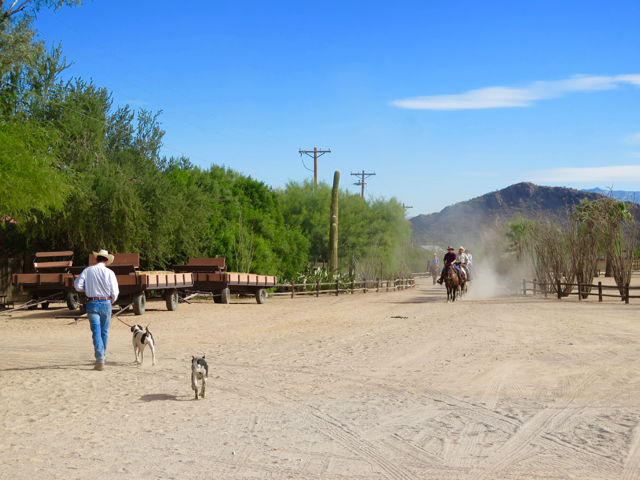 I rekindled a childhood love of riding horses, savored warmth and sunshine, and appreciated the one-price-covers-almost-everything rates at the White Stallion Ranch in Tucson, Ariz. Enjoyed the four-day experience at this guest ranch with my gal-pals so much, I debated returning with my husband for the December special. (Seriously, check it out)
The second and third generations of the True family own and operate this dude ranch, which abuts Saguaro National Park and is a member of the Historic Hotels of America. No mistaking this for a corporate resort, the Trues are hands-on managers who treat guests as family. Solo travelers are welcomed to the fold by guests who've returned many times. I met folks from England, Scotland, Sweden, and beyond—some returning for their umpteenth visits, others first-timers who were already plotting their return.
As for me? After really rough year (broken shoulder, BernieDog's passing, car accident, shingles), I was looking forward to four days of easy relaxing—gentle rides, poolside snoozes, treating myself to a massage—but this dude ranch's inclusive choices kept me hopping.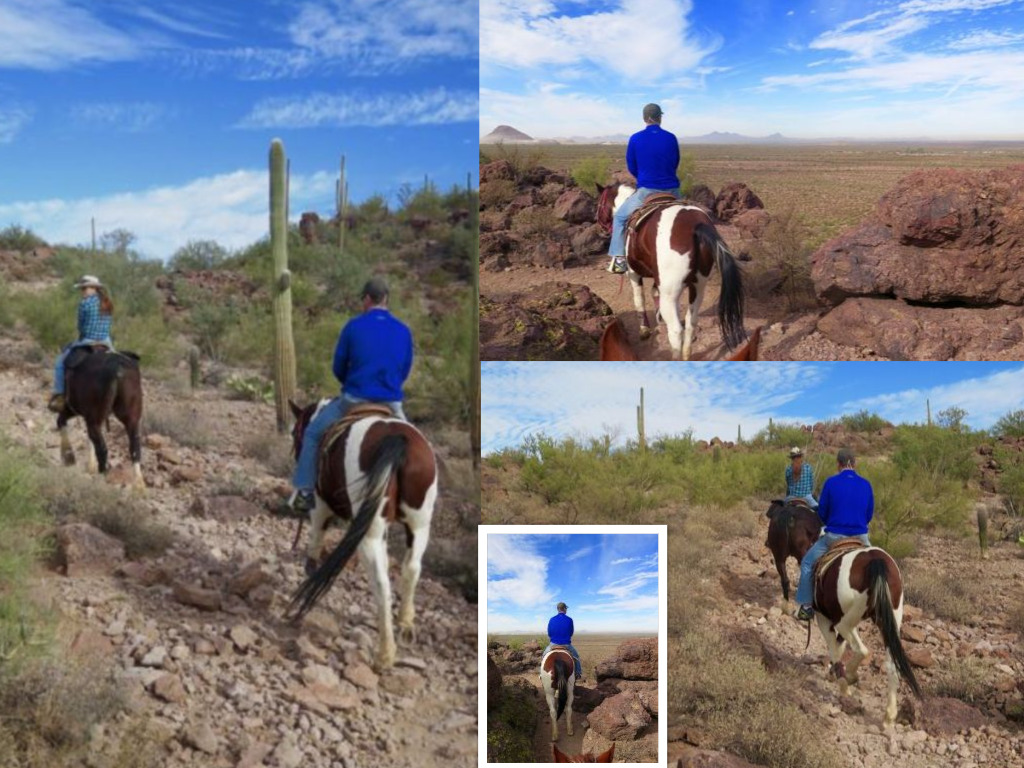 Daily rides & activities for all abilities at the White Stallion dude Ranch

For starters, riding. Scooter (my assigned horse: I requested the slowest, gentlest possible) made it easy. I opted for two slow rides The first to a wine-and-cheese tasting at White Stallion's desert oasis, complete with restrooms. The second through Movie Pass: More than 30 movies, along with the TV series High Chaparral, have been filmed at the ranch; check out the complete list here. I skipped a breakfast ride, but enjoyed the horse-drawn hayride to a barbecue lunch.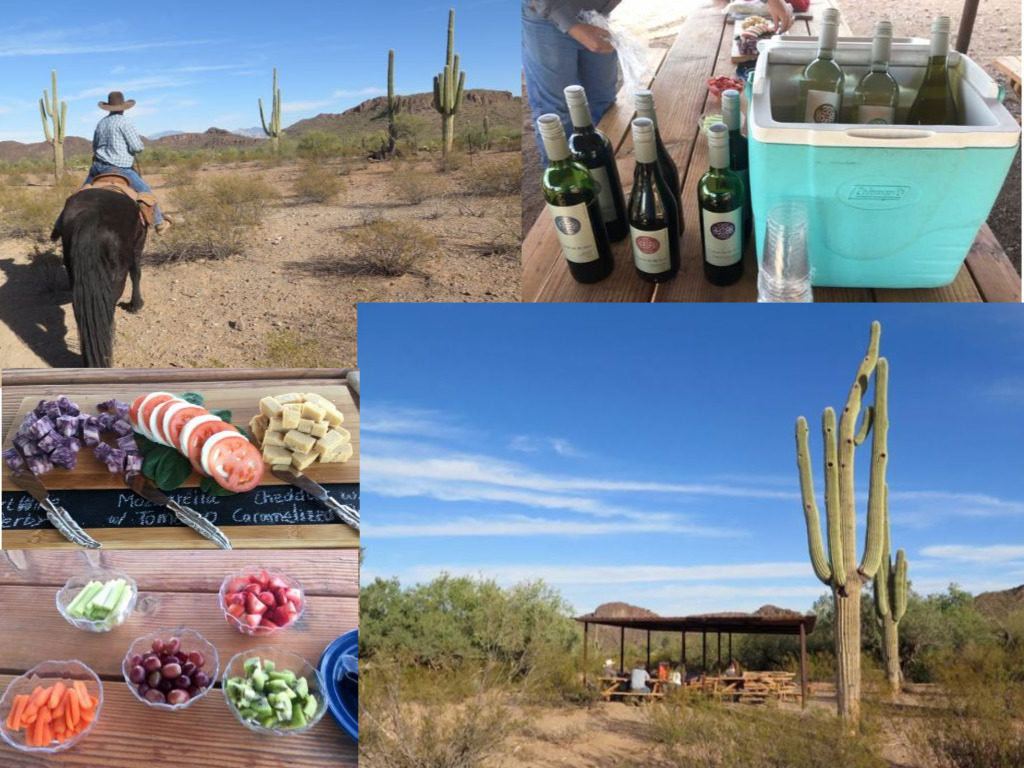 Usually about a half dozen rides are offered each day, including at least one slow ride and one fast ride. Some last 2-3 hours, others a half day, even a full day, a few are themed: Don't like wine? Consider the beer & Cheetos ride. On one ride, guests see a rare variety of saguaro cactus.
Want to improve your horsemanship? Wranglers at the White Stallion dude ranch offers lessons for $20 pp for 50 minutes.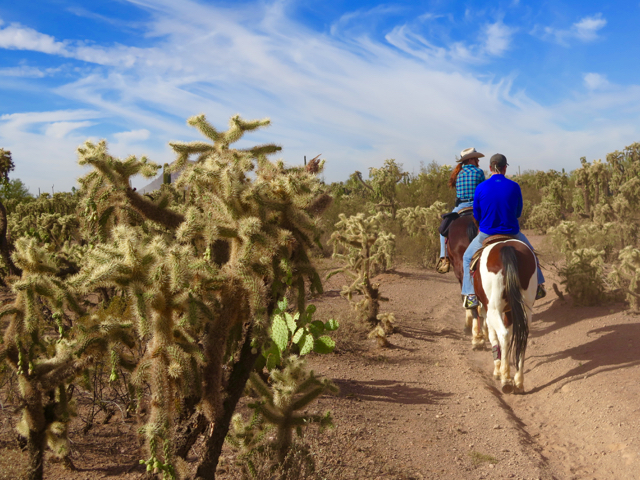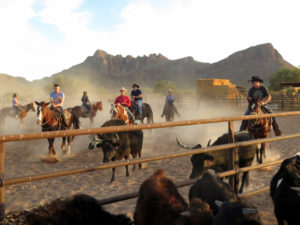 One afternoon, I watched more experienced guests participate in a timed, team-penning exercise. In this, teams of four riders worked to separate cattle out of a small herd and move them into a pen.
Another day, I met Wendy, a former professional animal trainer (lions!), and her horse, Lefty. Wendy showed me some of Lefty's impressive skills, including playing a piano and differentiating between objects. For the latter, Wendy would hold an object in each hand and ask: "Lefty, where's the cup?" And Lefty would look at each, then point his nose to the hand with the cup. As someone who struggled to teach her dog(s) basics, I was impressed.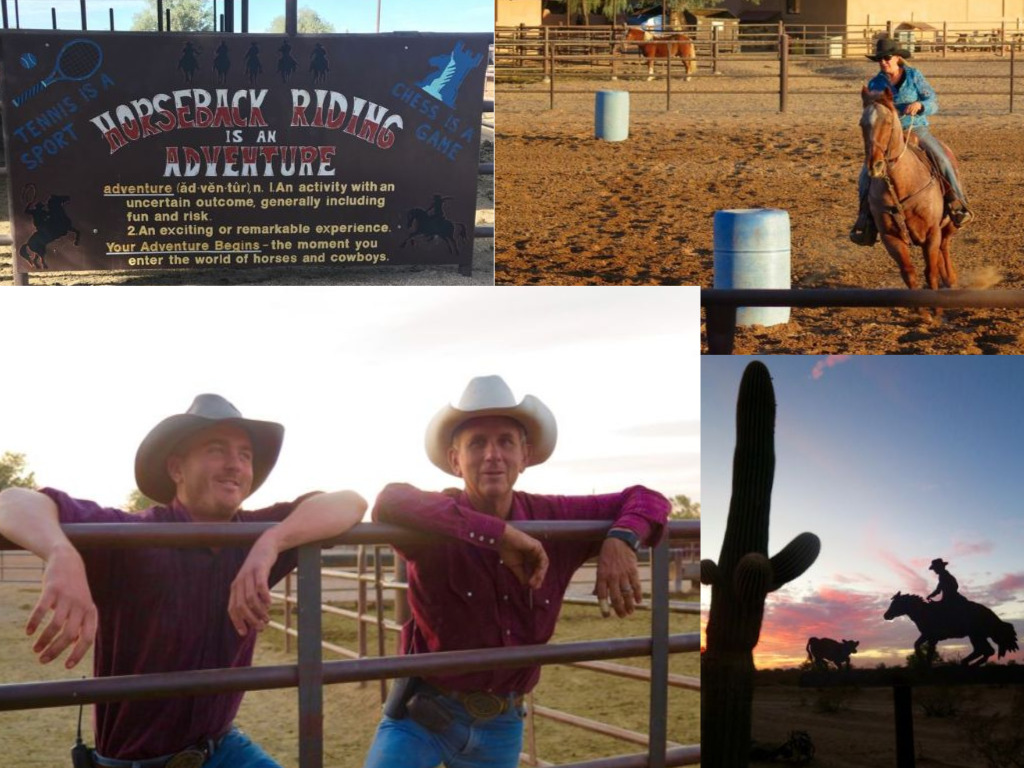 During the weekly exhibition rodeo show, the owners, family,  friends, and wranglers compete in barrel racing, team roping, and breakaway roping. Russ, one of the owners, narrates. He explains what's going on and who's who. It's a fun and educational hour or so.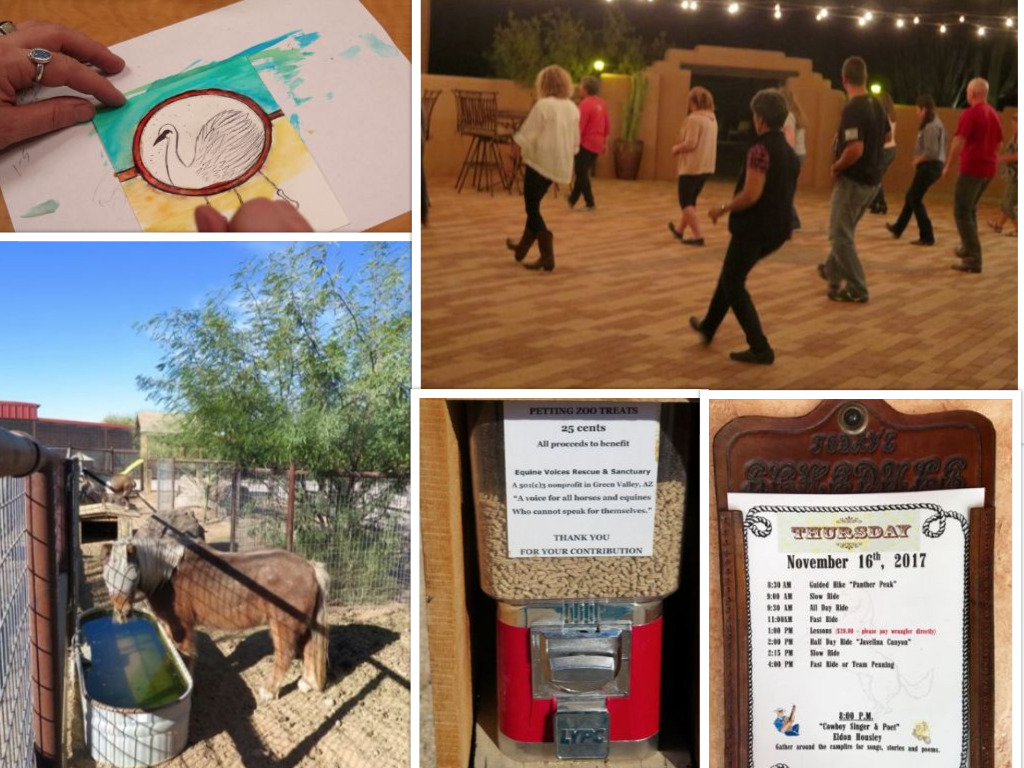 Walks, hikes, and other off-horse options
Don't like to ride? Take a guided hike or nature walk. My friend Jackie hiked one morning. As the only one to sign up, she had the guide and his knowledge all to herself. The hike she chose was demanding, but manageable.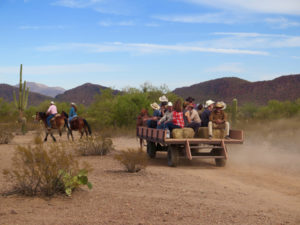 The options don't end when the sun sets. Every evening, there's an activity. I participated in a watercolor class in a conference room and learned line dancing on an outdoor patio.
On the night featuring desert creatures — thinks snakes, scorpions, spiders (shudder) — I opted for a massage with Mary, who I would title Mary the Magnificent. After it, I emerged to a star-spangled night with little light pollution; just spectacular.
The main lodge has plentiful areas to relax, including a lending library with a pool table, a bar with saddle seats, and a large living room with piano. Other amenities include: outdoor pool and hot tub, spa, butterfly garden, movie theater, tennis courts, outdoor sports court, kids' game room, petting zoo, fitness studio, gift shop, yadda, yadda, yadda. No need to bring fancy clothes or even many casual ones—there's a coin-op laundry on premises.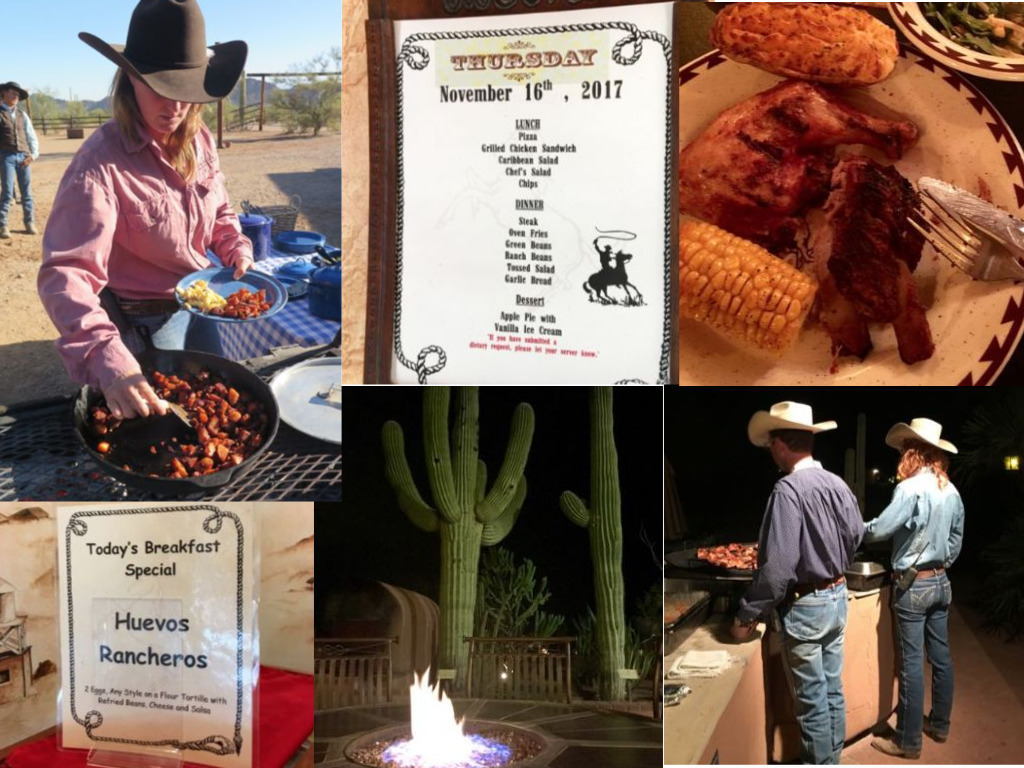 You won't go hungry at this dude ranch

Have I mentioned the food, yet? When the bell rings, the spread is on. It's always plentiful, usually includes a buffet, and always all you can eat.
A menu of hot items and a daily special (note: always check the special, each one I  had was delicious) augments the breakfast buffet. Lunch options included expansive buffets with daily specials, packed lunches for rides, and a haywagon (or van) ride to another desert oasis for barbecued burgers and hot dogs, along with beans, salad, and dessert.
Before dinner each night, there's a cocktail hour with hors d'oeuvres. The honor bar is open for whenever you crave something with alcohol. Just grab and note on a sheet. I think a glass of house wine was about $4 (unlike most resorts, which substantially mark up booze). When  dark, I found it hard to resist the fire tables, which provide a little warmth on a cool desert eve.
Dinner always included a buffet, but usually with special extras. I was there for barbecued chicken and ribs and Mexican nights.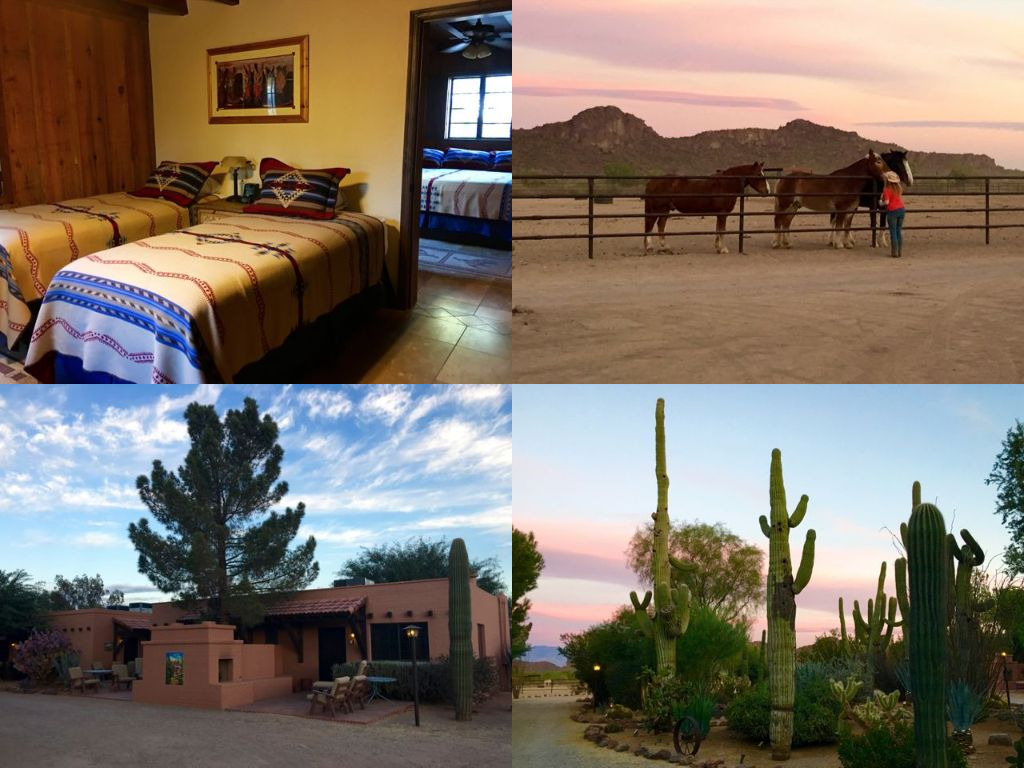 Sweet dreams
As for the accommodations, just perfect. Casitas offer standard rooms and family suites (1 room with king bed, other with twins and a couch with a twin mattress top), all with patios, individually controlled temperature, and wifi; none with TV. Each has a pleasant western decor and is updated about every three years. Also on the premises is a grand, multi-bedroom house, with a full kitchen and private patio area. It easily sleeps 13.
The ranch's grounds are well tended with gardens, cactus with identification signs, and plentiful shade.
Although the feeling is remote, it's fewer than 10 minutes off the highway, so you can be in downtown Tucson in about 20 minutes. Honestly, I loved this place, and I'm already plotting my return.