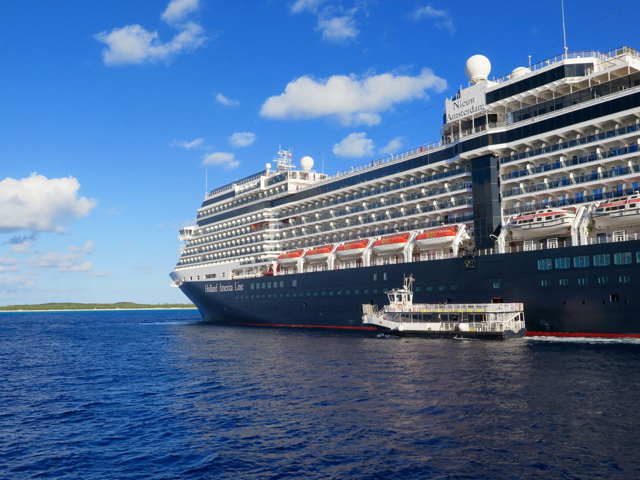 As much as I love Maine, come December, I'm craving sunshine and warmth. When the opportunity to cruise aboard Holland America Line's 2,106-passenger Nieuw Amsterdam arose, I didn't hesitate. Sign me up!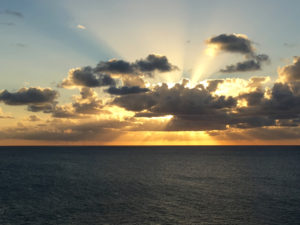 Honestly, I didn't think I'd enjoy cruising on a big ship. This five-day Bahamas cruise departing from Fort Lauderdale, Fla., changed my mind. Truth be told, the Nieuw Amsterdam is a mid-sized ship, but it was my first experience aboard such a large ship with so many amenities.
It helped that cruise veteran and sister travel writer Shannon Hurst DalPozzal, shared my room. She knew the ins and outs of cruising and finding the quiet and still.
As for sunshine and warmth, the cruise delivered brilliant sunny days, spectacular sunsets, and daily temps in the 80s. Even better: Sea breezes cooled the evenings.
DAY 1: Fort Lauderdale cruise port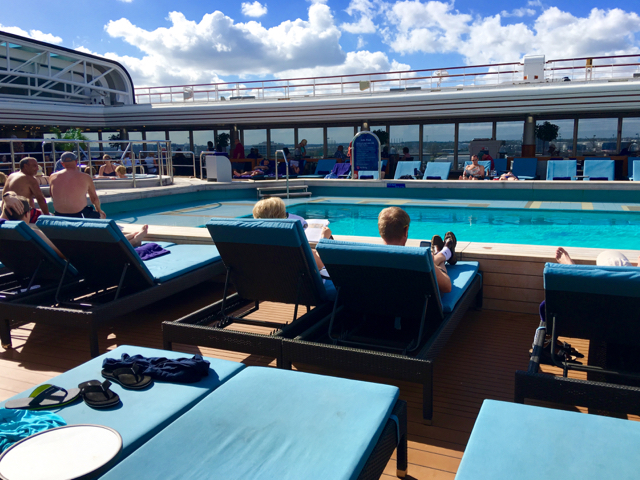 I dreaded boarding, as I'd heard it can be a loooonnngg process. We arrived around 11:45am and breezed not only through the registration and security, but also right into our cabin. Holland America makes sure its cabins are available at check in, a nice plus. Our luggage appeared within an hour.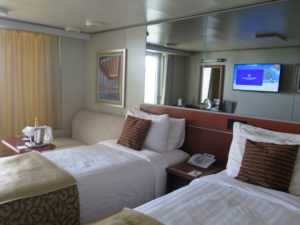 Our Verandah stateroom had twin beds, a nice closet area with safe and robes, bathroom with tub/shower, desk, TV, small sofa, and a large balcony with two chairs, a small table, and a footrest that doubled as a table. That balcony became our second home.
My smart-cookie roomie asked our cabin steward for ice for a bottle of Champagne she'd brought aboard (Passengers may bring aboard one bottle for consumption in their stateroom), and tipped him handsomely. Now gratuities are included, but as in any business, a welcoming smile and a little extra goes a long way. Our stewards never forgot our names and greeted us warmly whenever we crossed paths.
After the emergency drill, the cruise departed the dock, and the fun began.
Eating and Entertainment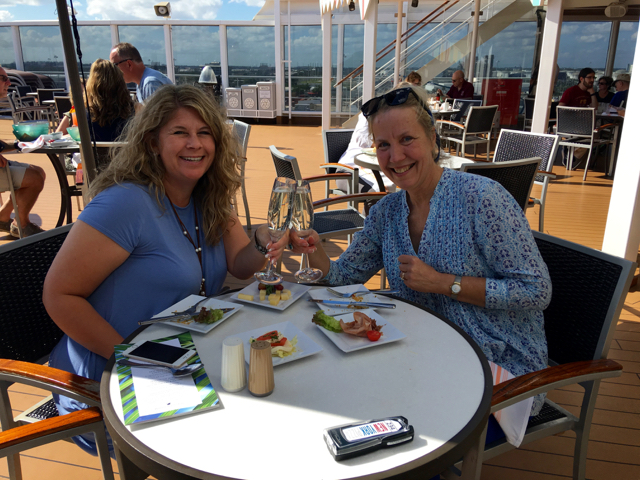 One of the biggest pluses of cruising is that pretty much everything is wrapped into the price, including most food and entertainment.
Dining options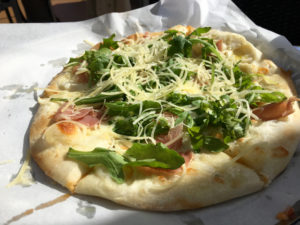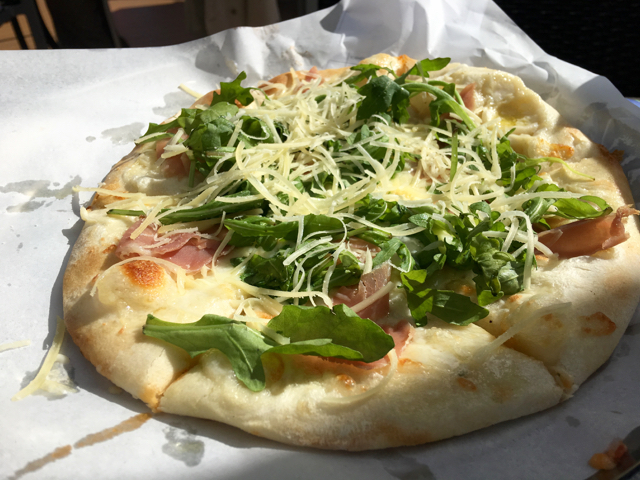 Hungry for lunch, we bee-lined to the Lido Market, a mega buffet with plentiful stations and options. One look, and I knew why people often gain weight on cruises. We picked up a sampling of salads and sushi and found a table shaded by an umbrella by one of the ship's two pools.
The nearby New York pizza station caught our eye, and we ordered one to split. It was so good that later in the week we ordered another, which we enjoyed on our balcony.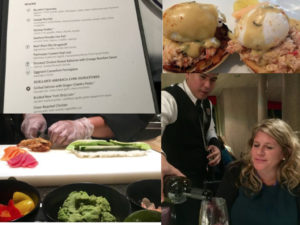 Other food options available include a burger bar, a coffee and ice cream shop, and four restaurants with menus and wait service. The Dining Room is included, and we enjoyed breakfast there once (Dungeness crab benedict!) and dinner twice.
The other three restaurants have a surcharge: Pinnacle Grill (specializing in Pacific Northwest seafood, $35); Tamarind (Pan Asian, $25); and Canaletto (Italian, $15). Trust me, it's worth the splurge. We dined at Canalleto and Tamarind. Both were very good, but Tamarind was exceptional, both in service and fare. Plus, opposite it on the same deck is a lovely lounge, where it feels as if you're in a boutique hotel, not aboard a cruise ship.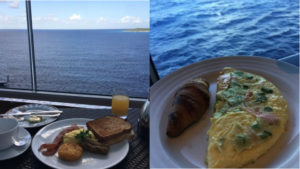 And here's a big perk: Room service is included. It seems especially indulgent to sit on the balcony in a robe and enjoy breakfast. Equally enjoyable and a nice respite was afternoon tea—one day with cookies, another with cheese and crackers.
Entertainment for all
Children 3-17 have Club HAL, a supervised program with dedicated spaces divided by age group.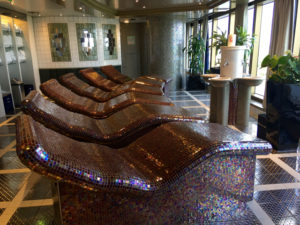 En route to our first lunch, we viewed the art gallery and the Digital Workshop. After lunch, we toured the spa, with lounge areas, hot tub, steam room, and service rooms. Spacious, well equipped fitness areas bookend the spa on one side. On the other is a pool rimmed with private cabanas, available for a surcharge.
On a walk about, we passed the sports court and peeked into various entertainment venues: BB King Blues Club (live Memphis blues), the Screening Room (films), America's Test Kitchen, Showroom at Sea theater, and the piano bar. Something is always happening somewhere, just show up and grab a seat.
Day 2: Half Moon Cay, Bahamas, cruise port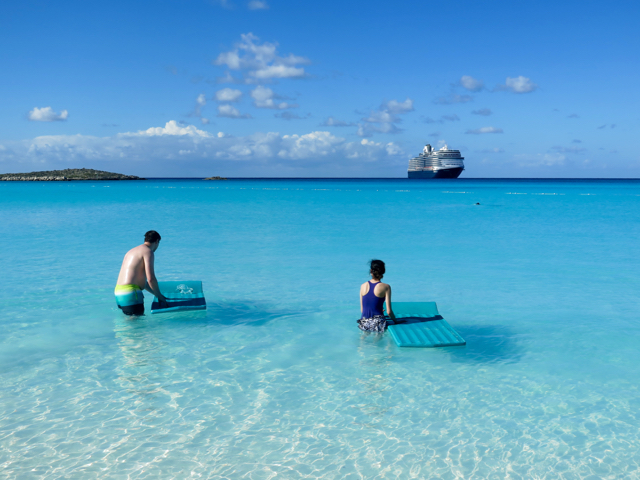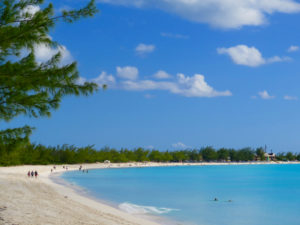 Upon awakening the first morning, I went to the balcony and gazed at the 2-mile crescent of sand edging Holland America Line's private Bahamian island, Half Moon Cay. Heaven! The previous evening, when our cabin steward had prepared our stateroom, he'd left towels for beach use.
I'd signed up for two shore excursions, and took an early tender to the island for my snorkeling experience, with all gear provided. Along with a a couple dozen other passengers, I boarded an excursion boat that transported us to the far end of the beach. Here we plunged in for about 45 minutes of sheer bliss in the calm, clear waters above a reef and ruins.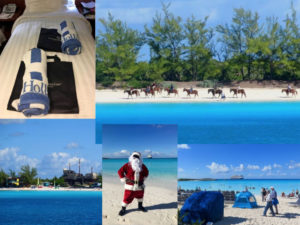 The tram tour, my second excursion, introduced other island activities. If I cruise here again, I'd opt for a horseback ride. Another passenger who went told me that the ride followed the beach and included a short period in which the horses actually swam. That would have been a perfect pairing with my recent stay at White Stallion, an all-inclusive dude ranch in Tucson, Ariz. Another option that looked fun was swimming with stingrays. Sign me up!
Between excursions, we checked out the pirate ship bar, the included buffet, and the a la carte Lobster Shack; met Santa Clause, who was working on his tan and resting up for the big night ahead; browsed the marketplace stalls with straw products and Bahamian foods; and watched others who tried water bikes, paddleboards, sea kayaks, and other beach and water toys. Mostly, we simply relaxed in the abundant beach recliners.
Day 3: Nassau, Bahamas, cruise port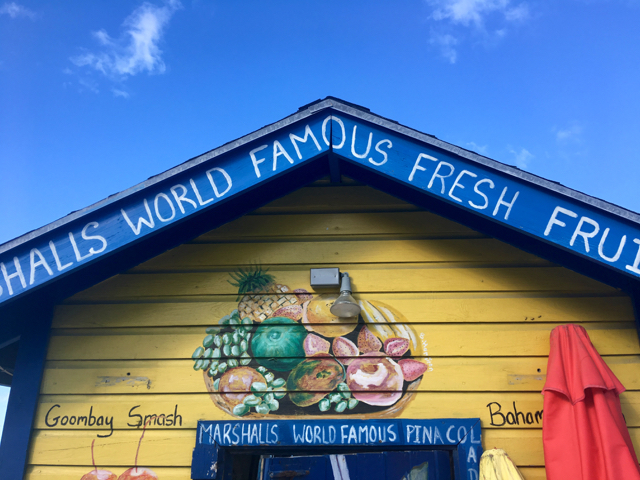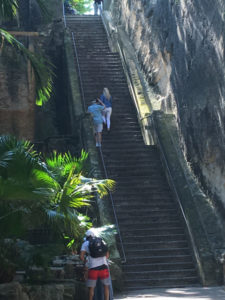 Instead of booking shore excursions on Nassau, Shannon and I explored on our own. Despite four ships in port, December is quiet season here, so it was easy to move around, although some options weren't open.
We learned the story behind the Queen's Staircase from a native stationed near the entry and admired the fort and water tower and views from on high.
For lunch, we hoofed down to the Fish Fry. Few of the fish stalls and restaurants were open, but we found one, which claimed to be the original and had waterfront seating on its covered back deck.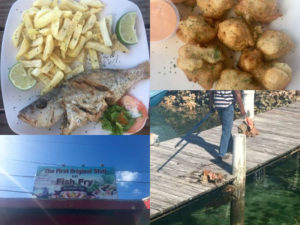 In hindsight, I think it was the bar that was open, not the kitchen, but we weren't turned away. We ordered conch fritters and a fish snack, and waited. And waited. And waited. First came the fried fish snack (the way it was presented, it looked like quite the happy fish).
Then we waited again. I swear we watched as one of the cooks pulled a string of conch from the waters off an adjacent dock to make the fritters.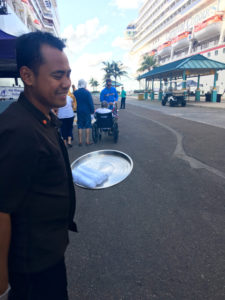 En route back to the ship, we couldn't help but detour into Marshall's a one-man stand on Junkanoo Beach promising the world's best pina coladas. We felt it was our duty to test the product to see if it met the claim. Marshall gladly whipped us two. Maybe it was just being in the right place at the right time, but we agreed that Marshall's made a mean pina colada that ranked among the best we'd ever tasted.
Each day when we returned from our various off-ship adventures, smiling attendants welcomed us back aboard the Nieuw Amsterdam with cool, damp towels and cold lemonade. It was a nice perk, and as Shannon pointed out, one that the others ships in port didn't offer.
Day 4: At Sea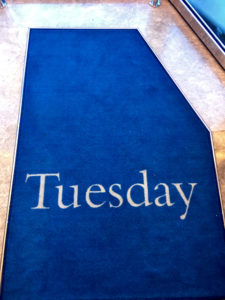 Truth: I was really looking forward to this day with no agenda. I wanted to explore the ship and enjoy the amenities, as well as simply to relax and be in the moment.
By this time, I was in total relaxation mode. Thank goodness the elevator carpets change daily, or I wouldn't have had a clue as to which day it was.
That afternoon, I discovered the shops aboard the ship. Since the Nieuw Amsterdam was heading into dry dock after this cruise for a face lift, the sales were enticing, and as the day progressed, they kept getting better.
About that facelift: Among the enhancements to be added are the Rijksmuseum at Sea, EXC Explorers Central, and two new music venues—world-class musicians will perform chamber music on Lincoln Center Stage, and the ship will rock at Billboard Onboard, with 50 years of chart-topping hits.
Day 5: Fort Lauderdale cruise port

The Nieuw Amsterdam docked around 6 am back in Fort Lauderdale. The ship plans an orderly disembarkation. Passengers are issued luggage tags and asked to leave their bags in the hall on the last night. They're also given a time for disembarkation based upon their post-cruise activities or flights.
Hoping to talk our way into earlier flights home at the airport, we decided to handle our own luggage and disembark ahead of the organized groups.
Bottom Line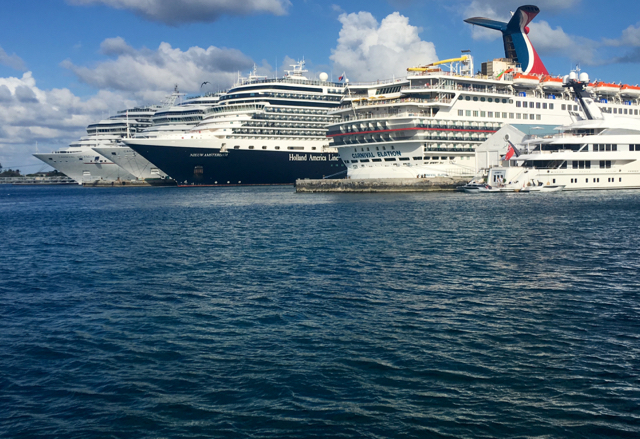 My previous cruises, both of which I enjoyed immensely, were on far smaller ships: a Ponant cruise from Boston to Montreal and a Hurtigruten cruise from Kirkenes to Bergen, Norway. My fears of a bigger ship were allayed on this Holland America Line cruise. I now know that one can find quiet spots and intimate dining experiences even on a bigger ship.
If you're a first-timer, find a cruise line that addresses your desires: destination, length, budget (inside cabins, and those without balconies cost less), size, and options, then give it a go. I'd definitely choose Holland America Line again, which, by the way, does offer a New England/maritime Canada itinerary that visits Maine. Alas, the water is a wee bit chillier, but the experiences are equally enriching.