On each of the last 10 days of 2017, I shared one of my 10 most memorable Maine experiences from the year. These are not in any particular order, consider them equally enjoyed.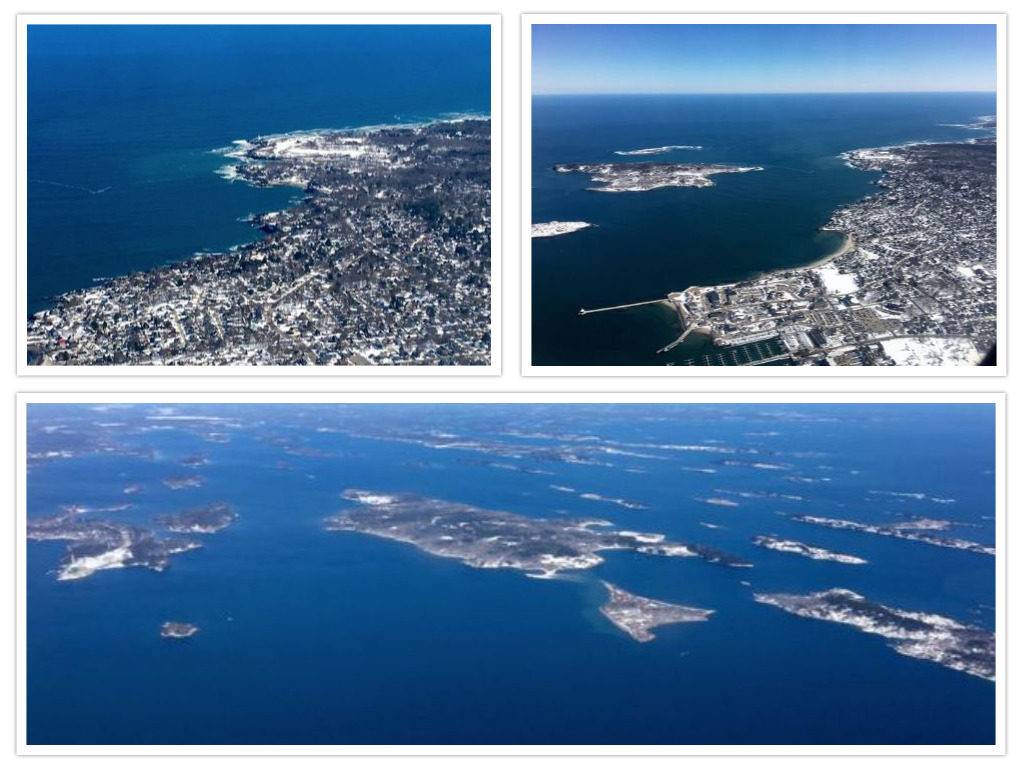 The Portland International Jetport Approach
Not every flight circles out over Casco Bay before landing in Portland (PWM), but if you're fortunate enough to be on one that does, you'll want to be in a window seat. I love trying to spy various landmarks, from beaches to lighthouses, harbors to islands. When viewed from above, it's easy to understand why an early explorer, thinking there were so many islands in the bay that there had to be one for every day of the year, dubbed them the Calendar Islands.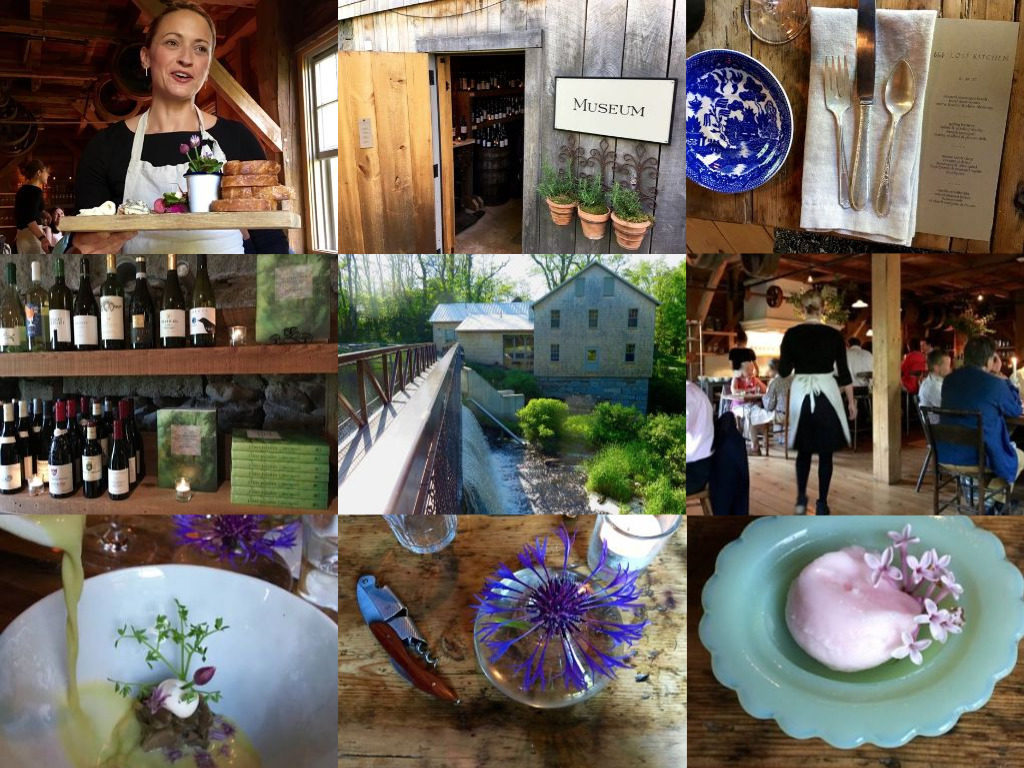 Dinner at The Lost Kitchen
Hail to friends (thank you, Joan!) who stay up until the wee hours to score a reservation at The Lost Kitchen. We found chef/owner Erin French's little slice of heaven in a masterfully renovated stream-side mill in Freedom, Maine. Now, I've been fortunate in my career; I've dined at quite a few Michelin-starred and/or James Beard Award-winning restaurants in North America and Europe. My dinner at The Lost Kitchen stands out as one of the best and most memorable of all. The setting is idyllic, and French not only prepares, but also serves every course. Everything was perfect, from the wine store operated by French's mother in the mill's basement museum, to the thoughtful presentation of each course. (FYI: You can purchase an autographed copy of her cookbook here).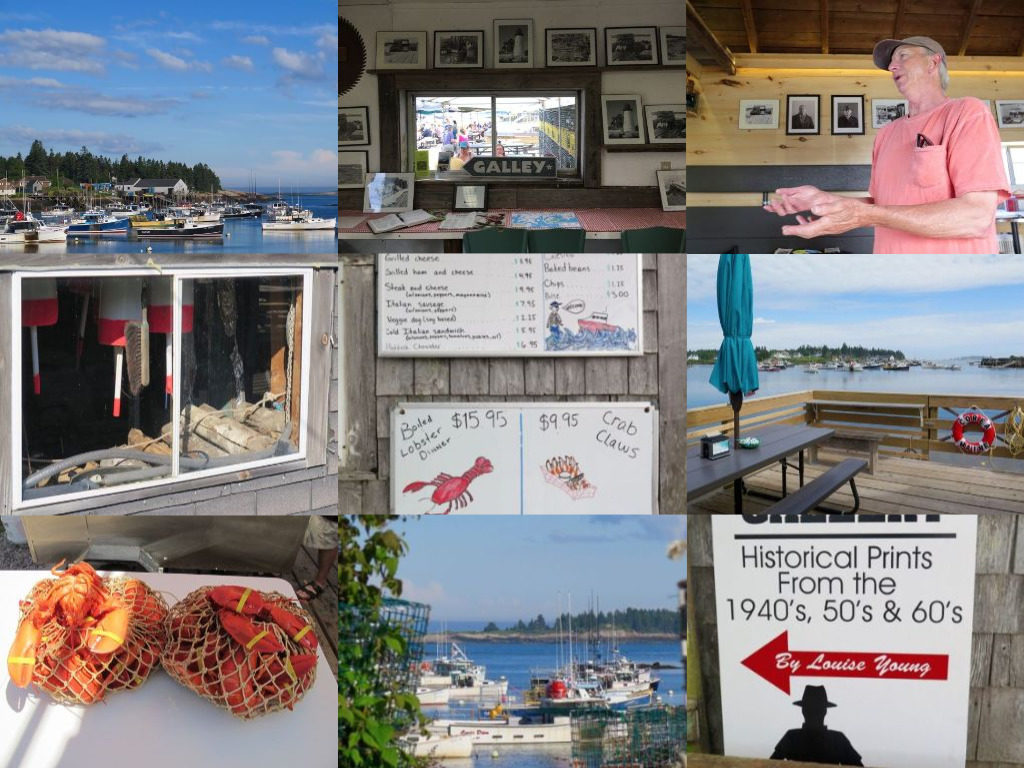 Corea Wharf Gallery & Grill

What do Corea and Waterville, Maine, and New York City have in common? If you've read my earlier posts this year, the answer is easy: artist Marsden Hartley. I had the good fortune to see the exhibit Marseden Hartley's Maine twice: first at the Met Breur in New York, and then at the Colby College Museum of Art in Waterville.
On a trip to one of my favorite lobster shacks, Corea's Wharf Gallery & Grill, sixth-generation lobsterman Joe Young, a descendant of Corea's original settlers, brought Hartley to life. He recounted family stories of Hartley's time in Corea, a classic fishing village on the Schoodic Peninsula. I
f you didn't see the exhibit, you might consider purchasing the book. In any case, next time you're visiting the Schoodic section of Acadia National Park or heading to parts down east, pop into the seasonal Wharf Gallery & Grill and ask Joe to share a few of his stories.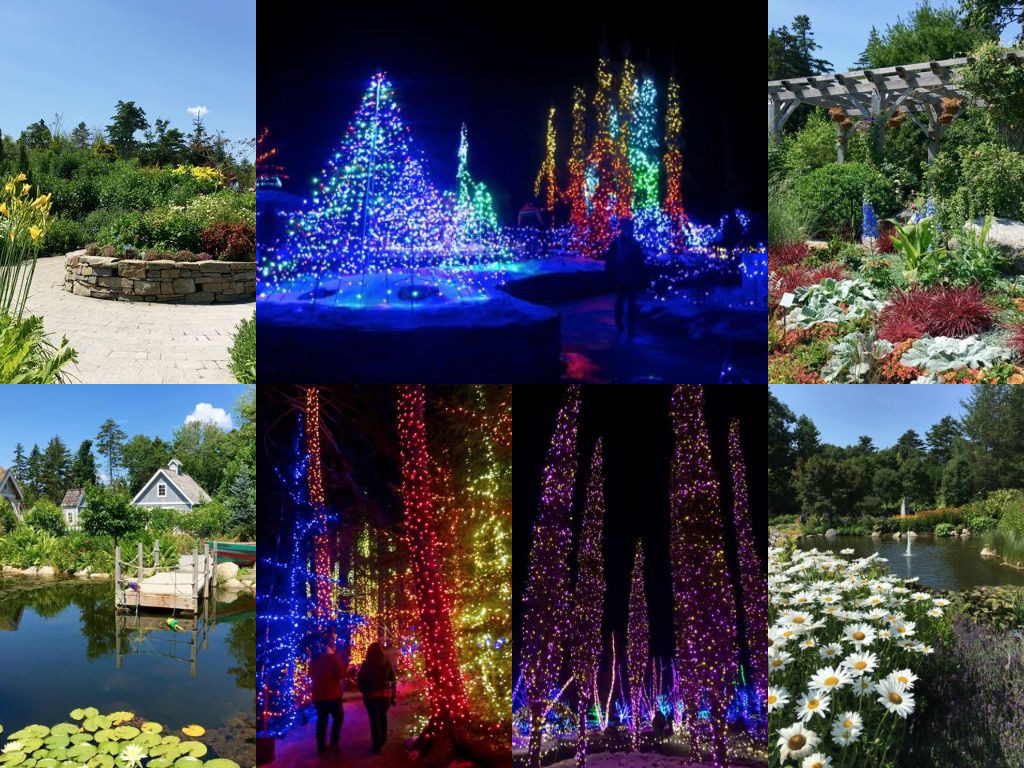 Coastal Maine Botanical Gardens
It's hard to believe that the Coastal Maine Botanical Gardens has only existed for 10 years. This eye candy bonanza is equally magical in summer as in winter.
It's easy to spend the better part of a day exploring the 195-acre gardens. Most of the formal gardens are on the  upper level. My favorites are the Garden of the Five Senses and the Children's Garden, where Maine classics such as Blueberries for Sal come alive. I'm guessing many visitors never even find the Rhododendron Garden, given its off-the-beaten-path location. A path zigzags down a wooded hillside to the tidal waterfront on the Back River, where there are hiking trails, sea kayaking options, even a fairy village.
In winter, more than 500,000 LED lights illuminate the upper gardens for Gardens Aglow (4-9pm daily from late November through Dec. 31, except Christmas).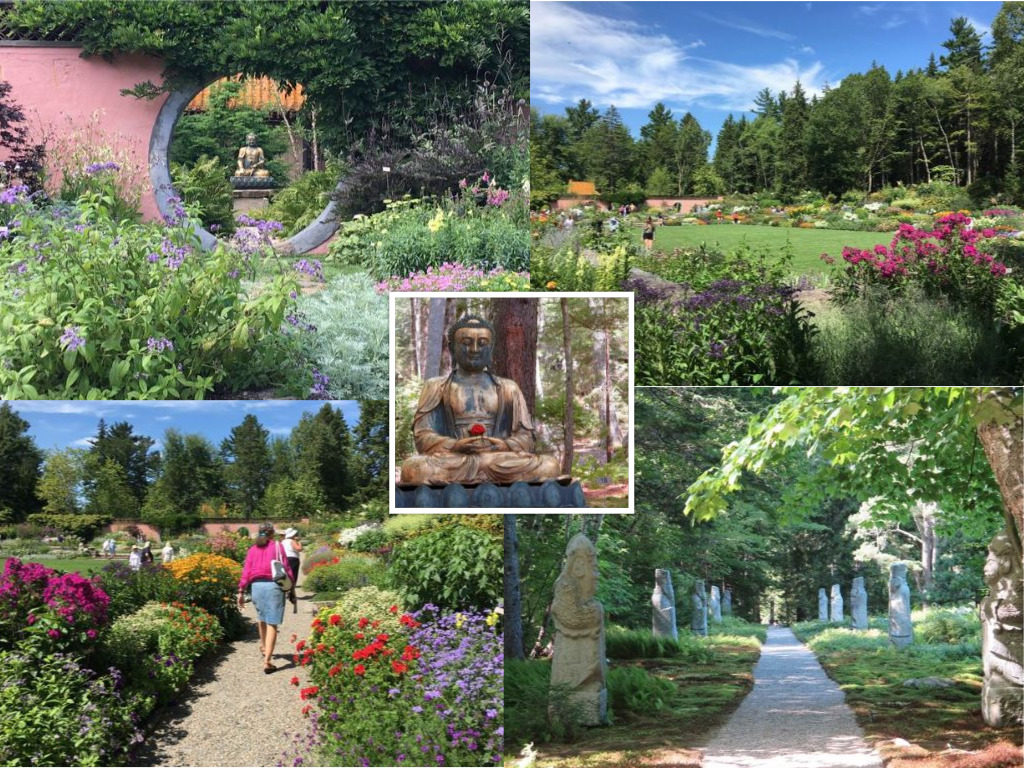 Abby Aldrich Rockefeller Garden
On a sunny day, the Abby Aldrich Rockefeller Garden is a knockout. But even in the rain, when drops glisten and colors pop, it's spectacular. Renowned landscape designer Beatrix Farrand created this walled garden for the Rockefellers between 1926 and 1935, using treasures the Rockefellers had acquired in Asia. Within the garden's walls are English floral beds, Korean tombstone figures, woodland and water gardens, and a great green. Although gorgeous anytime, the garden comes into peak bloom during the first two weeks of August.
Traditionally, the garden is open one day weekly, by advance reservation, for two visitation sessions in season. Most visitors arrive right at the session's start, but you can avoid the crowds by showing up a little later and still have plenty of time. A garden guide with map is provided, but you're free to explore at your own pace.
Note: The Garden Preserve, which oversees both Thuya and Asticou Gardens, is assuming ownership of this garden as a bequest from Rockefeller, so the schedule may change.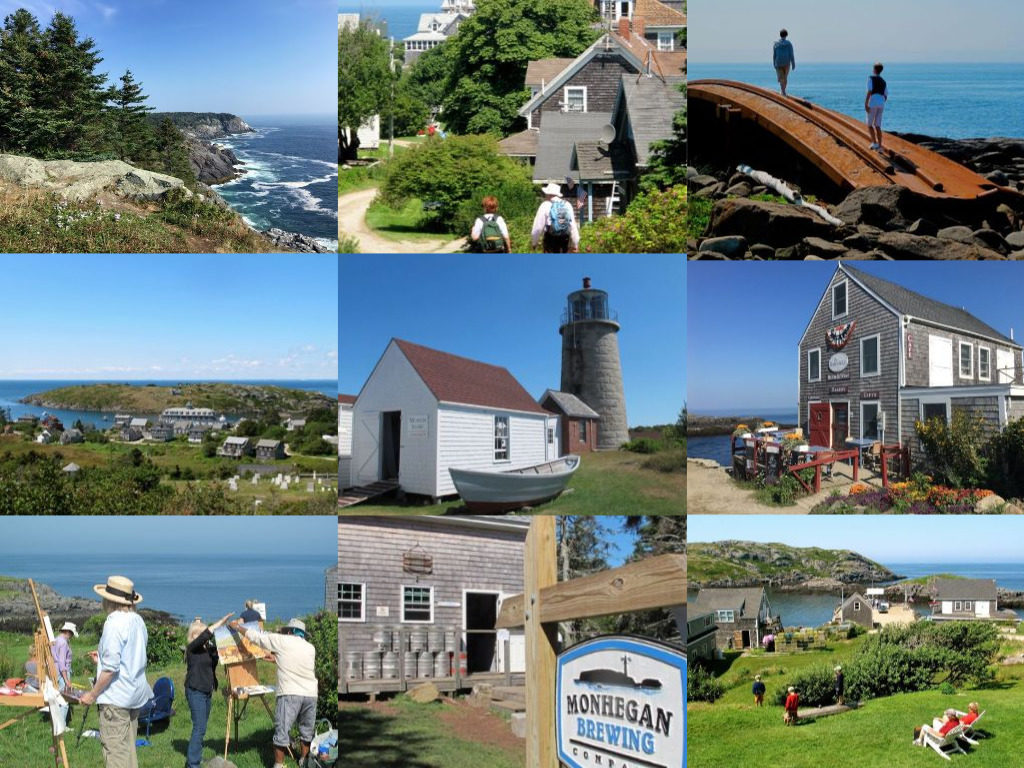 Monhegan Island
Even if you've never visited Monhegan Island, if you have any familiarity with American art, you'll likely recognize many of its icons: the red house perched just so on the shoreline; the lighthouse and bell atop the hill; the craggy cliffs dropping to churning surf; the three-story hotel with its wrap-around porch; or stark Manana island, which protects it harbor.
Lobster fishing supports the small, year-round community, but artists have come for generations to paint these scenes. They're joined by folks who come to tour the lighthouse museums and artists' studios; birders who flock here spring and fall to add new species to their life lists; hikers who come to explore the trails lacing the island; and those, like me, who simply want to escape civilization for a few days.
Most visitors only stay for the day, but the lucky ones spend at least a night, ideally a few, soaking up the quietude and the island's unique culture. Monhegan isn't for everyone, services are few. But if you're yearning for a getaway with a difference, you'll find it here.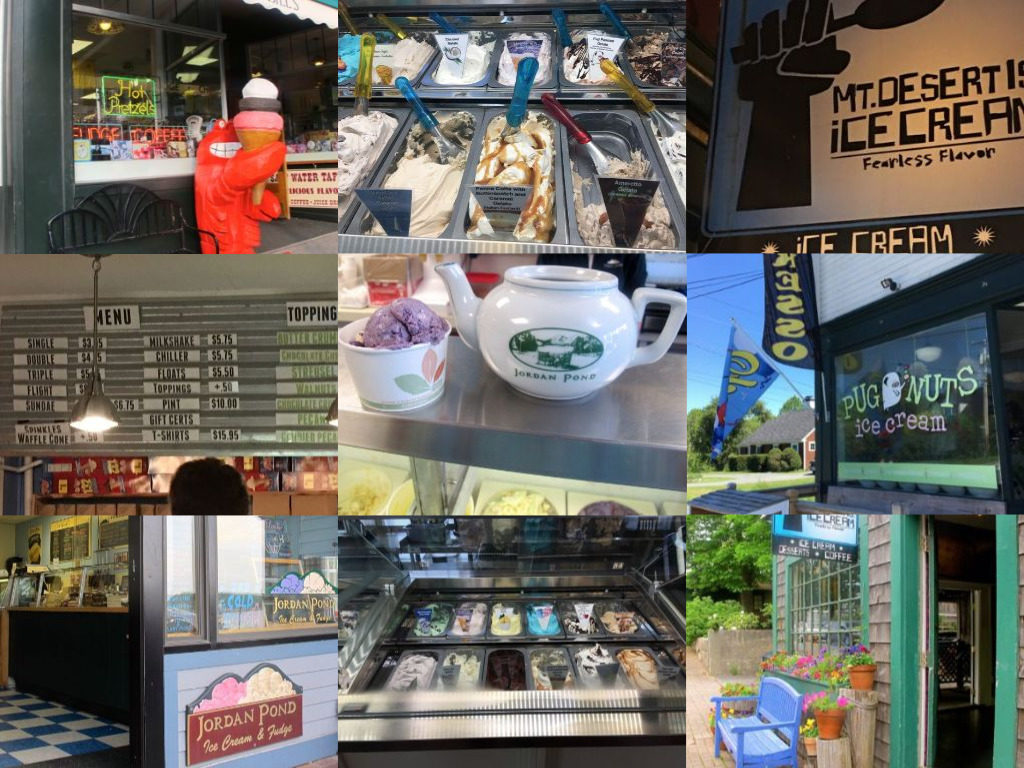 Ice Cream
On this bitterly frigid day (dreaming of reaching single digits), my thoughts turn to ice cream, and Maine has some of the nation's best. I've often dished about my favorites, and I've even compiled a list of all the local Maine ice cream shops dishing out freshly made ice cream.
Last summer, I researched a new edition of my Moon Acadia National Park book, and that, of course, required first-hand knowledge. That's when I discovered Pugnuts in Surry (also available at Black Dinah in Blue Hill and at McGrath's in Northeast Harbor). That got me thinking that the Acadia region may have some of Maine's best. In addition to Pugnuts, there's also Morton's Moo in Ellsworth, and Ben & Bill's, Mount Desert Ice Cream in Bar Harbor, and Jordan Pond Ice Cream in Bar Harbor.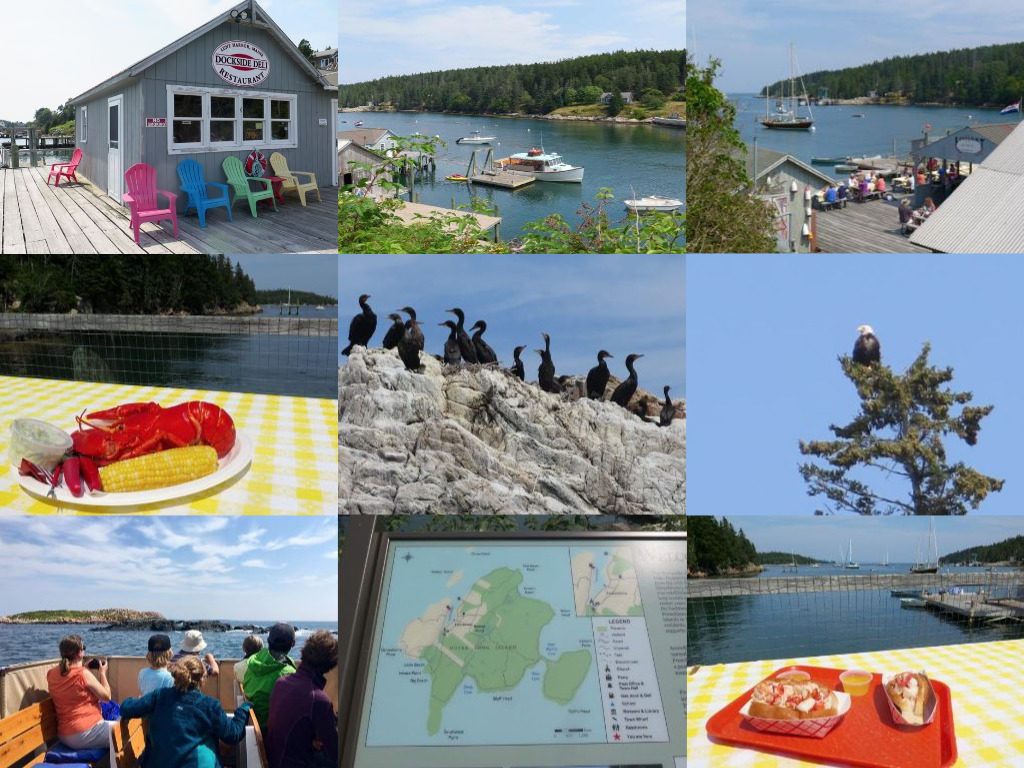 Frenchboro
Island hopping in Maine is one of my favorite pastimes, and the new edition of Acadia demanded a trip to Frenchboro. At first, I planned to go for the annual lobster festival in August, but that didn't work out. Instead, I joined Capt. Eli Strauss, of Island Cruises, aboard the R.L. Gott for the 3.5-hour lunch cruise out of Bass Harbor. As he weaves a course through islands, Strauss shares lots of local heritage and lore about once-thriving and now abandoned granite-quarrying and fishing communities and the sardine industry. He earns major points for maneuvering the boat so that passengers on both sides get an up-close view of key sights. En route, he points out seals, cormorants, guillemots, and often eagles.
For me the highlight is docking at Lunt's Lobster in Frenchboro. The island, Outer Long, is called by the name of the village wrapping around Lunt's Cove. It's one of 15 Maine islands that still have a year-round community. After feasting on an ultra fresh lobster roll (the menu ranges from hot dogs to lobster dinners), we had enough time to stroll through the village and visit the historical museum, before boarding for the return trip. On that, Strauss explains lobster fishing and hauls a trap or two.
I hope to return some summer Friday to Frenchboro for a full day on the island. That will allow time to hike some of the more than 10 miles of marked trails—more than 80 percent of the island including about 8 miles of shoreline is in a preserve managed by Maine Coast Heritage Trust.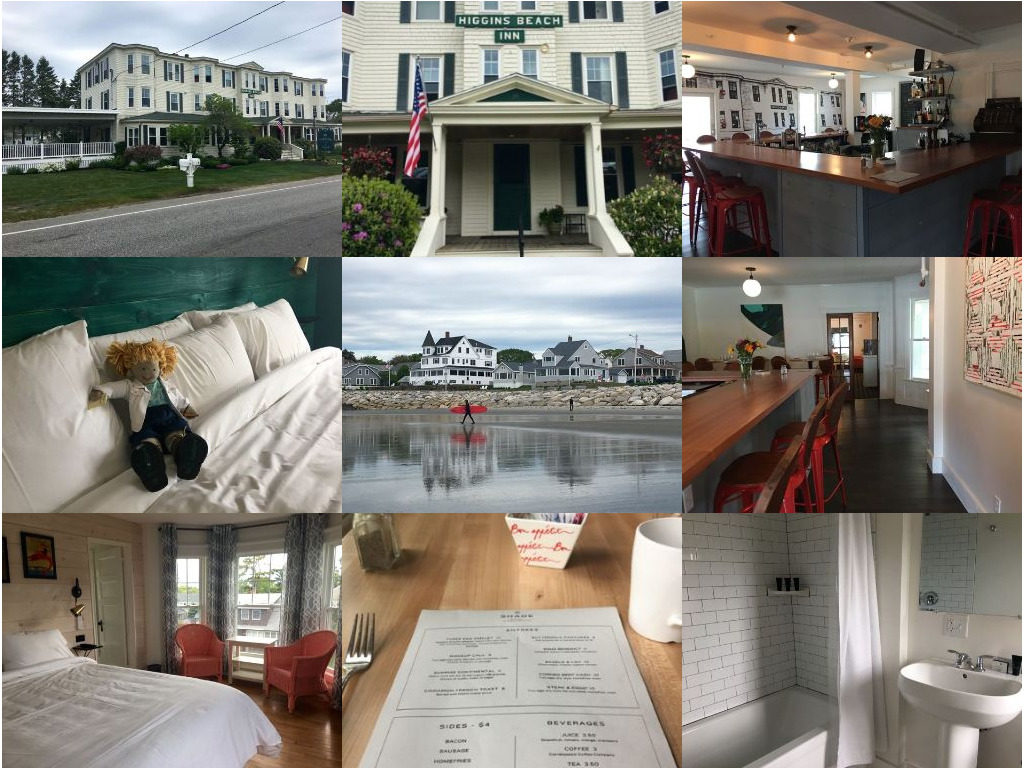 Higgins Beach Inn
I spent way too many hours of my teenage years doused with baby oil and watching the boys go by at Higgins Beach. I'd buy a season parking ticket for $5 and park behind the store, which had the only public toilet (most outhouses these days are nicer). En route from the store to the beach, I'd pass the Higgins Beach Inn, but rarely gave it a second thought. When invited to see the renovated inn in the spring, I went.
The Migis Group, which owns Migis Lodge and owns or manages a number of other properties in Maine and beyond, did a wonderful job taking this Victorian beach hotel and updating it with a modern, uncluttered look accented with strong colors and contemporary art. It shines again as a seasonal place to stay or enjoy a meal in the restaurant or simply hang out in the bar or covered deck.
I walked around the neighborhood—it's now more year-round Portland suburb than seasonal beach community—but the beach itself hasn't changed too much. It's still a broad stretch at low tide, giving way to a narrow strip when the tide's high. In the off-season, dogs run free. When storms toss the sea, surfers ride the combers. I'm happy to be able to recommend visiting here and staying in the Higgins Beach Inn.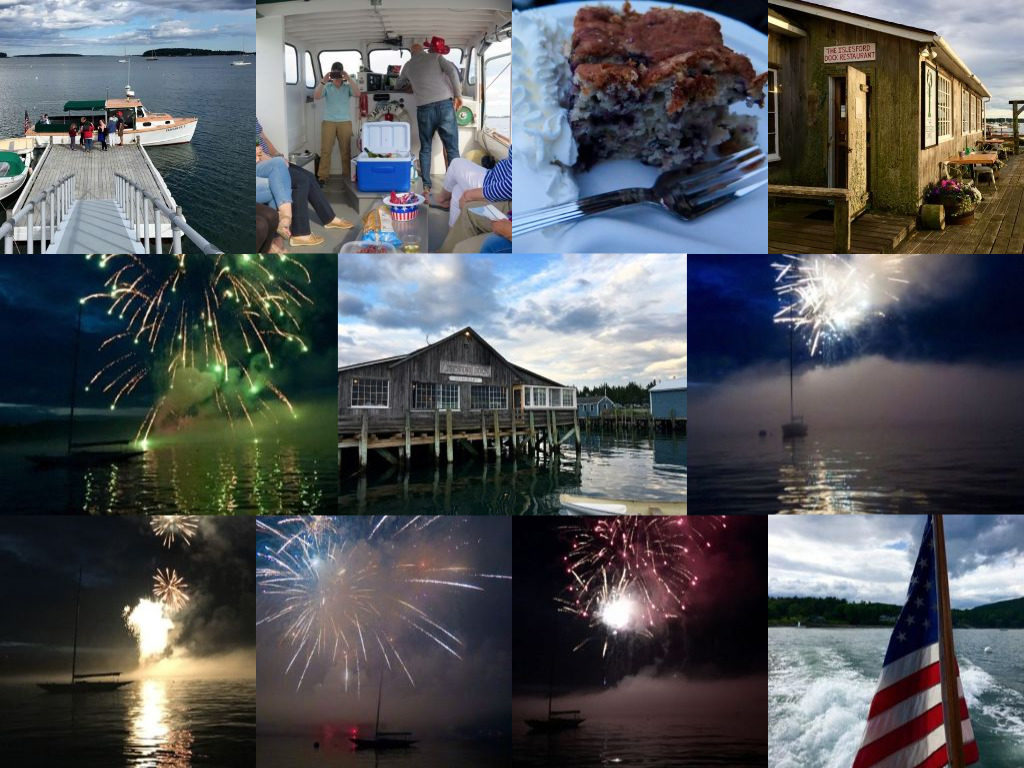 Fourth of July
Until this year, despite growing up on the coast of Maine, I had never been out on a boat to watch Fourth of July fireworks. Susi Homer, innkeeper at The Birches B&B in Southwest Harbor, invited me to join her aboard a boat chartered for the evening. We sipped and savored hors d'oeuvres and bubbly aboard as we cruised to Islesford, one of Acadia's Cranberry Isles, for an early dinner at the Islesford Dock (I'm eager to return here; everything I tasted was excellent). While dining, thunderstorms made for dramatic lighting, but ceded in time to cruise to Southwest Harbor for the big lights show. En route, we devoured dessert—blueberry cake with whipped cream.
If you ever get an opportunity to view fireworks from a boat, don't hesitate to do so. It really feels as if you are in the center of it all, watching bombs bursting in air, with smoke clearing to reveal the boat's flag still there.