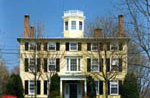 Rick Litchfield and Bev Davis, innkeepers at Kennebunkport's Captain Lord Mansion, were ahead of the boutique lodging curve before most folks  even knew there was a curve. Since 1978, they've been overseeing the operation of this three-story architectural gem, the grandest of three mansions (all now operating as B&Bs) reputed to have been constructed by three brothers. In a town filled with top-tier B&Bs and inns, the Captain Lord shines. They've never rested on their well-earned laurels, and their staff shares their quest for perfection.
It had been years since I'd stayed at the Lord, but within minute of stepping inside, I was asking myself why I'd waited to so long to return. The decor is fitting for a wealthy sea captain, with spacious rooms attired with handsome furnishings, original artwork, and plentiful pieces that appear as if brought back from across the high seas.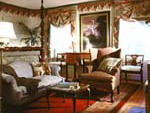 Guest rooms continue the inviting mix of ease and elegance; they maintan the balance between pretty and handsome and seal the invitation with plentiful creature comforts: heated floors in the bathroom, soft robes, CD players complemented by a nice library of CDs in the room, iPod-docking stations, air-conditioning, small TVs, phones, welcoming chocolates, and nice Cali toiletry amenities. And let's not forget the poo-pouri designed to mask unmentionable odors before they begin. Rooms have pleasant seating areas, good lighting, Asian-style rugs; some have multi-jet showers or whirlpool tubs for two; many have fireplaces.
My large front corner room had a king-size bed that required a step ladder and what can only be described as sumptuous bedding: plush, soft, elegant, simply lovely. Grouped by the fireplace were two easy chairs, one  over-sized with ottoman, heaven. Accent pieces were intriguing treasures that could have been collected by the good captain on his travels in the Far East.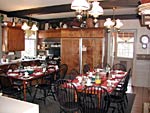 While it would be easy to hole up in these accommodations, other rooms beckoned: On the main level are a double parlor/dining room, a pantry with hot beverages, and a kitchen with cold drinks and snacks. Downstairs is a gift shopped stocked with not-so-ordinary finds, a TV room with big screen, and the inn's spa room. A spiral stair leads to the cupola, where off-season views extend to the sea. Outside are shady  grounds, dotted with lawn chairs and benches. And it's a two-minute walk to Dock Square and its boutiques and shops.
Breakfast is served family style at large tables  in the kitchen and dining room. It began with fresh fruit, cereal, and yogurt; progressed to cranberry muffins; then finished with blueberry pancakes with maple sausage and maple syrup along with a soft-boiled egg. Trust me, I wasn't hungry for lunch.