The Berwicks aren't on the regular tourist loop. Snugged against the New Hampshire border in southwestern Maine, these  communities are less than a half hour from the coast make a nice rural ramble, especially for those who appreciate historical homes and literary heritage (authors Gladys Hasty Carroll and Sarah Orne Jewett). Another plus: Because they're off most tourist radar screens, North and South Berwick are also a good choice for those seeking accommodations or restaurants without coastal crowds or prices (It took me less than a half hour to drive from Kennebunkport).
So what's here? South Berwick is best known for two Historic New England properties, the Sarah Orne Jewett House (top left image) and the Hamilton House. The Jewett House, once home to Sarah Orne Jewett who penned that New England classic, The Country of the Pointed Firs, is smack dab in the center of downtown South Berwick. Jewett spent much of her life in this 1774 Georgian, now a National Historic Landmark.
The nearby Hamilton House (right), a striking Georgian mansion built by shipping magnate Jonathan Hamilton in 1785, crowns a bluff overlooking the Salmon Falls River. Later owners modified it into what is now considered one of New England's loveliest Colonial-Revival country estates. While touring the house is a must for garden fans, the Sundays in the Garden series, in July, draws music lovers to late-afternoon concerts held in the perennial gardens outside the home.
A path through the forests connects the Hamilton House estate to neighboring  250-acre Vaughan Woods State Park with about three miles of trails weaving through pines and hemlocks and along the river. Consider picking up picnic fixings at the natural foods store in town.
For breakfast or lunch, seek out Pepperland Cafe, a family-friendly pub-meets-bistro serving comfort foods and more with pizazz (the Asian chicken salad is excellent); everything is made from scratch. It's also open for dinner, but if you're sticking around, reserve a table at Relish, an 20-seat, low-key neighborhood bistro, where Chris Prunier and Linda Robinson turn out fresh flavors with care (for those who follow the food scene, this is the current incarnation of the popular Margaux).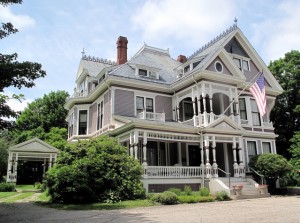 And if you want to spend then night, there are two excellent and quite reasonable choices. The 1903 Academy Street Inn, in South Berwick, was once the headmaster's house for Berwick Academy (you might want to visit the campus and check out the stained-glass windows in the Fogg Memorial Library—yes, same Fogg as Harvard's Art Museum). Angel of the Berwicks, (right) a masterfully restored, 25-room Eastlake Victorian, is in North Berwick. Both are mansions with formal rooms, elegant furnishings, architectural highlights, and plentiful antiques, but neither is at all stuffy. A full breakfast is included at both.