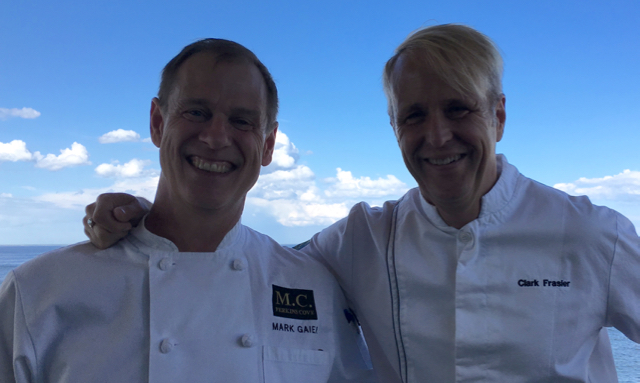 Earlier this summer, I sat down with Chefs Mark Gaier & Clark Frasier, who won the James Beard Best Chef Northeast award for their late, great Arrows restaurant, in Ogunquit. Now, their efforts are concentrated at MC Perkins Cove. Here's Part 1, where they dish about their journey to Arrows and from there to MC Perkins Cove.
In Part 2 of our conversation, they discuss food trends, local favorites, chefs to watch, and  best-ever dining experiences.
Mark, you're from Ohio, and Clark, you're from California. How did you two end up in Ogunquit?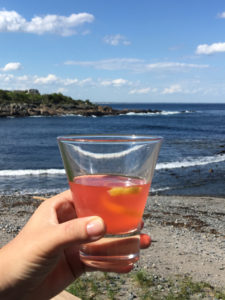 Mark: My sister was in Maine, and I lived in Blue Hill for a couple of summers in the late 1970s. I worked at the Whistling Oyster, knew of Arrows, and thought it would be lovely to own it. When I was 20-something, I moved to California. The inflight magazine had an article about Jeremiah Tower, and I went to work for him.
Clark: I  met Mark in California. We tried to open a restaurant in Carmel, but the investors ran when they saw the money required. They weren't going to spend a million on two kids in their 20s; no, not going to happen. We had no culinary school background, although we'd both worked in restaurants.
Mark: I had been a chef of sorts, but young and immature. I did work one summer at the Firepond (Blue Hill), in the late 70s, but I was the worst waiter, tables hissed at me. I can handle 400 dinners a night, but not one table in the dining room.
Clark: I did a lot of dish washing.
Mark: I was friends with the owners of Arrows, and one wintry evening, we visited it. I thought it was like The Shining, but Clark thought it was pretty cool. So we did it, came out a few weeks later, and started Arrows with a couple of credit cards, smoke, mirrors, and tape.
Clark: We didn't have anything to lose.
You earned national fame with Arrows. Why did you downsize?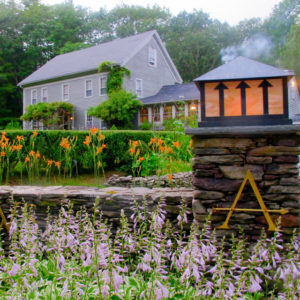 Mark: When we arrived, Arrows was a beautiful farmhouse, but it was a wreck. The infrastructure needed a lot of work. That's when we started 25 years of sinking money into an empty house, but Arrows also was a springboard for everything else we accomplished, so it was exciting: our first book in 2002; opening MC Perkins Cove in 2005; having a restaurant in Burlington, Mass., and one in Boston at Seaport; winning the 2010 James Beard Best Chefs Northeast award; one of the first episodes of Top Chef Masters in 2012…we did all that and Arrows. It was a lot going on.
Clark: We ran Arrows for 25 years. It took a lot of work and energy and required day-to-day hands on. There was no way to run that level of restaurant without the guests expecting perfection, and we were expecting it, too. It became difficult to continue. At least ¾ of my energy went into Arrows, Mark was at MC, and we had the two other projects.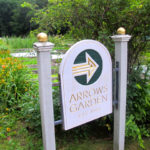 Mark: We were ready to scale back: 25 years is a good run. It was a hard decision, but once made, we never looked back.
Clark: We had a big party: Jeremiah Tower was there, Barbara Fairchild, loads of Top Chef Masters—it was an awesome party and we closed two weeks later. Perfect. Now this (MC Perkins Cove) is our primary and only.
What's happening with MC Perkins Cove?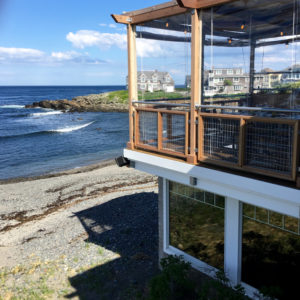 Mark: I love it. It's really nice because Clark and I can really focus on this. Clark can go out in front of house and talk to people. Before, Clark was here a couple of days a week, which wasn't much time to work with front of house staff or the chefs. Now, we feel very in control of our restaurant. It's like we want it to be.
Clark: We have a really great group of people, and we have the time to work with them. The staff and guests like it.
Mark: We're not young rock and rollers, we're mature chefs. I'm comfy with that right now. Would I want to open another big restaurant? I don't know. If given the right opportunity perhaps, but I don't want to destroy my health or risk money.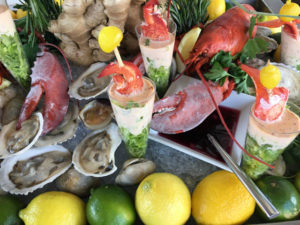 Clark: This year we opened the deck. It's been engineered from the bottom up and it took 1.5 years from planning to opening.
Mark: For 10 years, having an outside deck wasn't an option, but the code changed.
Clark: Our guests are right on ocean looking out. It's the intimacy of it; you don't notice people on either side.
Mark: It's very very exciting for us; like opening a mini new restaurant.
Clark: People love the raw bar. They walk up and exclaim: Oh my god we must have oysters!