I'm traveling along the Maine Coast this summer researching a new edition of Moon Coastal Maine. I'll be posting updates every now and then on where I've dined and stayed. Here are a few morsels from recent forays in Greater Portland to whet your appetite.
Local 188, Portland: Portland has so many restaurants and with new ones continually opening, it's challenging time-wise to return to old favorites, places like Local 188. I love this comfy spot, with its eclectic and mismatched vintage furnishings, local artwork accenting the walls, open kitchen, and artsy welcoming vibe. It's hip without being hipster.
Like most of Portland's restaurants, farm-to-table is the mantra. The Spanish/Mediterranean-influenced menu is divided into tapas, raciones, salads, and entrees. A friend and I never got beyond the first two sections, ordering a cheese plate and a charcuterie plate, the mussels, and the gnocchi, along with plentiful wine. We chatted, nibbled, mopped up sauces, and simply relaxed, which is what Local 188 is all about.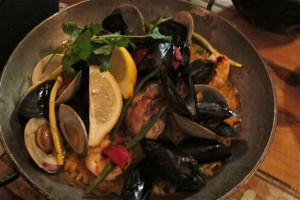 Caiola's, Portland: Chef/owner Abby Harmon gets everything right at this West End neighborhood restaurant. Our party of three split two appetizers. The salt cod dumplings with red pepper coulis and tartar sauce ($8.95) comprised two plump cod fritters separated by the tartar and drizzled with the sauce: crispy on the outside, delectably soft inside, simply delicious.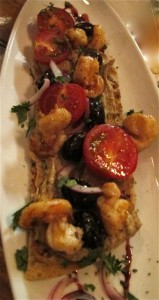 The grilled Mediterranean flatbread with hummus, olives, and sauteed shrimp ($9.95) came as one long piece with the toppings. Cutting it into three pieces was a bit of a challenge, and it was messy to eat—one of the olives on my piece made a run for it, rolling off the table and disappearing—but oh the flavors were spot on, with the shrimp adding a nice balance.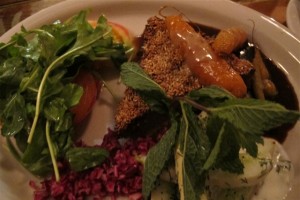 We chose three different entrees, and frankly, each of us enjoyed our own so much, there was no thought given to sharing. Harmon excels at elevating comfort food to culinary genius. I had the lebanese lamb meatloaf with tzatziki, lemon cucumbers, radishes, and arugula tomato salad ($21.95), which was blaze of color on the plate. The vibrant accompaniments were ultra fresh and made the meatloaf sing.
One friend had the paella, a sizzling presentation of crilled chicken, chorizo, mussels, clams, roasted red peppers, saffron rice, and peas ($23.95), served in a straight-from-the-oven pan. The other had the eggplant parmesan with homemade marinara, grilled garlic bread, spinach and red onions.
Too full for dessert, we instead walked around the West End, arriving at the Western Prom just in time to catch a fiery sunset over the distant White Mountains of New Hampshire.
Sea Glass, Inn by the Sea, Cape Elizabeth: I've said it before, but I think Sea Glass is one of Greater Portland's best-kept secrets. For starters, the location on Crescent Beach provides delicious views. Sit inside or on the deck, and you're overlooking green lawns that give way to a bunny preserve (no, really! This thatch between the inn and the beach is a destination resort for endangered New England Cottontails, and the inn is working with experts to rid it of bamboo and restore the habitat)  and also a butterfly preserve (did I mention the inn is ultra eco-conscious?), and beyond that ocean. Yup, that's Richmond Island to the right, and off to the left, those lobster boats are bobbing in Kettle Cove.
Now add Chef Mitchell Kaldrovich, the maestro in the kitchen (see my interview with him). He's professionally trained, grounded in classic techniques but adds Argentinian flair and Maine sensibilities. Kaldrovich participates in the Gulf of Maine Research Institute's Out of the Blue program to help promote sustainable seafood, and of course, he sources as much fare as possible locally; pretty easy in a farm-rich town like Cape Elizabeth.
You'd expect spot-on service, panoramic views, and well-prepared fare at a seaside inn to cost big buckeroos, but dinner entrees here run a very fair $22-34 (and if that's a tad too pricey, less expensive fare is served in the lounge, which has the same views plus a fireplace). Sea Glass is open for breakfast, lunch, and dinner, and there's lobster on every menu. There's even a separate vegetarian menu and vegan options. The Inn by the Sea is extremely pet friendly, and that includes dining on the deck (It's Bernie-dog approved).