Psst: Seeking Maine's best bagels? Hankering for a taste of the Southwest? Mosey over the Casco Bay Bridge to South Portland (SoPo, if you're feeling trendy), and check out these two spots.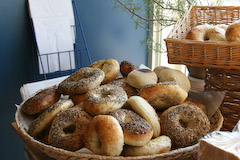 Scratch Baking Co: Bagels! Getting decent bagels in Maine is a challenge (whenever New York friends visit, they know the perfect hostess gift is bagels and whitefish), but this artisan bakery on Willard Square makes the state's best. Now Scratch's bagels aren't typical New York style, they're chewy and crusty and made from a sourdough starter but oh! my! are they delicious.
Try the sea salt flavor. And while the bagels are why I went, on the advice of a friend, I also purchased their English muffins, which put store-bought ones to shame. And I greedily eyed the croissants and breads and sweets in the case. Next time. My only complaint is that you can't get the bagels or muffins toasted at the bakery, although the staff will cut them and you can purchase cream cheese. Minor quibble. Note: Go midweek if you can, this place is no secret and it draws crowds on the weekends.
Taco Trio: A friend introduced me to this recently opened Mexican outpost in South Portland's Knightville section. Judging from reviews I've seen posted elsewhere, I don't think I hit it on a good day. Since the name is Taco Trio and the tacos are priced at $3.50 each or any three for $9, I opted for the trio, ordering the carnitas (seared pork), pescado (battered fish with vegetables en escabeche–slaw, and lime sour cream-mayo), and the day's special, chicken mole. All came in double soft corn tortillas with onions and cilantro. While the flavors were good, both the pork and the chicken ones were on the dry side. Just add salsa, right? Not so fast.
Taco Trio makes its own salsas and has a salsa bar. Now, every every taco order comes with chips and choice of one salsa, additional salsa are $1 each for a two-ounce portion. That might work for a single taco, but the policy holds for the taco trio. So, while you think you're getting a bargain, you're not. If you want to match each taco with an complementary salsa, you have to dish out an additional $2 for two more choices (which brings that $9 order to $11, whereas if you order single tacos, three with salsa are $10.50). My friend wanted a bit of sour cream to calm down the spiciness of her order, and she had to pay $1 for it. That's just wrong.