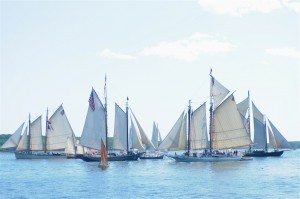 I had the good fortune to sail aboard American's oldest active commercial schooner, the Lewis R. French, during the Maine Windjammer Association's annual Parade of Sail by Rockland Breakwater Lighthouse. At the helm as we sailed out of Camden was the youngest captain in the fleet, Garth Wells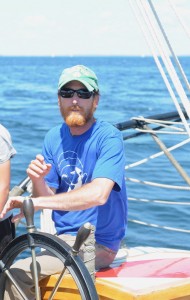 Garth purchased the French in 2003 after having crewed on it for five years. "Its'a nice way to make a living, working for myself," he says. "It's very busy during the summer, but this is what I do, and whenever I start to complain, I look around," he says, gesturing to the waters of Penobscot Bay. He owns the boat with his wife, Jenny Tobin, also a captain, although these days she tends to their young son.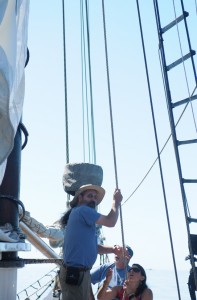 Launched in 1871 in Christmas Cove, Maine, the French has always been home-ported on the Maine Coast. "It was built in South Bristol by French Brothers," Garth explains, adding that he's the 14th documented owner of the vessel. The 64-foot long coasting schooner is now a National Historic Landmark. It carried freight along the coast until 1971, then was converted to carry up to 21 passengers, and relaunched in 1973.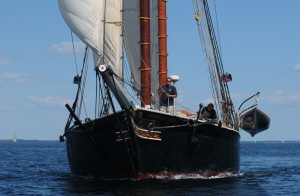 Sailing aboard the French is a dream. There is no noisy engine; 3,000 feet of sail do the job (assisted by an able crew and willing passengers, who help raise the sails). While this year there was only a whisper of wind, it was enough to keep the windjammers gently moving. If you're unable to escape for three- to six-day sail aboard a windjammer, the best location for viewing the annual Parade of Sail is from the Rockland Breakwater. Other possibilities are day-trip sailboats and even the Vinalhaven or North Haven ferries, if you time it right.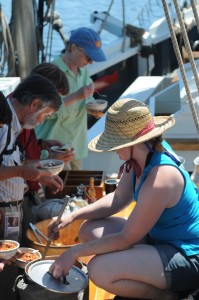 One of the highlights of sailing aboard a Maine windjammer is the food. Hearty meals are prepared using the galley woodstove, and on the day I sailed, the captain's favorite was served: A delicious Italian sausage soup (thick enough to earn the designation stew), accompanied by boat-made rosemary bread, tomato-basil-mozzarella salad, and peanut-butter bars. No one goes hungry on a windjammer.
Here's the recipe (this is enough to feed a full windjammer, you might want to cut the ingredients proportionately or better yet, make it all and freeze some for later):
The Schooner Lewis R. French's Italian Sausage Soup
Ingredients

5 lbs sweet or hot (or mix) Italian sausage
12 cloves minced garlic (1/2 cup)
4 large onions
5 cans (28 ox) Italian-style tomatoes
5 cans beef stock (8-10 cups beef boullion)
9 tablespoons fresh parsley
1 cup dry red wine
3-6 teaspoons basil
2 bell peppers, chopped
3 small zucchini, chopped
1 package uncooked bow-tie pasta
grated Parmigian cheese
Directions
• Remove and discard sausage casings and break meat into pieces
• In large soup pot, saute sausage, garlic, and onion in small amount of stock until sausage is browned
• Drain in colander to remove grease, rinse, and return ingredients to stock pot
• Add tomatoes, stock, wine, parsley, and basil
• Simmer for 45 minutes or so, stirring occasionally
• Add zucchini and bell peppers
• Simmer for another 20 minutes or so
• About 30 minutes before serving, stir in the pasta and cook until tender.
• Serve with grated Parmigian cheese